ASSET = A
rea

S

huttle

S

ervice

E

xpansion

T

oday

**********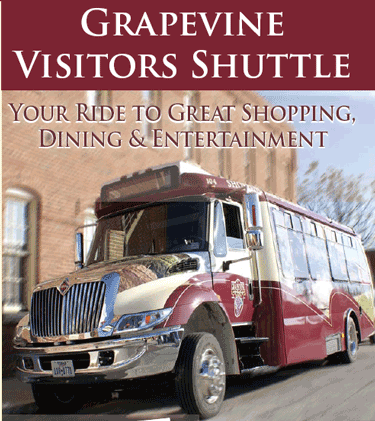 It's time to consider expanding the City of Grapevine's scheduled bus service which transports the area's tourists to include the residents of Grapevine, including those who reside on Mustang Drive.
**********
One of the advantages of working in a pawn shop is that I learn much about the needs of the common man in our area. One of those needs is basic transportation.
As I read about this week's "North East Tarrant County Transportation Summit", I see this as a good opportunity to consider what can be done to improve the mass transportation situation of Grapevine, TX now, instead of in 10 - 20 years.
For many months now I've watched with interest from my downtown Grapevine perch the Grapevine Visitor's Shuttle service which brings hotel customers to the Grapevine businesses, and the natural question is why can't something like this be provided for the residents of Grapevine, particularly for my neighbors along the Mustang Drive area of Lower Grapevine, where the need is greatest.
At first I considered encouraging my neighbors to attend this transportation summit, but after finding that the charge for admission is $25, I doubt many will be there.
But the fact is that I really don't need to attend a summit to know what I want for our residents, which is merely something like what the folks in HEB now have, an explanation of which I've pulled from the City of Hurst web site:
HEB Transit
HEB Transit is a newly established transportation service operating in Hurst, Euless and Bedford. The primary focus of the service is transporting people to and from work and work-related activities. The service is provided to individuals that do not qualify for existing programs such as NETS or WHEELS and have limited transportation options.
Trips must begin and end within HEB or the Trinity Railway Express (TRE) stations at CentrePort/DFW Airport and Hurst/Bell. Service is available Monday through Friday from 6:00 a.m. to 6:00 p.m.
For complete information please visit the website.
There it is folks. How about something like that for us Grapevinites, or if that's not practical in the short term, how about opening the shuttle service for Grapevine, TX residents which can feed the businesses of Grapevine, Texas. Everyone wins.
If that's not going to happen for our residents, something like a transportation version of "Meals on Wheels" could do the job nice. I'm thinking that we would need 60 folks volunteering to drive mini-vans for half a day each month on a route through Grapevine, providing transportation to Grapevine residents. Each volunteer would drive a 6 hour shift, 2 volunteers per day, and the cost could be very reasonable, like $1 per trip.
But please don't think for a minute that the transportation organization NETS is an alternative for what I'm proposing, since quoting from the City of Grapevine web site:
"NETS is a transportation service for residents of Bedford, Euless, Grapevine, Haltom City, Hurst, Keller and North Richland Hills who are disabled or 55 years of age or older."
...NETS is only intended for use by the disabled and folks over 55. A pity, but makes since when you consider that folks over 55 vote with regularity.
Which explains why I don't see much activity in our area by NETS. Well, that and because it's located in North Richland Hills, far from our area.
OK folks, there you have it. That's two ideas, but I'm not believing that I have all the answers. If you have other ideas, let's hear it.
If you are with me, go to the big summit if you can afford to, and be sure to speak up while you're there.
But at the very least contact our city fathers and chamber of commerce today, and let them know that you feel the need for a local mass transit solution for our residents.
Here's the folks who really need to know this:
The Mayor of The City of Grapevine William D. Tate: wtate@grapevinetexas.gov
Grapevine City Manager Bruno Rumbelow: brumbelow@grapevinetexas.gov
City Councilman Place 1: C. Shane Wilbanks -swilbanks@grapevinetexas.gov
City Councilman Place 2: Sharron Spencer - sspencer@grapevinetexas.gov
City Councilman Place 3: Mike Lease - mlease@grapevinetexas.gov
City Councilman Place 4: Darlene Freed - dfreed@grapevinetexas.gov
City Councilman Place 5: Chris Coy -ccoy@grapevinetexas.gov
City Councilman Place 6: Roy Stewart - rstewart@grapevinetexas.gov
Grapevine Chamber of Commerce: info@grapevinechamber.org
NE Tarrant County Chamber of Commerce: bhamilton@netarrant.org
Transportation Department of the NTX Council of Gov't: trasinfo@nctcog.org
Asst. City Manager Jennifer Hibbs: jhibbs@grapevinetexas.gov
City Secretary Linda Huff: lhuff@grapevinetexas.gov
and since we are asking them to share THEIR shuttle service with us, how about informing the managers at the larger hotels that many of their employees will have an easier time getting to work. I'll have their e-mail addresses posted soon.
Thanks for your time,
Mike Kimbro, Grapevine, Texas USA e-mail: KimbroCon1@aol.com