What the Future of Soccer Can Hold
**********
So many folks, particularly my younger respondents, seem to have a hard time understanding what I mean by 'more entertaining' soccer. For the best example of what I mean, feast your eyes on the following goal by goal review of the most enjoyable soccer match of the new millennia, the Arsenal v. Middlesbrough match of August 2004. I was not only lucky enough to watch this spectacle, but I also taped the Fox Sports World presentation, which allowed me to provide very rough examples of the goals. So let's review the action, shall we.
On the run, legendary French footballer Thierry Henry chips Middlesbrough's goalkeeper for the game's first goal, putting Arsenal up 1-0, but only after Middlesbrough defender Colin Cooper just misses running the shot down and chipping the ball around the goal prior to sliding into the back of the net...what an incredible effort...
Video Credit: Fox Sports World, America's Soccer Channel (in 2004)
...then Middlesbrough's striker Joseph-Desire Job brought the score even with a powerful near post shot, so it's 1-1 at halftime...
...then Jimmy Floyd Hasselbaink starts the second half with another Herculean near-post strike, so now it's Middlesbrough up 2-1...

Video Credit: Fox Sports World, America's Soccer Channel (in 2004)
...then French defender Franck Queudrue catches the Arsenal keeper preparing prematurely for the inevitable cross, so it's 3-1 with the Boro now in the 'comfort zone'...
...but mere seconds later, Dutch international Dennis Bergkamp nails a fine low rocket which left bodies strewn all over the turf, bringing Arsenal back to 2-3...

Video Credit: Fox Sports World, America's Soccer Channel (in 2004)
...then Spanish midfielder Cesc Fabregas passes to Thierry Henry, whose perfect feed to Robert Pires makes for an easy tap in, so it's tied at 3-3...
...then Antonio Reyes scores the go ahead goal via one sweet move and perfect shot...
...and then the practiced progression of Dennis Bergkamp to Robert Pires to Thierry Henry yields the game's 8th goal...
Video Credit: Fox Sports World, America's Soccer Channel (in 2004)
...making for a 5-3 final score. Sweet!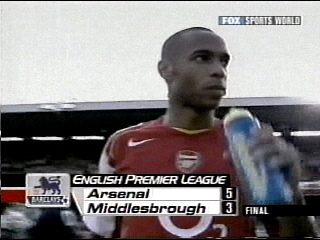 Above Image Credits: Fox Sports World, America's Soccer Network (in 2004)
Now let's review what this game produced:
Lots of goals! Eight to be exact.
Multiple lead changes. Something you just don't see much in professional football today.
6 goals scored from shots taken from inside the 18 yard box. Only 2 goals from long shots.**
Now let's talk about what this match did not have: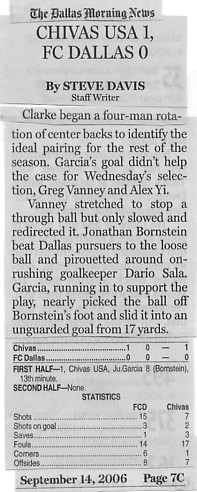 Goals scored from PK's
Goals scored from 'set pieces.'
Now we've come to the point of this entire page. Once the game of American professional soccer has been adjusted from it's present defensive orientation to a more fan friendly offensive orientation, we will see a decrease in the number of fouls committed. The reason for this is that players in defensive mode will no longer be laboring under the pressure of knowing that the next goal will likely be either the game winning goal or the goal that surrenders the lead for the rest of the game. Today, each goal in 90% of soccer matches is pretty much that important. So the pressure is ever present to stop each and every attack, as there is very little chance that a follow on goal will reduce the sting of that one mistake.
If you feel that I'm being overly dramatic on this point, consider that the soccer press has bought into this mentality. Read the Dallas Morning News article, at right, in which American sports journalist Steve Davis supports the case that a single goal scored in the 13th minute of a match would be just cause to put center backs Greg Vanney and Alex Yi on the bench for the rest of the season.
Besides, in an 8 goal per game environment it will be easy to realize that just about any of the goals listed above has more entertainment value than any set piece goal ever scored. This is particularly true for the spectators in attendance at the stadium. Things happen so fast on most corner kicks that the spectator quite often doesn't have a clue as to what they just saw. Hey, it could have been an own goal, for all they know for sure is that the ball is or is not in the back of the net. As with most of the goals listed above, goals scored from field play unfold before the spectator in a slower fashion, making for more entertaining goals. And while I do appreciate the skill which it takes to bend a free kick into an upper 90, such an unlikely occurrence comes with a terrible cost in the form of an interruption in the game's 'continuity'. And I'm often informed that this precious continuity is the key element which distinguishes soccer from sports like American football, baseball, and volleyball. Anyway, as I've said many times before, all goals are not created equal.
Before professional soccer will explode in America, the huge number of 1-0, 1-1, and 2-1 final scores must become a thing of the past. Once the 'go ahead' goal is scored, no spectator should ever feel that they will be lucky to see another goal that day, particularly if the visitors score first.
Now please don't feel that 8 goals should be some kind of ceiling for scoring in the World Game, as only a week later the "North London Derby" against the Tottenham Hotspurs finished with The Gunners claiming yet another come from behind victory with a 5-4 score.
Be sure to check out superior quality videos of these amazing matches at Arsenal v Middlesbrough and Arsenal v Tottenham, plus here's a nice away match recap: Liverpool v Arsenal.
Make no mistake, this is the kind of soccer that I live for, as all 3 matches are indeed case studies in offensive oriented soccer.
Thanks for your time and consideration.
Mike Kimbro
PS - The Guardian of London has an account of this match which is recommended reading as well: https://www.theguardian.com/football/2004/aug/23/match.arsenal
** Obviously, this is a slap at the argument in favor of stretching the soccer goals, which will lead to a majority of shots taken from outside the 18 yard box. Sure, more goals, but less entertainment value.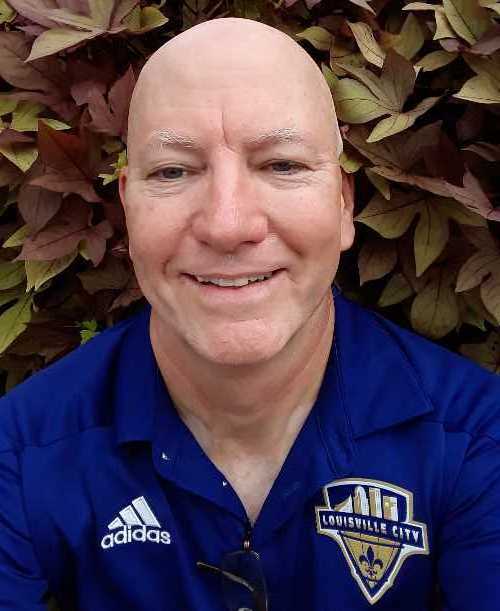 Image Credit: Selfie, photo inspired by the hedges at the University of Georgia football stadium.