Guitar with Leslie Speaker (home page)
Rodney Browning of Dishwalla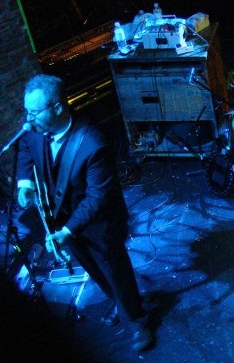 Give from Pet Your Friends
Bobby Lee Rodgers and The Codetalkers >>>>
samples: Justice, #2, #3, & #4
Webb Wilder
Run With It from his CD Doo Dad
Sittin' Pretty with Kenny Greenberg
Everyday I Kicked Myself with Donny Roberts
Robert McEntee of Austin, TX
It Wakes Me Up from Coin of The Realm
On A Hill from Looking for a Good Sign
Lonnie Mack with Stevie Ray Vaughan
Hound Dog Man (Intro & Outro ) from Strike Like Lightning
Tom Johnston, Patrick Simmons or Jeff Skunk Baxter
Another Park Another Sunday (Verse & Close ) by The Doobie Brothers
Roy Rogers
Bitter Rain from the 2009 CD Split Decision
Pete Ham or Joey Molland of Badfinger
No Matter What from the album Magic Christian Music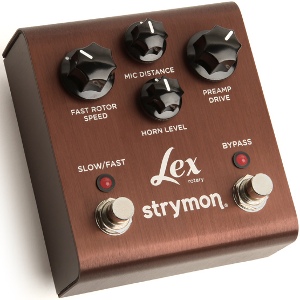 For an even more eye opening taste of Leslie Speaker goodness, give a listen to this demo. The Lex Rotary by Strymon is a cool Leslie Speaker simulator pedal, and close study of this audio sample collection is truly the express lane to expanded rotary consciousness.
J.T. Corenflos - Nashville Session Guitarist
Someone Special with Richard Marx
Chris Duarte of Atlanta, GA
Miles Zuniga of the Austin band Fastball
Sooner Or Later from All The Pain Money Can Buy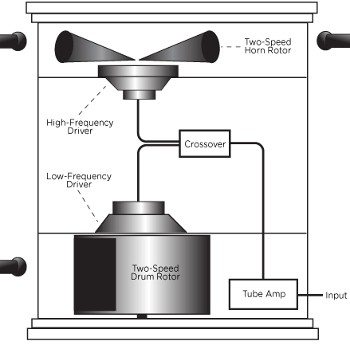 George Harrison
Let It Be with The Beatles
It Don't Come Easy with Ringo Starr
Caleb Quaye with Bill Quateman
Wait Until Tomorrow samples #1 & #2
Pelle Jernryd of The Hardliners
Andy Timmons
Resolution from Resolution
Homeless and It's a Shame from the CD Orange Swirl
Ready For Love from Leah Marr's CD Truth
Jon Spencer of The Jon Spencer Blues Explosion
Peter Frampton
Do You Feel Like We Do 1975 1999
Black Hole Sun from his Fingerprints CD
Rob Roth of the Georgia band Soulhound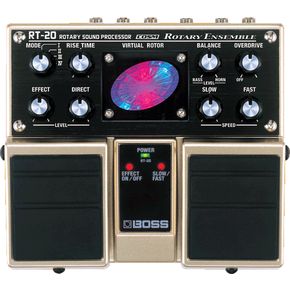 This demo best shows the Leslie's defining control, the ability to ramp the speed up and down, using a Boss RT-20 Rotary Ensemble (rotary sound processor). Then click here for a revealing video demo from Boss US.
Mick Ralphs or Dave "Bucket" Colwell of Bad Company
Simple Man from the 1996 album Stories Told and Untold
Stevie Ray Vaughan and Double Trouble
Slip Slidin' Slim from Soul To Soul
Willie the Wimp (bridge & close) from the 1986 album Live Alive
Landis Armstrong of Austin, Texas USA
Here I Am Again with The Paula Nelson Band (via a Texas Longhorn orange MXR Phase 90)
Lolly Vegas of Redbone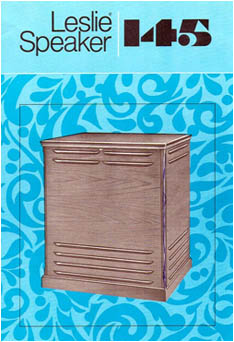 Warren Haynes of Gov't Mule
Debut Album Samples #1, #2, #3, & #4
Greasy Granny's Gopher Gravy - Part 2
Larry Carlton with Joni Mitchell
Same Situation from Court and Spark
Jimmy Stafford of Train
She's On Fire from Drops of Jupiter
Jon Tiven with Wilson Pickett
Outskirts of Town from It's Harder Now
Joe Perry of the rock band Aerosmith
Buck McKinney of Gnappy
Grease Don't Freeze from Unloaded
Rice Funk from their 2003 CD Is This A Machine?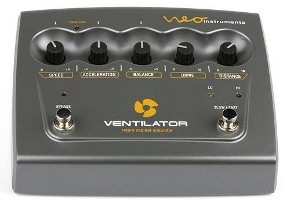 The Ventilator by Neo Instruments has been proclaimed to be "Best Rotary Stompbox Yet" when tested in the May 2010 issue of Keyboard magazine. Reading further..."It's clearly the new king of standalone electronic rotary simulators." Here's a couple guitar oriented demos (#1 and #2) for your enjoyment.
Chan Kinchla of Blues Traveler
Carolina Blues from the CD Straight On Till Morning
Michael Landau
Hands in Your Pocket: Intro Solo with Richard Marx
World of Love: Solo with Belinda Carlisle
Morgan McCoy of Atlanta, GA
Van Maan's Star through a Leslie Model 142 cabinet
Ron Wood of The Faces
Memphis Tennessee the longest leslie guitar solo?
Shane McConnell with singer-songwriter Lynne Timmes-Carlock
Apologetic from Lynne's CD Human
Matt Roberts &/or Chris Henderson of 3 Doors Down
Kryptonite from the album The Better Life
It's The Only One You've Got from the CD 3 Doors Down
Carolyn Wonderland from her Miss Understood CD
I Found The Lions voice effect in the bridge
Paul McCartney solo career pre-Wings
Maybe I'm Amazed from the self titled McCartney album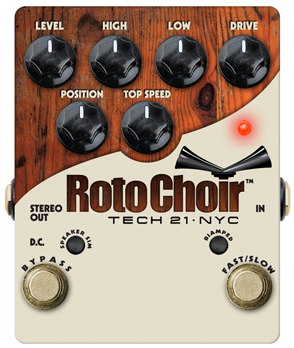 The Roto Choir by Tech 21 NYC is a pretty complete package, with a unique single amp/bi-amped switch for Uni-Vibe/Leslie versatility, and it's priced for the masses.
Kenny Rogers and The First Edition
Just Dropped In vocal treatment of the lyrics: "Yeah, yeah, oh yeah"
Don Felder of The Eagles
Hotel California 12-string guitar through a Leslie Cabinet
James Dean Bradfield of Manic Street Preachers
The Everlasting from This is My Truth Tell Me Yours
Jack Bruce of Cream
As You Said from Wheels of Fire select vocal treatments
Martin Carr of The Boo Radleys
Doug Sahm of Sir Doug & The Texas Tornados
I Love The Way You Love
Float Away
David Cook formerly of American Idol
Light On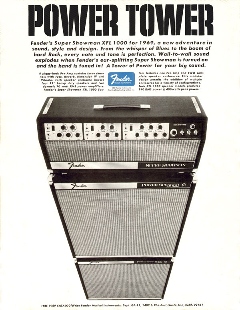 Mark Boon of Diesel
Hitchcock's Lullaby with The Hammer -effect via the Dimension IV feature of the Fender Super Showman amp head >>>>>>
Keith Richards of The Rolling Stones
Let It Loose from Exile on Main Street
Kim Thayil of Soundgarden
Adam Seymour of The Katydids
Ben Burnley of Breaking Benjamin
So Cold from We Are Not Alone
Kenny Greenberg
Daughter of Grace backing Twila Paris, with guitarist Jerry McPherson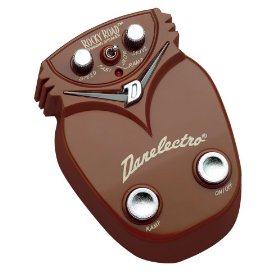 The Rocky Road DJ-20 by Danelectro is a cost effective rotary speaker simulator, and judging by the You Tube demo videos, it's a lot of mono analog rotary sounding sweetness for the money. Find them on Craigs List for $60.
Davey Johnstone of Elton John's Band

Cold from his 1995 album Made in England, gotta listen closely
Where To Now St. Peter?...that might be a Wah-Leslie combination?
Zeb Italian guitarist of the band The Indians
Caught A Rainbow from the CD Indianism
Orianthi formerly of Michael Jackson's Ensemble
Untogether from her CD Believe
Jerry Raney of the San Diego, California band GLORY (whole article)
[Jack] Butler remembers the thrill of playing before such a large crowd. "We came on in total darkness," he says. "I will never forget Jerry's guitar intro to the first song, played thru a Leslie rotating speaker and blaring off the walls, echoing like mad — one of the best sounds I've ever heard."
Jody Porter of Fountains of Wayne
Someone To Love from Traffic & Weather
Eric Bazilian on leslie guitar (that's what it says in the credits below!)
Ladder (intro & bridge) with Joan Osborne from her album Relish

Marc Ribot
Stuck from Norah Jones album The Fall
When We Were Young and We Were Freaks with Ceramic Dog
Jon Herington, Wayne Krantz, Hugh McCracken or Ken Emerson
What I Do from Donald Fagen's Grammy winning Morph The Cat album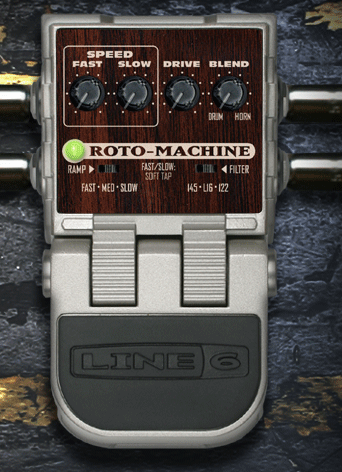 Now, for a test of the rotory speaker oriented Line 6 Roto-Machine, check out this video, and pedal steel guitarists might like to check out these samples where the Roto-Machine is employed by Greg Cutshaw: #1 & #2.
Jerry McPherson & George Cocchini
I Will from worship artist Drew Cline's CD Way of Life
My Idols from the Tears Will End album by Charity (more likely it's a phaser pedal)
Manny Charlton of Nazareth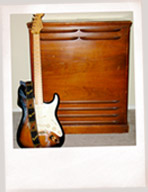 Love Hurts from the album Hair of the Dog
Ammo the guitarist of Birdbrain
Grey from Let's Play Nice
Lynyrd Skynyrd
Michael Schenker of UFO
Love to Love from Lights Out
Steve Katz of Blood, Sweat & Tears
John Scofield from the CD Piety Street
Something's Got A Hold On Me it's leslie on the rhythm guitar work
Roger Hodgson of Supertramp
Al Anderson, Larry Byrom, or Dan Dugmore with Brother Phelps
Lookout Mountain from the CD Brother Phelps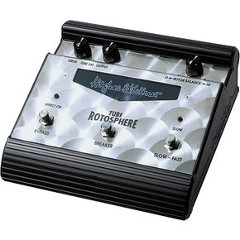 Next, the handsome Hughes and Kettner Tube Rotosphere Leslie Emulator is an object of desire for many guitarists ***, not least for it's pure analog Leslie tone. Clickhere for a sound sample from the mighty H & K, and a here's a very interesting review which also covers speaker positioning theory applicable to any stereo rotary speaker setup.
Ron Kingery of Hometown News
Minivan rhythm guitar from the Wheels album
John Jorgenson of The Desert Rose Band
She Don't Love Nobody from the 1988 album Running
Henry Garza of the band Los Lonely Boys
Forgiven from the CD of the same name
Dave Bryson of Counting Crows
Accidentally In Love from the Shrek 2 Soundtrack
Joe Walsh of Barnstorm and James Gang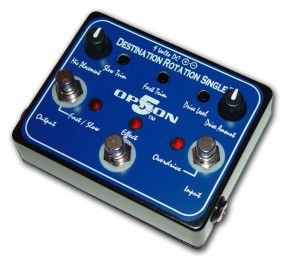 The Option 5 Destination Rotation Single Vibe Pedal by Option 5 also offers incredible rotary speaker simulation. Check out this Pro Guitar Shop demo video which is so well done that Stevie Ray Vaughan would be proud.
Debra of DEVI from their CD Get Free
Welcome To The Boneyard: Intro Bridge
Eric Clapton with Derek and the Dominos
Souped-up Leslie (
click here
for the complete "Sound on Sound" article)
"Something that was unique to the 'Layla' sessions was our Fender guitar Leslie. Eric was enamored with it and we used it a lot," says Ron Albert.
"We had a great big Variac speed control on it," adds Howard, "so we could actually change how fast it went."
Ron: "The way that Leslie was designed, it had two foot pedals. One enabled you to switch the cabinet on or off so that it was just guitar amp or guitar amp and Leslie amp, and the other pedal was the rotor on or off, making it spin or not. By clicking it on and off you could change the intensity or shut it down. However, that wasn't quite good enough for us, so we came up with this ability to control the speed on a constant basis with this big Variac that probably weighed about 30lbs. It controlled the voltage to the motor, so we could have it running at half-speed or any speed we wanted, and that was unique as up until then it couldn't be controlled. Howard being a B3 player, he was familiar with the slow spin of the B3 Leslie and turning it on and off with the left hand, making it spin and stop, spin and stop. Well, we tried to create that within the guitar sound by having it at a speed that was not too fast or slow, and therefore using the pedal to turn it on and off would produce the same kind of start and stop effect. Eric loved that."
Both the Fender Guitar Leslie and the Hammond B3 now reside in the Audio Vision Recording Studios facility that Ron and Howard co-own with partner Steve Alaimo in North Miami.
Jimi Hendrix of The Jimmy Hendrix Experience
Ships Passing Through The Night from Valleys of Neptune
Gene Black or David Frederic with Tiffany
I Will Not Breakdown from her CD The Color of Silence
Steve Caton with Tori Amos
Spark from Tori's CD "From The Choirgirls Hotel"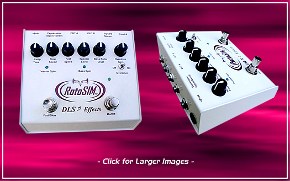 Many feel that one fine Rotary Speaker Simulation pedal is the DLS Effects RotoSIMM.
Mike Einziger of Incubus
Drive from Make Yourself (not sure which effect that is)
Freddie Love of The Triple T Band
Funk It by aka The Texas Tittie Twisters
Robert Cray of The Robert Cray Band
All The Way from Take Your Shoes Off
John Frusciante of Red Hot Chili Peppers
Wet Sand from Stadium Arcadium
Jeff Trott of Sheryl Crow's band
Riverwide from The Globe Sessions
Jimmy Page of Led Zeppelin
Rob Buck or John Lombardo of 10,000 Maniacs
All That Never Happens from the CD Love in the Ruins
Don Preston or Joey Cooper with Leon Russell
Tight Rope from the album Carney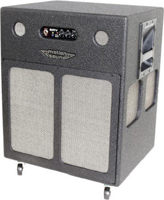 Pauly Fuemana of OMC
On The Run from How Bizarre
Randall Thompson
Johnny Marr of The Smiths
How Soon is Now (Tremolo ?)
Glen Phillips or Todd Nichols of Toad The Wet Sprocket
All I Want Is To Feel This Way from the CD Fear
Leroy Powell of Shooter Jennings and The .357's
Gone To Carolina from the CD Live at Irving Plaza 4.18.06
Carl Wilson or Al Jardine of The Beach Boys (or Barney Kessel of The Wrecking Crew)
Michael Lockwood with Light Bachwood Movement
C.I.A. from the album A Symphony for Static Relationships
Dean Parks or Larry Carlton with Joan Baez
Winds of The Old Days from Joan's album Diamonds & Rust
Brian Welch & James Shaffer of KoRn
Cameltosis from their album Follow The Leader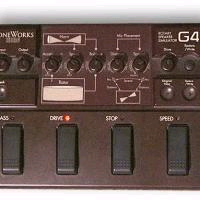 And this video provides way more than just a taste of another fine rotary speaker simulator, the Korg G4.
Kurt Swinghammer with Dan Bryk & Greta Gertler
Horizons from Bryk's album Pop Psychology
Mike Campbell of Tom Petty and The Heartbreakers
You Don't Know What It's Like samples #1 & #2 from Wildflowers
Rowboat done while backing Johnny Cash in 1996 on Unchained CD
Walls #3 from the "She's The One" Motion Picture Soundtrack
Robert Quine with Lloyd Cole
Sweetheart from Lloyd's self titled debut album
Brian Ward or Jud Ruhl of The Gandharvas
Milk Ocean from Sold for a Smile
Richard Thompson
Backlash Love Affair from Rumor and Sigh
Grey in LA from the Knocked Up Soundtrack with Loudon Wainwright III (Tremolo?)
Daniel Johns of Silverchair
Abuse Me samples Intro & Close from Freakshow
Val McCallum with Joan Osborne
Bernard Butler with Duffy
Syrup and Honey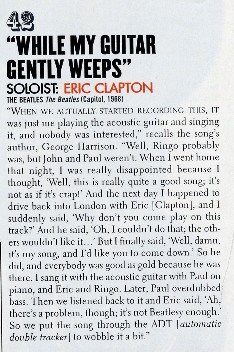 Eric Clapton with The Beatles >>>>>>
Bill Brown with Jerome Mayne
Micah Wilshire of Wilshire
Billy Duffy of The Cult
Fire Woman from the album Sonic Temple
Steven Page or Ed Thompson of Barenaked Ladies
Falling For The First Time from Maroon ( a phazer pedal? )
Steve Bolton with Paul Young
Every Time You Go Away rhythm work behind electric sitar
Jason Wade or Stuart Mathis of Lighthouse
Breathing from the 2000 album No Name Face
Amongst the Leslie faithful, the only area of really heated disagreement concerns which speaker arrangement is best for a live setting, whether the rotary speaker sound is at it's best live in mono or stereo. The Digitech RPM-1 is a rack mounted tube pre-amp and rotary speaker emulator with one exclusive feature:
THREE OUTPUTS: right, left, and center
which provides the ability to address this concern to everyone's satisfaction.

Ricky Hirsch guitarist of Wet Willie
Dixie Rock from Wet Willie's Greatest Hits
Justin Stanley with Sheryl Crow and Doyle Bramhall II
Sideways from the album 100 Miles From Memphis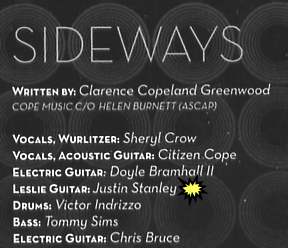 Richard Bredice with Ryan Strassburg
Jacob, Climb Your Ladder from Ryan's CD Child of Kentucky
Frank Hannon or Tommy Skeoch of Tesla
Thank You (Intro and Outro) their cover of the Led Zep song
Jamie Coan of From Good Homes
Tim Pierce or Mike Landau with Schascle Huygens
Too Many People from her album Haunted by Real Life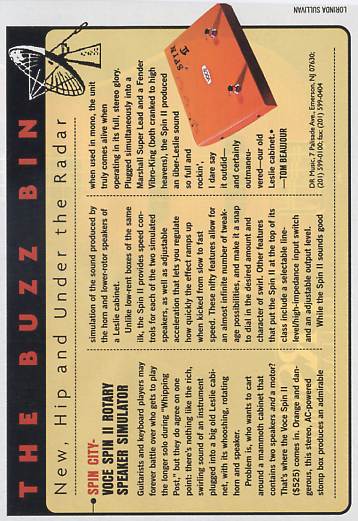 At right is a Guitar World review of the Voce Spin II Rotary Speaker Simulator:
Dean DeLeo of Stone Temple Pilots
Army Ants (actually it's a leslie and phase shifter together)
Mac Aladdin with Tori Amos
Angels from Tori's album Tales Of A Librarian CHORUS?
Josh Steely, Brian Craddock or Phil X of Daughtry
Gone from the CD Daughtery
Open Up Your Eyes from the album Leave This Town
Micko Larkin or Courtney Love of Hole
Someone Else's Bed from Hole's 2010 album Nobody's Daughter
Alan Morse of prog-rock band Spock's Beard
Major Buzz from Alan's solo CD Four O'Clock & Hysteria
Will Ray, Jerry Donahue or John Jorgenson of The Hellecasters
Le Journée des Tziganes from Escape from Hollywood
Gene Black, David Frederic, or Cisco DeLuna with Tiffany
I Will Not Breakdown from Tiffany's 2000 album The Color of Silence (ok, maybe phaser)
Rich Parfitt or Francis Rossi of Status Quo
Whatever You Want from the album Whatever You Want
Andrew Copeland or Ryan Newell of Sister Hazel
Concede from ...somewhere more familiar ( ok, probably phaser )
Joel Shearer, John Shanks, Jason Orme or David Levita
Everything from alternative rock goddess Alanis Morissette's CD So-Called Chaos
Joe or Tim of Love Huskies

Hank Linderman
Whispering off America's CD Human Nature
??? with Brooks & Dunn
Tequila (from Cowboy Town)
??? with Kelly Slattery
Stuck On You (phaser, maybe?)
??? with Jack Ingram
Biloxi (Live Version) from Hey You
??? with Kelly Clarkson (I'm guessing here)
My Favorite Mistake cover of Sheryl song
??? of Mexico's Grupo Imposible Musical
Si Yo Fuera Tu Amor (Live Version)
??? with Paula Nelson
Black Cat from her album Coming Home
??? with the Christian vocal trio Zoegirl
About You from Room to Breathe
??? with Taylor Swift
You Belong With Me Leslie or Univibe ?
??? with Seal
Out Of The Window from Indecent Proposal Soundtrack
Pat Travers of The Pat Travers Band
Dinasour Rock Guitar states that Pat achieved his tone by splitting his guitar's signal and running one side through a Marshall stack and the other side through a Leslie Speaker...all the time. This is made easier by the fact that Pat also played the Hammond Organ.
Robin Trower
Lady Love from Bridge of Sighs
David Gilmour of Pink Floyd with the Yamaha PR 200 R
Wearing The Inside Out from The Division Bell
Comfortably Numb (cover) also using the Yamaha PR 200 R
Jim Pederick of Ides of March, Survivor, & Pride of Lions
videos demoing the Leslie for Guitar models G37 & G27 (below): electric acoustic-electric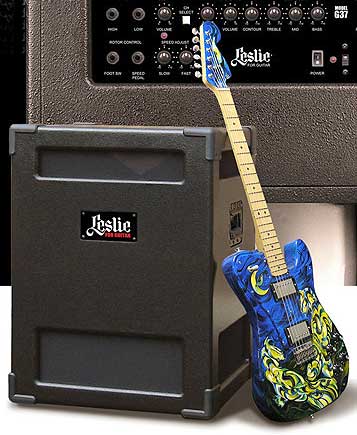 Next let's examine the Dunlop Uni-Vibe pedal, a phaser based rotary simulator which has achieved such fame that's it's actually in a category of it's own. While it's poor high speed quality eliminates the need for a slow/fast switch, the Uni-Vibe pedal still has it's own set of clones, such as the Voodoo Labs Micro Vibe and the following univibe pedals as well: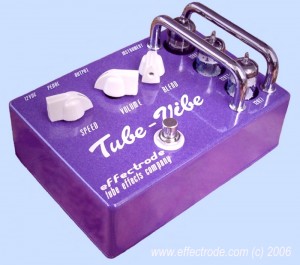 This demonstration video by ProGuitarShop.com really shows off the incredible tone of this Univibe pedal clone, the Effectrode Audiophile Tube Vibe Pedal which benefits from three tubes.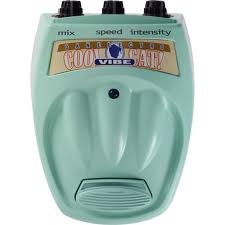 The Cool Cat Vibe is another incredible value from Danelectro, I know cause I used to own one. Click the button, and this uni-vibe clone benefits from a Leslie like ramp up to full speed. Experience the coolness via videos here and here and here.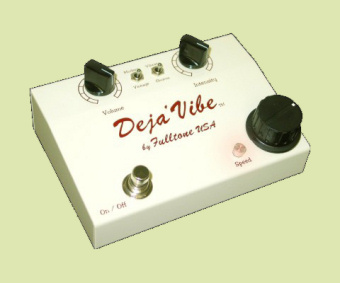 The Fulltone Deja Vibe also serves up some fine modulation effects, as demonstrated in this video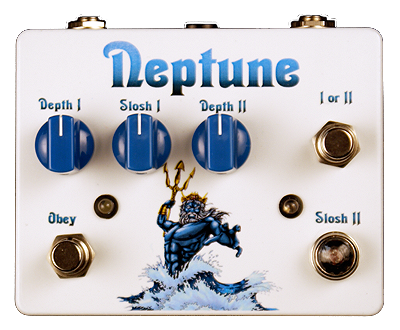 The folks at Tortuga Effects offer the Neptune Opto-Vibe Univibe/Rotary Speaker Simulator Pedal (above) with unique light sensing actuator for switching between slow and fast modulation speed. Check out this demo video.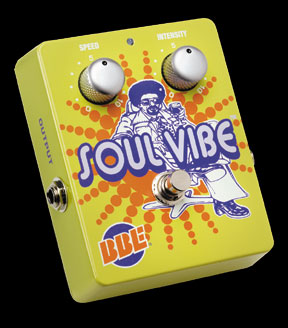 Next, these videos (#1, #2 & #3) demonstrate why the versatile Soul Vibe by BBE is promoted as a "phase-like" rotary speaker emulator .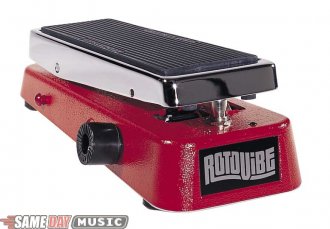 Click here for a nice video demo of the Dunlop RotoVibe model JD-45 electronic rotating speaker emulator with vibrato and chorus modes.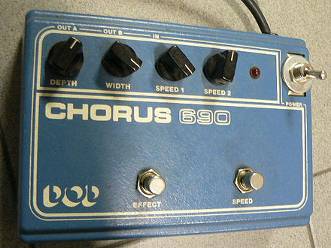 The vintage DOD Chorus 690 pedal has the foundation for doing a reasonable Leslie simulation because it's fitted with the electronics to switch between 2 different modulation rates with the push of a button. To give it a bit of grind, place a quality distortion pedal ahead of it on the effects loop chain.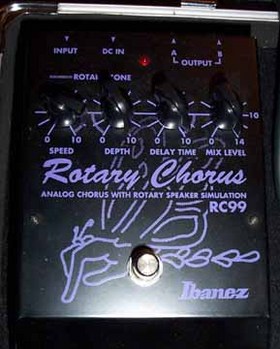 Yet another Chorus / Leslie combination pedal is the Ibanez RC99 Rotary Chorus pedal. But having only one pedal to handle the on/off duties, and none to handle the speed changes which are so much the soul of the Leslie speaker limits it's appeal.
But while any one of the above would be nice to complete that stomp box case, another wise choice could be a multiple modulation pedal, since some can provide a pretty convincing rotary speaker simulation.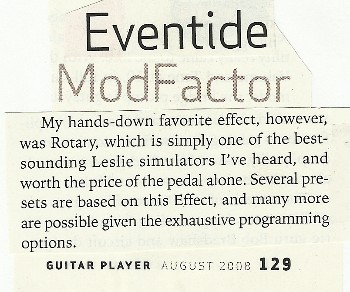 The Eventide Modfactor is one such stomp box, and the Guitar Player Magazine review at right proclaims it's Leslie speaker patch to be "...worth the price of the pedal alone."
Next is the EX-7 Expression Factory, a reasonably priced stereo multi effects pedal from Digitech's X-Series.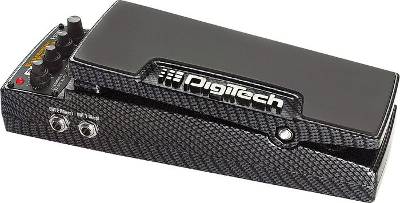 With separate patches for both Leslie Speaker and Uni-Vibe, as well as an interesting "overdrive & distortion" implementation which nicely compliments the modulation patches, the EX-7 can easily service your rotary speaker needs. Check out this EX-7 demo page for sound samples and the owner's manual.
Now surely some of you are asking yourselves: "I wonder what Mike recommends for the rotary novice?" Excellent question. The important thing to understand about a true rotary speaker is that, at it's best, it's an integrated tube amplifier and speaker cabinet containing 2 speakers which broadcast sounds spinning in opposite directions. If you can afford the cost of one in terms of purchase price and space and maintenance, then by all means...treat yourself.
This isn't a stupid suggestion at all, since there are thousands of genuine Leslie's in the homes of organists who do nothing more than perform at weddings and funerals, and at church on Sundays. If they can afford to have the best equipment just for practice, then so can a guitarist who wants the best home studio possible.
But if that's not practical, then the next question to ask yourself is: "Are my amp and speakers right for the rotary speaker sound?" The fact is that even a high quality leslie speaker pedal can sound like garbage through the wrong rig, and you won't know the results until you attach one to your combo amp and give it a spin...at the various venues where you'll be using it. But there is a better way.
Consider the Digitech RP-350 multi-effects pedal. Available for about $100.00 via Craigslist, possession of this serious musical monster will afford you the ultimate introduction into the world of the rotary speaker, the univibe, the vibro-pan, and practically every other modulation efx known to man. Feel free to visit my RP-350 page for specific instructions to set up the Digitech pedal to achieve optimum Leslie-ocity.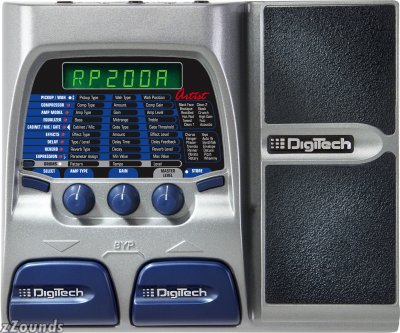 For something priced right for our current economic reality, check out this sample generated by the versatile Digitech RP200, which can be found on CraigsList or ebay for $50 or less.
While we're considering this Digitech Multi-Effects Processor, these modulation samples of the tremolo effect, the vibrato effect, and the phaser effect from the Digitech RP-Series are also very well done.
Finally, while I'm hoping to provide a little entertainment and inspiration, feel free to examine the efforts of others for more intellectual substance. Additional thoughts, ideas, and theory on the use of the guitar with the Leslie Cabinet can be found at:
http://www.blamepro.com/mwn/Tips/leslie_gtr.asp
And an excellent comparison of some of the Leslie emulators and simulators, along with rotary rich audio samples of "Badge" by Cream, "Nantucket Sleighride" by Mountain, and "Well All Right" by Blind Faith, can be found at:
http://jbwid.com/guitar/leslie01.htm
*** Guitarists who seem to employ an H & K Tube Rotosphere everywhere except on their recordings.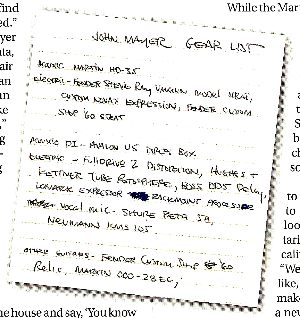 Example #1. From the June 2002 issue of Guitar One Magazine, at right is a list of guitar gear used by John Mayer which includes the H & K Tube Rotosphere, though frankly I do question it's accuracy, as I'm hard pressed to find a song which features a clear Leslie groove on any of the 3 Mayer albums which I've owned (Room for Squares, Heavier Things, and Continuum). In 2009, Mayer's CD Battle Studies does exhibit evidence of rotory speaker-esque emanations in the bridge of the song "Perfectly Lonely", a head scratcher considering a Rotosphere is supposedly a regular fixture on his pedal board. When pressed on this issue, he'll probably blame the producers.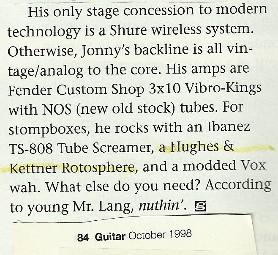 Example #2. It's very much the same with guitarist Jonny Lang. At left, in the October 1998 issue of Guitar Magazine he's credited with being a big Tube Rotosphere user, although it wasn't until his 2003 album "Long Time Coming" that I can identify some semi-serious Leslie warble going on in his music, in the song "Hide Your Love". Now don't get me wrong here, I love Lang's work, particularly "Still Rainin" and his vocal contribution to this year's Eric Johnson creation "Austin", but all I'm asking is "Jonny, why not practice in the studio what you preach?"
Peace.