North Phoenix High School's
5-minute Mile Club for 1972.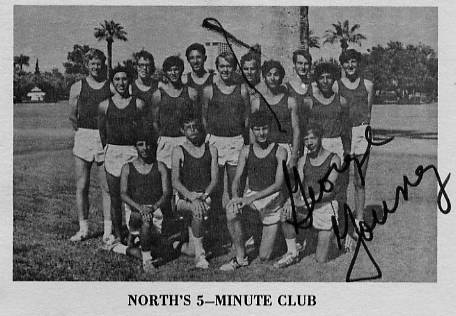 Front: Freshmen Trini Balderrama (4.49), Mike Green (4.57), Mike Kimbro (4.53.2), Gary Casagrande (4.53.6)
Middle: Bill Hadley (4.48), David McColm (4.24.4), Craig Palmquist (4.39), Jesse Morales (4.33.1), George Morfin (4.29.7)
Back: David Bouvea (4.23.2), Pat Meldrum (4.36.1), Robert Herrera (4.32.0), Coach Ron Rouser (4.52.0),
Larry Whaley (4.57), Leendert Hartoog (4.51)
Also, take note of the autograph by the great George Young!!!!
Not before nor since have upper classmen shown
their freshmen teammates such support and friendship.
I recall senior George Morfin taking his lunch hour
to pace me through my first 2-mile prior to the
start of the track and field season. Such support of
a freshman was way past the call of duty.
I'm still amazed that the upper classmen included
some of the freshmen when they crashed a big
outdoor party over at Arizona State University
in Tempe. I think of that night every time I hear
"Funk 49" by the James Gang. What a fun bunch of guys.
North High School's Boys Cross Country team had
already won the Arizona High School Cross Country
Championship back in the fall with what could be
the most dominant team in Arizona Cross Country
history, which included the upper classmen and frosh
sensation Trini Balderrama.
Following is a review of the AAA State Meet for 1971
from "Arizona Prep" magazine (December 1971, p. 32):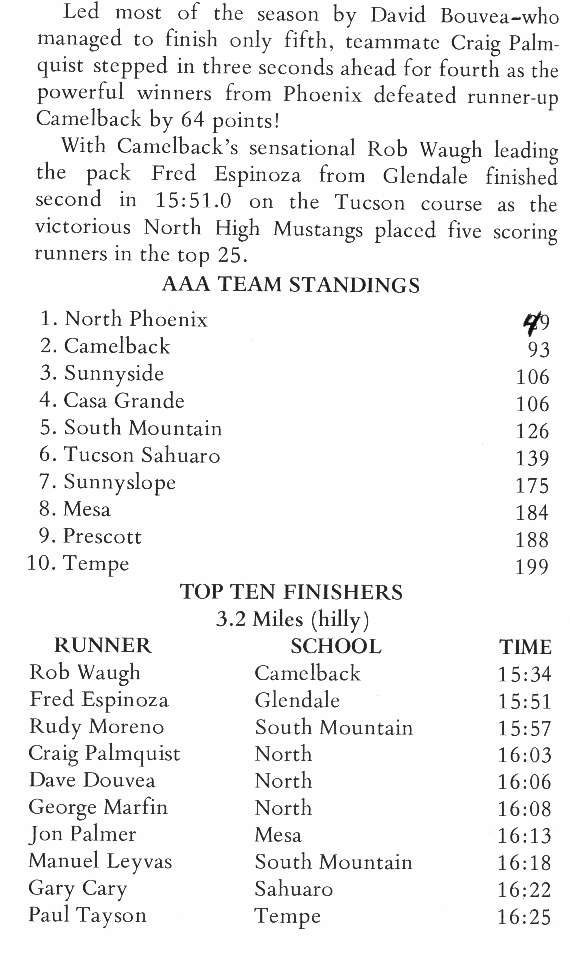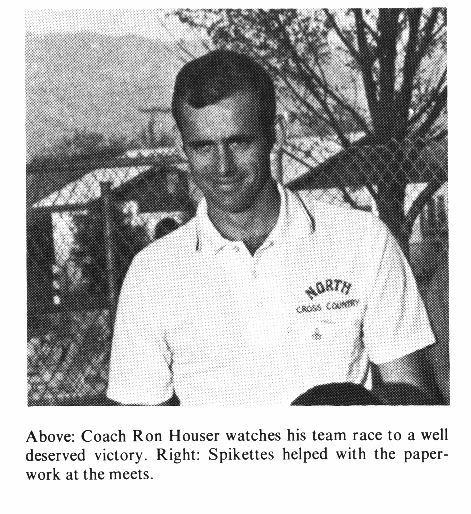 Ron Houser, truly a fine coach.
Mike Kimbro
Grapevine, Texas USA
To return it's best to hit the Back Arrow above, or you could click: Kimbro's Home Page
Pep Talk & Home Course Strategy Pages from Coach Ron Houser for the big Cross Country dual meet against Camelback High School: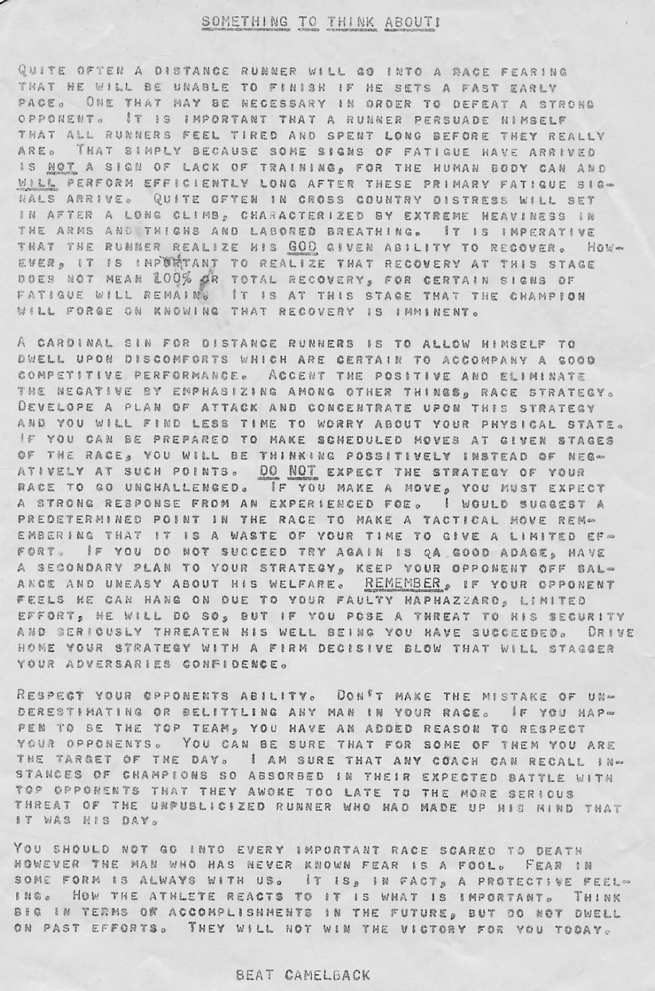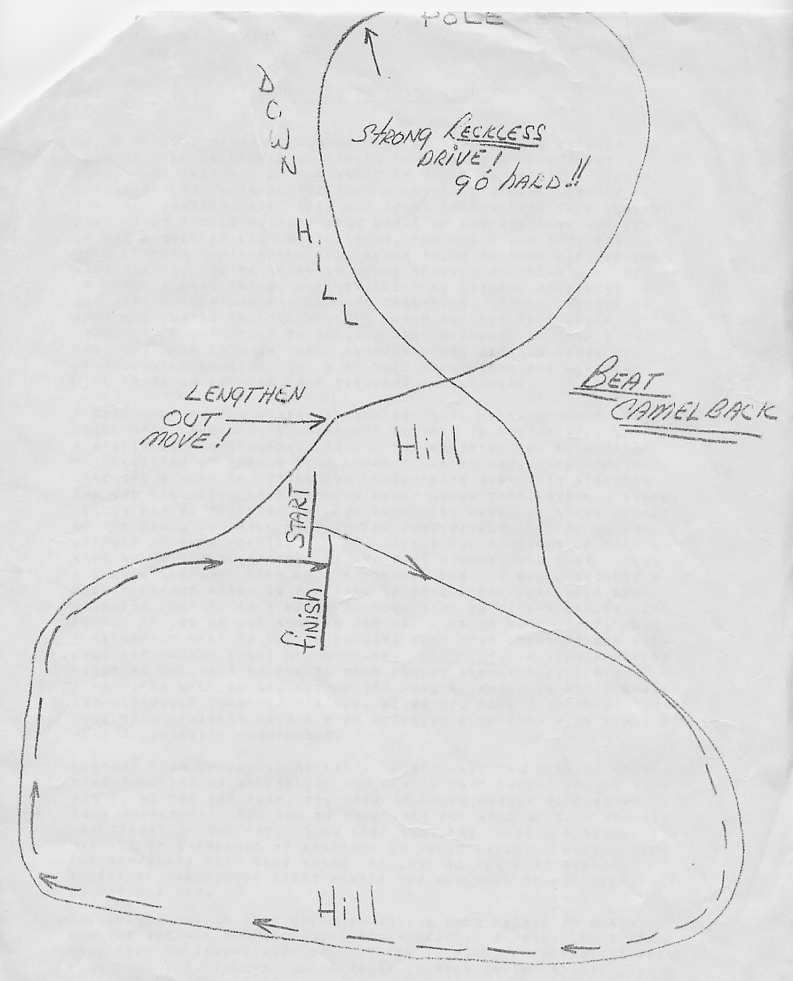 Ribbons from 1972 "Freshman City Championship" Track Meet for schools in the Phoenix Union High School System
held May 5, 1972 at Phoenix Alhambra High School. With all of the problems I'd been
experiencing with my asthma during this season, I'm as proud of these little ribbons
as anything I've ever achieved.
Two Mile Finish:
1. Manuel Solano (South Mountain High School) 2. Larry Hildalgo (South Mountain) 3. Trini Balderrama (North High)
4. Mike Kimbro (North Phenix High) (10:32) 5. Gary Casagrande (North High School)
Mile Finish (an hour and a half later):
1. Manuel Solano (South Mountain High School) 2. Larry Hildalgo (Phoenix South Mountain High) 3. Trini Balderama (North High)
4. Mike Kimbro (Phoenix Arizona North High School) (4:59)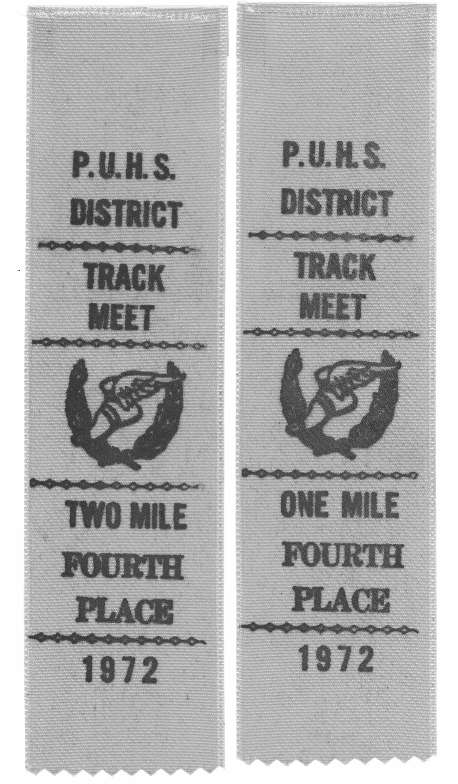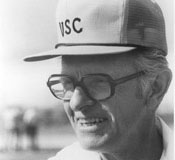 Finally, any piece on Track and Field at North Phoenix High School would not be complete without mention of Coach Vern Wolfe, who developed not one but TWO national athletes of the year WINNERS while at North High School in Phoenix. Coach Wolfe left the Mustangs to return to USC, where he coached 6 Olympic Gold Medal winners, and is now a member of the American Track and Field Hall of Fame.