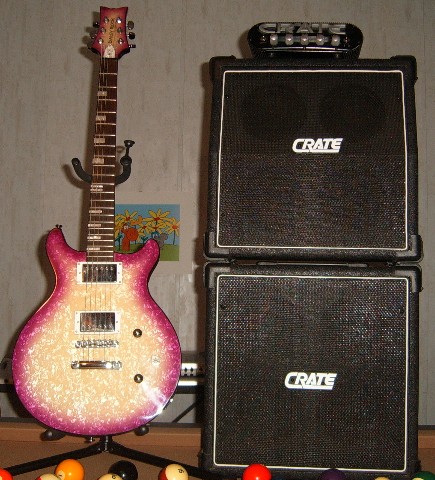 Model: Daisy Rock Stardust Elite Classic
Pickups: Dual 4-Wire Humbuckers with Coil Tap
Set Neck, 24.75" Scale Length
Amp Head: Crate CPB150 Power Block Stereo Guitar Amp
Solid state - 150-watt mono ( 75-watt stereo)
Single Channel FlexWave Preamp
Effects Loop, CD-Tape Input, Balanced XLR Connector
Knobs: Gain, Level, & 3 EQ, Weight: 4 1/2 lbs.
Speakers: Crate Mini Full Stack
Top: Crate Model GE-406S with four 6" Drivers
Bottom: Crate Model GE-406R with 4 6 inch Speakers
Rated at 40-watt and 4 ohm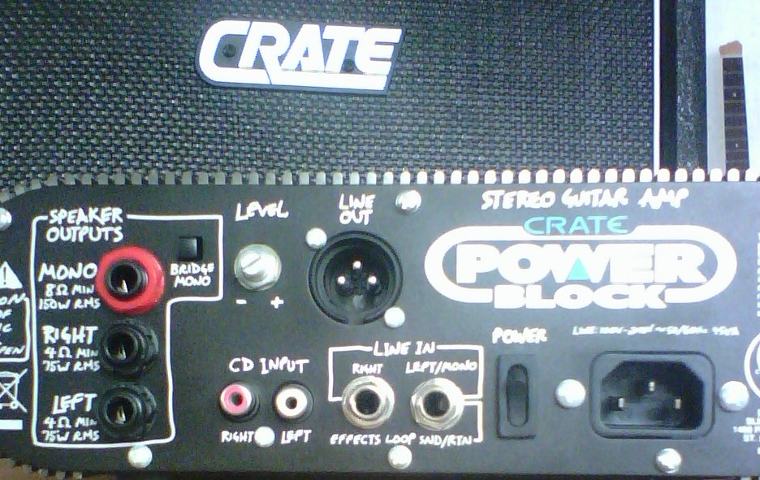 Above is a rear view of the Crate PowerBlock Stereo Guitar Amp Head, with 1/4" speaker output jacks for both stereo or mono use, including bridge mono. There is also a balanced XRL Line Out jack with it's own level control. A 1/4" headphone jack is located on the front panel.
Besides the 1/4" input on the front panel, the Crate CPB150 stereo solid state amp head has a pair of RCA input jacks for CD or Tape, and a dual purpose line in / stereo effects loop for adding external effects or for patching an external line level signal into the Power-Block. The Power Block Amp Head also features speaker simulation circuitry for enhanced sound at each of the audio outputs.