Visualize High Scoring Soccer!!!
aka: Mike's MLS Manifesto
Soccer has a problem in America:
It's a defensive game which usually ends
in either a shut-out or a draw.
It's time for a paradigm shift in American Professional soccer.
So let's make soccer more appealing to the average USA sports fan.
********
First thing, if you're thinking that I'm the only blasphemer critical
of soccer's defensive mindset, the only deviant standing up for the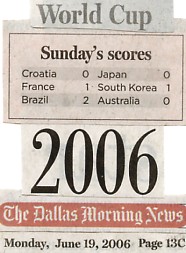 memory of higher scoring soccer, please refer to my page:
"Who else wants more entertaining soccer?"
where I quote some of soccer's primary thinkers.
Navigation Aids
Examples Secondly, if you question my observation that the vast majority of outdoor
More Cards? soccer games end in either a shut-out and/or a draw, take a look at my
Keepers Rule! page: "study of soccer scoring at the pro and college levels."
Lead Changes

Hockey Scoring Thirdly, for those who refuse to even concede the fact that soccer is a
Sacred Cows defensive game, let me quote from "World Soccer" magazine, describing
Hesitation Charlie Buchan's contribution to soccer (December 1999, p. 25) :
Season Tickets "Charlie Buchan...who many credit with the move--introducing
Blowouts the 'stopper' centre-back--that turned soccer into a defensive game."
Defender Benefits So, there you have it, a "defensive game," from the pens of genuine
My Favorite Match British soccer scribes. OK, let's move on.
Int'l Implications ********
Future of MLS Here's my vision for American Professional Soccer. Teams in every market
Rules Improvements capable of sustaining an "A" league baseball franchise, stadiums filled to capacity,
First Goal Stats lots of money for all the participants, and everybody having a lot of fun. And the
Sideline Humiliation beauty of this vision...realization could start next season, not in 2 or 3 generations.
********
Quote #1 on the subject of Change:
"...And do you believe in changes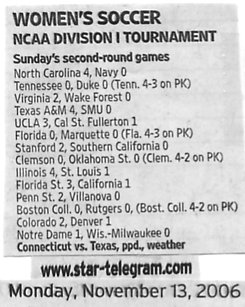 And the way that the Lord arranges?
Are we going to fight Him every step of the way?
And small steps make a distance
And I know you love reminiscence
But the fact of the matter remains that we have to change
And changes are the best way we can learn to be
I see it in the fields and the forests
And the colors in the rippling sea
And in the ponds of stagnant water
From the lack of running free..."
Shawn Phillips, from his '72 award winning masterpiece "All the Kings and Castles"
********
Why do I focus on the American Professional Game? Because it would be arrogant to suggest
that I knew what the rest of the world needs. And since my international travel is limited to trips to
Bermuda and Toronto, I lack the tools required to evaluate the impact which decades of living in
"mono-sport" cultures has had on both players and spectators throughout much of the world.
Fortunately, the diversity of the American sports culture allows us to draw on many lessons learned
from outside of soccer, such as:
B. Johnny O's Impact on Outdoor Motocross
C. Singing the foot stomping blues in the Bluegrass
D. The influence of NASCAR on North Carolina's sports culture
E. American Football's "1st and 10 Line" enhances viewing by casual sports fan, and how it will change soccer
Yet while such lessons makes it much easier to both recognize and address the scoring reality in pro
soccer as it applies to the USA, they may be inadequate for application on a global scale.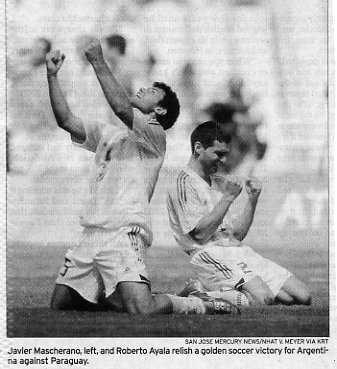 I do know that I have received e-mails from young (presumably) people
outside the USA who genuinely feel that too much scoring would reduce
the special feeling they get after scoring a goal.
That's the fact! The elation and despair felt with the game's first (and
typically winning) goal would no doubt be reduced significantly in a
reality where 5-3 final scores were the average.
But more importantly, to many of my foreign respondents I've posed the
following question:
Of the following pair of International friendly matches, which would be the better soccer match?

or

The vast majority responded that they'd need to watch both matches before they could decide.
We Yanks are a much simpler lot. What's to think about? Let's contrast the likely
thought processes as the American soccer fan browses the sports section in search
of the evening's entertainment:
Game #1: "Let's see...USA v. England...sweet...2-1 score...I wonder if McBride even
played?...too bad it's on opposite a rerun of "Friends."
Game #2: "Let's see...USA v. England...sweet...lots of goals...a game with multiple
lead changes...& a hat trick...all 3 crucial goals!...by Michael Owen!...thank
God for Pay-Per-View...only $19.95...where's my credit card!"
Anyway, I have come to terms with the fact that there could be political
or psychological or dietary or even religious (voodoo!?!) forces at play
in places like South America or Africa or Europe which favor not only
the playing of defensive oriented soccer, but might even induce in
soccer spectators a preference for the watching of low scoring matches.
The undisputable evidence was World Cup '02 where--even during the
sub-2 goals per game drought of the later rounds--international soccer fans
were in a state of constant frenzy reminiscent of that Grand Funk Railroad concert
I attended at the University of Cincinnati back in '74.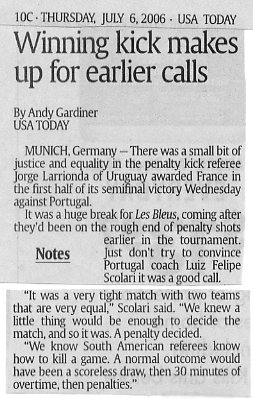 Click on the following image box for a sample of some remarkably
enjoyable action from FIFA World Cup 2006:

No video? Get the DivX Web Player for Windows or Mac
Yet as good as that was, I have to remind you that this match ended with a
score of 1-0, and that single goal was not scored by England, but was an
own goal. Such is soccer in the new millennium, and it's just not marketable
here in the U S of A.
But fortunately, it is obvious that scoring is not what the highly sophisticated
international fan is needing from their football. For these soccer fans,
I'm certain that FIFA knows what's best. That's why I'm only suggesting
changes to American Professional soccer.
********
Behold!
A glimpse into the mind of the American Sports Press: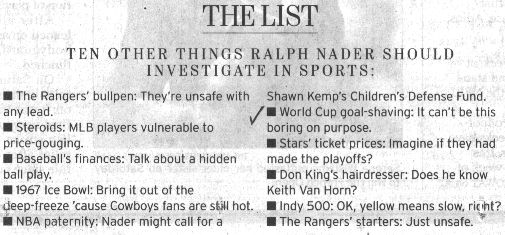 Source: Fort Worth Star-Telegram, June 9, 2002, page 2C
********
Why isn't outdoor soccer a big hit here in America? Because the rules of soccer
today are providing the defense such a strangle hold on the game that it kills the
entertainment value of the game for "the casual American sports fan".
Need some examples?
Why not start at the top. The FIFA World Cup is always a low scoring
affair, particularly from the round of 16 on. This year's final 16 teams
competed in 16 matches, with total scoring of 25-5. That's an average
of 1.875 goals per match, including goals from the 6 overtime matches.
More importantly, that's an average score of 1.56 - 0.31. Take out the
3 overtime goals, and we're talking 1.69 goals per game through regulation
time. By the way, 14 of these 16 matches (87.5%) finished regulation time
as shut-outs and/or draws. Oh yeah, 25% of those matches went to PK's,
including the tournament final match.

No video? Get the DivX Web Player for Windows or Mac
Keep in mind that Italy had 5 total shots in 120 minutes of soccer as their
defensive machine steamrolled it's way to the championship with skillful play
like that which is featured in the video at right:
Read over the following quote for proof that there is somebody else out
there who is concerned with the entertainment value of soccer matches:

Great idea, Sepp, but to gauge a participant's attitude and aptitude, I recommend that invitation to the symposium be contingent upon the return of a questionnaire consisting of 3 simple questions: 1. Do you feel that the beautiful game needs to be made more entertaining & why? 2. What level of average scoring would you like to see achieved in: A. League play? B. Major tournament play? (yes folks, there is a difference.) 3. Have you ever authored a written work of any kind (even an e-mail) in which you suggested a specific change to the laws of the game with the goal of making soccer more entertaining, and please submit a copy?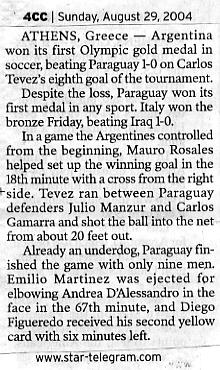 Let's continue with the men's medal matches at the 2004 Olympics in Athens.
The Fort Worth Star-Telegram article on the right says it all, but here's
the net of it:
1-0 Argentina (gold) over Paraguay (silver), which finished with 9 players.
1-0 Italy (bronze) over mighty Iraq.
Now let's examine the recent UEFA Euro 2004, played for the championship
of Europe. Consider that eventual winner Greece finished with scores of:
1-0 in the Quarterfinal against France
1-0 with overtime in the Semifinal against The Czech Republic

1-0 in the Final against Portugal
and it's easy to see why some have nicknamed this tournament:
Above Image from Soccer America Magazine
The Big Fat Greek Snooz-fest.
Seriously, I was in attendance at The Londoner Pub in Addison, TX for
the telecast of the memorable France v. England match. Yet this match
also finished regulation time 1-0. If only the rest of the tournament had
as much scoring as injury time of that match...

...but if you read on you'll learn that I personally find goals scored off free-kicks
and PK's to be far less than completely satisfying when viewing the game from
my entertainment skewed orientation.
How about World Cup '02? Looking at the "Sweet 16", Quarterfinal, Semi-
Final, and Final Rounds, these 16 matches finished with an average score of
1.56 - 0.34. Fourteen of these sixteen matches (88%) finished regulation as
either a shutout (69%) or a 1-1 (19%) draw. Of the two matches which didn't,
Turkey v. S. Korea (essentially an unimportant exhibition game) yielded a 3-2
score, while the other, Brazil v. England -- which was billed as featuring sufficient
offensive firepower to arose envy in the HMS Illustrious -- plus 10 vs. 11 for the
last 35 minutes of the game -- still finished with an all too typical 2-1 score.
These matches should be proof positive that quality soccer skills lessons are
NOT the sole answer to higher scoring pro soccer...a philosophy which a great
many of my respondents seem to embrace.
The 2001 Copa America is another prime example of exactly what I'm

No video? Get the DivX Web Player for Windows or Mac
talking about. After the conclusion of the 26 games which comprise
this prestigious affair, including men's "national" teams from mighty Brazil
and Mexico, the average score was 1.92 to 0.38. The losing teams scored
a total of 10 points in 26 games. Of these 26 games, 85% finished as a
shutout and/or a draw (19 were shutouts and 4 were draws), including
the hard hitting 1-0 championship game between Mexico and Columbia,
which produced the produced the very entertaining video clip just above.
As you can see, the referee let the boys play that match.
Not wanting my buddies at FIFA to feel that I'm singling out International play as
the sole sufferer of defensive dominance, let's consider our own MLS Cup, the
championship match for American men's professional soccer. For the first ten
years this match saw scores of: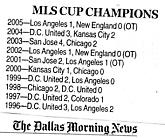 3-2, 2-1, 2-0, 2-0, 1-0, 2-1(OT), 1-0(OT), 4-2, 3-2, and 1-0(OT)
for an average score of 1.8 to 0.6 at the end of regulation time, and with
the overtime goals it's up to 2.1 to 0.8.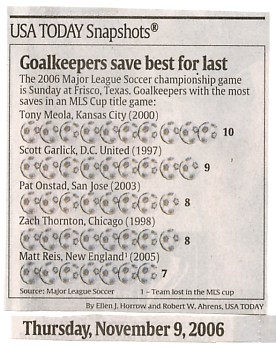 Fact is, the 2000 MLS Cup Match featured a classic match up in that it was the
MLS' very best offense (Chicago) vs. the MLS' best defense (Kansas City).
But what we got was classic defensive soccer, as the "best defense" scored
early (minute 11) and then dropped back into the good old "22 legs in the box"
strategy for the remainder of the game, yielding a 1-0 victory. And again, this
defensive showcase was played in perfect weather and field conditions. Now
look to the section entitled:
"TEAM TOTALS (RANK WITHIN CATEGORY)"
of the MLS '00 "stats" page for verification that this strategy was no isolated
incident for the MLS Champions: The Kansas City Wizards finished the 2000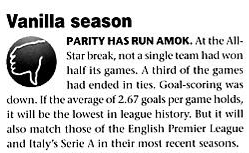 season with the fewest "shots on goal" of any team in the MLS.
Note: Kansas City Wizards forwards Molnar, Bunbury, and Johnston retired
immediately after the game. When faced with another year of playing this type
of unentertaining soccer, who could blame them?
Image Credit: Will Kuhns of Soccer America magazine.
The Women's World Cup '99 gave us an afternoon of over 210 minutes of
scoreless action in regulation and overtime by the World's four best women's
teams, in perfect weather and field conditions. In the ultimate demonstration
of the physical advantage enjoyed by the defense, Team USA defender Michelle
Ackers played while suffering from a severe medical condition called Chronic
Fatigue Syndrome. I make this point not to detract from Ms Ackers' contribution
to the victory by Team USA, but only to underline that playing at back is far
less taxing from an endurance point of view, as you will never see a striker playing
full time in the finals of any World Cup suffering from an ailment which markedly
affects her or his endurance. Offense is too physically demanding to permit it.
Each December brings the NCAA Tournaments - the collegiate championships
for the USA. These are significant simply because they are matches played under
the following important conditions which should encourage higher scoring results:
A. After a full season of playing together, the offenses should be in-sync!!!
B. By and large, it's the first time the teams have played each other that year,
so there is very little opportunity for "really knowing" the opposition.
C. It's the best playing the best. No "cellar dwellers" here!
Unfortunately, in spite of an environment which should encourage offensive success,
the scores of the NCAA Division 1 Women's Final Four matches for the last seven years
are 1-0, 1-0, 1-0, 2-0, 1-0, 2-0, 2-1, 1-0, 2-1, 2-1, 3-2 (OT), 1-0, 2-1, 2-0, 2-1 (OT),
2-0, 3-0, 6-0, 1-0, 2-0, 1-1 (PK). That's an average score of 1.90 - 0.38, with 81% of
the matches finishing regulation time as either a shutout or a draw. And again, one single
game is completely altering the average score. Pull out that last 6-0 UNC v. UConn
blowout, and the average drops to: 1.70 - 0.40, with 80% finishing regulation as
shutouts &/or draws. With only a couple of very recent exceptions, the defenses routinely
overwhelm the offenses, even with mighty North Carolina playing in the vast majority
of these matches.
So you feel that 18 NCAA games is far too small to be a representative sample? OK,
let's look that the '99 NCAA Division III Women's Tournament as a whole. Over
39 total games, 35 were either shutouts or draws in regulation (that's 89%), and
the average score was 1.94-0.12. OK, viewing this average score as a total goals
statistic which is favored by soccer purists the world over, this 2.06 goals per game
is higher than the above mentioned World Cup '02. Unfortunately, that view overlooks
the fact that the losing teams scored 5 goals over the tournament's entire 39 games!
But don't get the idea that the men's college game is immune from offensive impotence.
The 2002 NCAA Men's Division 1 Final was played here in Dallas, Texas at 65
degrees, clear skies, light winds, decent field conditions...basically soccer heaven.
The two teams were #7 ranked UCLA (4 time NCAA Champion!) and #9 ranked
Stanford, so talent was present on the field that day. Now dig this: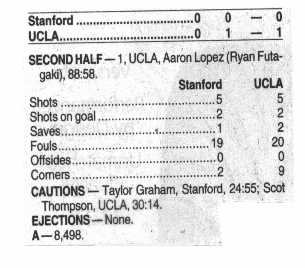 Source: The Dallas Morning News, December 16, 2002, page 17B
The stats contained in the above box score paint a picture of total defensive dominance
on a scale that I can't describe, but let me try...4 Total Shots on Goal!
For a larger view of the American college game, please consider that the entire 1999
NCAA Tournaments consisted of 184 games with an average score of 2.30-0.50.
There were 115 shutouts in regulation (62.5%), including 14 scoreless 0-0 draws
in regulation (7.6%). Including the 14 scoreless draws, at the end of regulation
there were 40 total draws (21.7%), meaning that 76.6% of the 184 games finished
regulation as either shutouts and/or draws. And this includes both men and women.
Look back to World Cup '94 for a classic example, where the final match between
Brazil and Italy went into the shootout deadlocked in a 0-0 scoreless draw.
We were very recently treated to the FIFA Centennial Match, which was played in
Paris between Brazil and France, as a celebration of 100 years of soccer under FIFA.
While I wouldn't normally include any international friendly match in this select group,
the FIFA web site's summary page entitled "A fitting result for a special occasion" is
indeed recommended reading, as it should be registered by the folks at Guinness as
sports literature's longest example of an article written to justify an exhibition match
ending in a scoreless draw. Hey, if a 0-0 draw isn't a terrible finish for a soccer match,
why go to such an effort making excuses for it?
Lastly, what I consider the ultimate example of great defense squashing great
offense…France 3, Brazil 0 in the final of World Cup '98.
So what, you say?
Please consider that France shut out the greatest offense in the world without the
services of their star defensive captain, Blanc, who sat out the entire game due
to a red card received in the semi-final game. Then realize that, due to yet another
red card, France was fielding a squad of only 10 for the final third of the big game.
This game -- together with Brazil vs. England in W/C '02 (10 v. 11 for the final
35 minutes with no goals during that time) -- lays to rest the claim made by
purists that higher scoring will come when the officials use their cards more often.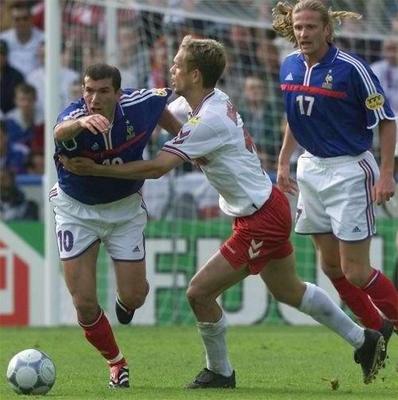 Tools of the Defender's Trade (#9): The Hug (no doubt the inspiration for the professional foul rules)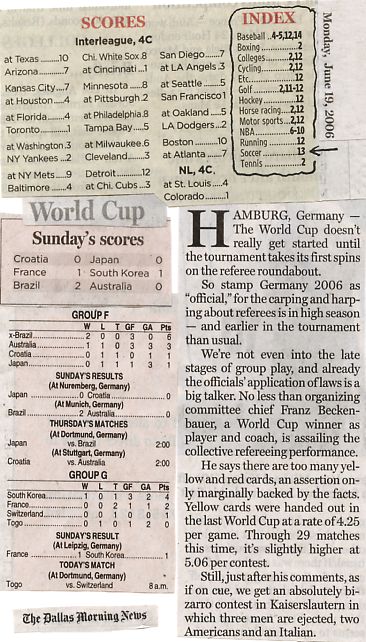 Another revealing glimpse into the mind of the American Sports Press:
As evidence of the the national conspiracy of the sports press to deny the American Soccer Fan his God given right to equal coverage, at right the prosecution offers exhibit A. Ladies and gentlemen of the jury, as you consider this evidence, focus on the Dallas Morning News' sports section 'index' which I've circled and right. Now keep in mind that this sample was taken during the FIFA World Cup, that most holy of times in the calendar of the soccer fan. And more importantly, this is the opening round of the World Cup, when 3 matches are played each day, so there's plenty to be discussed, not to mention an editorial by DMN's staff soccer specialist Steve Davis on the previous day's USA v. Italy match. Plus this date in soccer history featured matches featuring both Brazil and France...the two previous World Cup champions, so the action was of the most important variety. Yet while only one page is dedicated to soccer, note the page number 13 placement...out of a possible 14. They might as well hid it in the classified section, between the yard sales and sporting goods equipment. Maybe there room could have been found for a few match statistics, cause exhibit A documents that there weren't any soccer stats on page 13, or 12, or any other page for that matter!
**********************
As a shining example, consider the following International "Friendly" match between
the men's teams from Argentina and USA, what with it's 8 Yellow Cards and
5 Total Shots on Goal: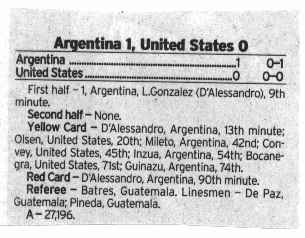 Source: Fort Worth Star-Telegram, Feb. 9, 2003, p. 12c
Now I ask you: "How many cards would have opened the way for more goals?"
It's a tricky question indeed when you consider that two of the yellow cards went to
Argentina's D'Alessandro, the player credited with the assist on the game's lone goal.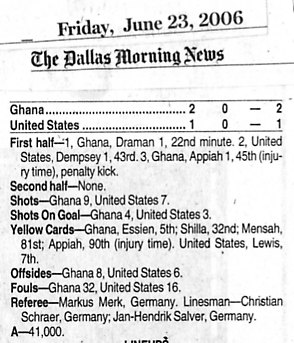 Look, please don't misunderstand me here. I'm not saying that the "tactical" foul isn't
out of control in outdoor soccer. One look at the above presented pair of box scores:
NCAA Men's '02 Tournament Final -- 39 fouls, 2 yellow cards, 4 shots on goal, score: 1-0
Argentina v. USA Men's Friendly -- 40 fouls, 8 yellow cards, 5 shots on goal, score: 1-0
and let's not forget the ultimate perversion of the spirit of the beautiful game, at right:
Ghana v. USA World Cup 2006 -- 48 fouls, 32 fouls by Ghana >>>>>>>>>>>>>>>>>>
confirms that at both the "life or death, this is probably the most important match of my life"
Tournament Championship level and the international exhibition "absolutely nothing at risk
here since this is a friendly" levels, the tactical foul is out of control.

No video? Get the DivX Web Player for Windows or Mac
But the problem is that fouling is now an essential element in the
strategy of soccer today, so much so that sports commentators
feel compelled to question the validity of obvious fouls like the
example in the video at right which only encourage that kind of
"if you can't get the ball, at least stop the ball handler" mentality
which coaches (and parents) have instilled in players since birth.
If you dare question this fact of life, you obviously don't watch soccer at the
highest level...the FIFA World Cup. In this arena, the commentators aren't even
subtle in their embracing of "the foul as essential element of soccer" reality, as is
documented in the following little video, Marcelo Balboa's confession of faith:

No video? Get the DivX Web Player for Windows or Mac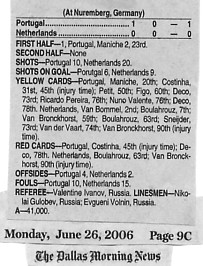 If you need evidence documenting the real card to goal relationship, simply go to FIFA's page:
FIFA World Cup Comparative Statistics
It clearly reveals the dubiousness of thinking that more cards must
lead to more goals. Sadly, it's just the opposite.
At any rate, it's a moot point since the defense has such an advantage in
outdoor soccer today that it's easy for 10 to shut out a full team of 11...
provided that the short team is 'satisfied' with the score.
For the American readers, don't be too hard on yourselves for not being aware of
soccer's defensive domination. The sad truth is that we have been spoon fed our soccer
news, and it's worse today than ever before. Even in significant international matches,
such as the Argentina v. USA Men's match which I referenced on the previous page, and
the following match against the "Tri-Colors", our arch rivals from south of the border,
the statistics have been hidden, even while there's plenty of room for the names and
nationalities of -- as if anyone cared -- the referee and his assistants.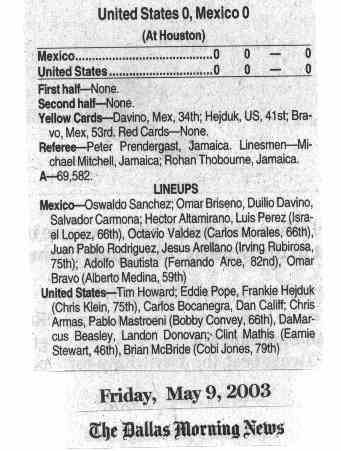 Test Your Inner Soccer Sleuth: Noting the total absence of statistics in the above box score, one must wonder: "whaazup w'dat?" Exercise your soccer sleuth through the examination of the somewhat more complete box score at www.ussoccer.com. Here's a hint...the formula to use is: Saves by Mexico (1) + Goals by USA (0) = Shots On Goal by Team USA (1). Now try it again on the seemingly more complete box score below which recaps the big rematch a year later. This time compare it to this box score at www.ussoccer.com, and expand your focus to yellow cards, fouls, and shots on goal by Mexico. Also, note that the lone goal was scored in the last minute of injury time.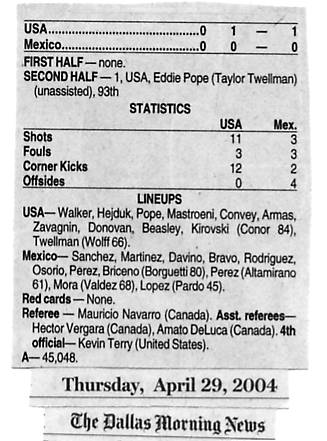 So, you're thinking that things have changed since way back in 2004? Yeah, right.

Back to the point...the above examples indicate that, at the highest levels
of the game, the strangle hold which defense has on the game of outdoor
soccer is restricting it's appeal to the common American sports fan, the person
who is not married to any one particular sport, but is happy to buy tickets if
he or she has a fair chance of finding entertainment. Win just 20% of his
or her support, add this to the tickets currently purchased by the existing
American pro soccer fan base (purists who don't have cable TV, Hispanics,
youth soccer teams who are pressed into attending, etc.), and the MLS and
WUSA stadiums will be full to capacity. It's that simple, and it's that complex.
Don't get me wrong, both of my kids are goalkeepers, so I'm a real fan of good defense.
I was the soccer dad from hell who, with his son or daughter's team leading 4-0 with
5 minutes left in the match, would be yelling at the defense to "Stay Focused" so that
my child could get credit for a soccer shutout. And while I freely admit that I must
have sounded like Ming the Merciless, or possibly Robert Vaughn's character in
Superman III as he stated his philosophy for personal success and satisfaction:
"It's not enough that I succeed...all others must fail."
To hell with sportsmanship, I wanted that shutout...period. My kid deserved it!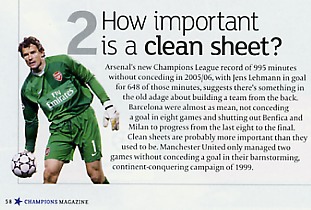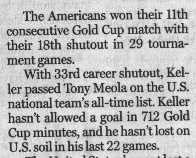 Source Above: Associated Press/Dallas Morning News; July 20, 2003, P. 5cc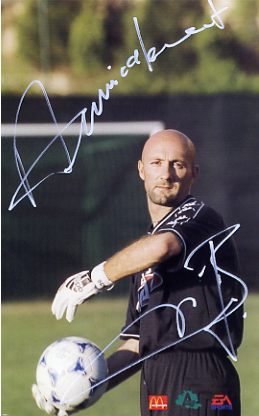 To further emphasize my appreciation of great soccer defense, let me
share with you my family's high point of World Cup '98:
"The Clash of the Chrome Domes."
When the French goalkeeper Fabien Barthez slammed down on hardman
wanna-be Ronaldo, driving him into the ground like a bug. Now that was
cooler than any mere goal could ever be. I mean, we must have played
that back in slow motion at least a dozen times. What a sweet moment...
according to me and the two young goalkeepers at Casa Kimbro.

Click on the following images to view videos of the blessed event, then make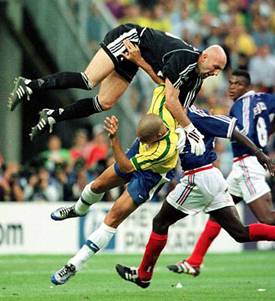 your own mind up about Brazil's game plan as you take note of Ronaldo's
visual focus and obvious leap up into France's outstretched goalkeeper.

No video? Get the DivX Web Player for Windows or Mac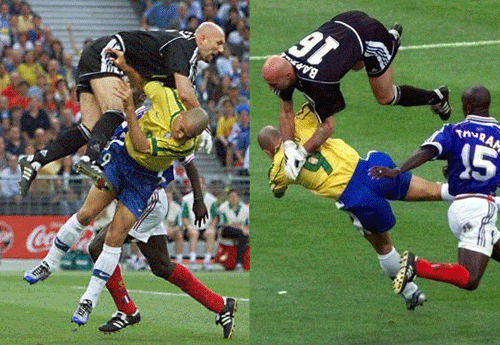 No video? Get the DivX Web Player for Windows or Mac
Video Credit: ABC Sports and FIFA
Interestingly enough, while this very unique incident was a gut shot to Team Brazil,
the press chose to ignore it entirely for nearly a decade. Go back and verify for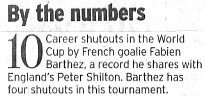 yourself, but all media focus has been on Zidane's 2 goals. It wasn't until France
held Brazil scoreless for a 3rd consecutive meeting (WC'98, FCM'04, & WC'06)
that the media decided that "the clash of the chrome domes" was special enough
to use to represent France's World Cup 1998 campaign.
Sharing the love...goalkeeper style!
To those who are wondering why Barthez was giving Ronoldo a little pat on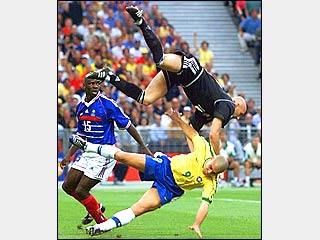 the back at the end of the above video, note the accompanying leg action
and you'll realize that wasn't no love pat. That was Barthez teaching Ronaldo
the true meaning of the word R.E.S.P.E.C.T. via a knee drive to the mid-section,
an action which was likely followed by the rhetorical question:
"Qui est la chienne maintenant!?!" (translation: "Who's the female dog now!?!")
Photo Credit: Patrick Hertzog, AFP/Getty Images
No small wonder that Fabien's gracious offer to shake hands was declined by
the shaken Ronaldo as he was led off the field by the Brazilian trainers.
OH YEAH, BABY...KEEPERS RULE!!!!!
Unfortunately, most ticket buying American sports fans don't give a rat's rear
about the goalkeepers. They don't go to the games to see the defense shine.
And sure, headers are nice, fancy moves are neat, punch outs are cool, but
to the average American sports fan, there is nothing sweeter than SCORING.
What would be good for American soccer is a reality where shutouts are few
and far between, and the top level teams play to an average 5-3 final score.
Today, 99.5% of the time that the victor gets to 5 points is in a blowout where
the losing team scores 1 point at most, and is too often shut out entirely. What
a shame for "the typical American spectator".
This low scoring reality places far too much importance on the goalkeepers and on
the refs. One single mistake by either can too often determine the outcome of a
90+ minute game, particularly if the mistake is on the first goal of a game, due to
the fact that the team which scores the first goal has about an 85% chance of
going on to a win or a draw in regulation. The points scored thereafter aren't
nearly so important. Again, what a shame. This isn't good for pro soccer.
Americans love to see lead changes in the sports matches they watch. In fact,
there is no higher way of communicating just how exciting a game is than to say
simply that the lead changed hands 3 or 4 times during the game, or as the guys at
ESPN Sports Center have said:
"The lead changed hands more times than a beach ball at a Foghat concert!"
Unfortunately, outright lead changes almost never occur in outdoor soccer at any
level above 12 years of age. More scoring would allow for lead changes, as
well as a better chance that teams could make a "comeback." Today, the
come from behind victory is as rare as the "own goal."
A note to those who are thinking:
"Hey dude, take a chill pill. Hockey is a low scoring sport, and it's
doing just fine here in America."
I hope you'll check out my "hockey scoring page" where I address this misconception, and
through this process of enlightenment, I derive Kimbro's 3rd Theorem of Soccer Scoring.
My proposal: Let's discuss slight changes to the rules of the American Professional
Leagues which would alter the "orientation" of the game (from defensive to offensive),
without actually changing the essence of the game. This isn't one of those:
"...you can choose the red pill, or you can choose the blue pill..."
kind of thing. I'm not talking about anything radical, only simple tweaking of the rules.
Image Credit: Champions Magazine, February '04 Issue, P.33
But let's begin the conversation with 4 sacred cows, starting with the off sides rule.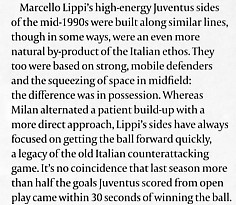 This rule is at the very heart of soccer itself. Leave it alone! While I do agree that
the off sides calls (or non-calls) too often settle scoreless games (particularly in the
last 5 minutes of a game), higher scoring will make this single call (or non-call) far
less important to the final outcome of a 90 minute (or longer) game. Anyway, be
sure to visit my page "soccer without off sides" if the prospect of this is something
which intrigues you, as you might enjoy the view into the world of pain and suffering
that such a change might create.
Next, I'm opposed to increasing the size of the goal. Feel free to check out my
related page "BigGoal1" where I abandon my unwavering objectivity to let go
with some admittedly subjective thoughts on the subject of increased goal size.
Thirdly, while it may sound like a quick fix, go to my page "NoZone1" for my
thoughts on why we shouldn't mess with the zone defense.
Fourthly, we need to keep the draw, as it is a fundamental element of soccer.

...NOT!
But I had you going there for a second, didn't I. The way I see it, calling
the soccer draw a 'fundamental element' of the game is akin to calling
death by starvation a 'fundamental element' of living in Somalia. I do
freely concede that the soccer draw is a 'sad fact of life', an 'unfortunate
byproduct' of the superb fitness level achieved by today's athletes. But
I regard the draw in the context of the defense friendly reality which IS
soccer today. The occasional draw isn't a problem, so please read on
for ideas on how to create in the world of American Professional soccer
an offense friendly environment. This would reduce the occurrence of
the draw to the point that it will only be worthy of special consideration
in soccer tournaments, and hey, last time I checked the MLS & WUSA
don't have that many tournaments to worry about.
I feel the key is to encourage the defense to think a little bit more. More
thought produces hesitation, and as it is with many things in life:
"He who hesitates is lost."
To do this, simply examine the defender's primary weapons, and then concentrate
on ways to discourage the unlimited use of these defensive weapons--ways to
make defenders think before they use these weapons.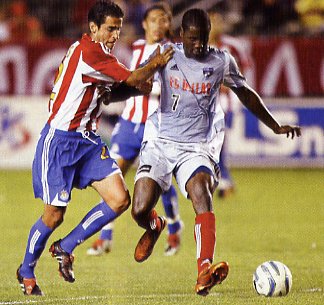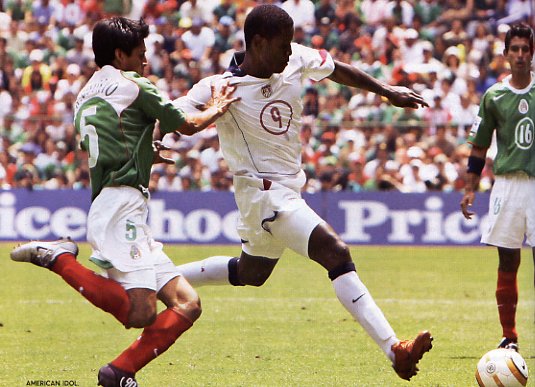 Tools of the defender's trade (#6): The Shoulder Shove. Simple, subtle, and so effective. If the defender can keep that shoulder from rotating toward the ball, then the ball isn't going to come close to following it's intended path. Now coaches I ask you...since this is flat out never whistled, why isn't it ever coached as a defensive skill by anyone other than Latin coaches? Photo Credit: Striker Magazine, Summer 2005 issue.
And don't hand me that "world game" stuff. We need to grow professional soccer
in the USA, and I mean now, not in 2 or 3 generations. In the traditional
hotbeds of soccer (places like Africa, South America, Europe, & Central America)
soccer doesn't compete with such "spectator oriented" sports as American football
(NFL, College, and recently...High School), hockey, baseball, basketball, NASCAR,
Disney on Ice, and Garth Brooks' most recent "I'm back from retirement" tour.
Here in America the "novice spectator" appeal of soccer is very limited, so we need
to make some changes for the benefit of the PRODUCT of professional soccer--
that "SHOW" which spectators are paying to see.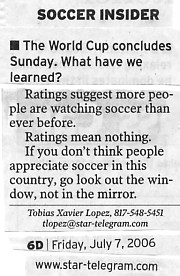 At right is part of an article in which poor Tobias Xavier Lopez attempts to
assure us that soccer is appreciated in American. I'm in full agreement with
Lopez on this point, as all of us soccer parents appreciate soccer just about
as much as do America's soccer players, but therein lies the problem. The
players claim to be soccer fans, but folks, if you never meet a friend at Pizza Hut Park
to watch FC Dallas play at match, or seldom take time to watch a professional
soccer match in it's entirety on TV other than during World Cup, then you
really don't appreciate the game of soccer. I feel if the soccer players supported
professional soccer with half as much single mindedness as they use to beat me down
on any little change to the rules of the game, then the stadiums would be full.
If you don't agree with me on the above, I challenge you to casually survey
Americans as to how many season tickets to outdoor soccer leagues they now
own, or in the case of parents of youth players, ask if they are eager to purchase
season tickets after their children get out of soccer. Then go to your place of
employment, and find out how many season tickets are bought by your company
to be given out as 'perks' to customers, vendors, and your company's execs. Then
ask how many of those are season tickets to soccer matches. You will then realize
why soccer has such an uphill battle here in America. You will then realize why
changes need to be made in order to grow the American soccer game.
********
Quote #2 on the subject of Change:
"To improve is to change, to succeed is to change often."
Sir Winston Churchill
********
And please don't cite blowouts as examples of the kind of high scoring football
that matters here. Sure many goals are scored, but rarely are they fine soccer matches.
I've sat through enough 5-0 games to know the plot in advance. A team strikes, it
shakes up the other team like a gut punch, because the odds are that they are now
playing for at best a draw. They loose their composure, another goal gets scored,
now they're down 0-2, the writing's on the wall, the leading team drops back into a
more restful and defensive minded system, the down team presses forward, a couple
of long balls catch them pressing too much, and before they know it it's 0-3 and they
have absolutely no chance of coming back to even tie the game. The keeper or
sweeper wisely decide that his or her best strategy is to let their ailing hip or knee heal
via a little less intense play, and voila, it's 0-5. True, more goals than your run of the
mill 2-1 game, but not much of a match.
Under my vision of American professional soccer, there will be blowouts, but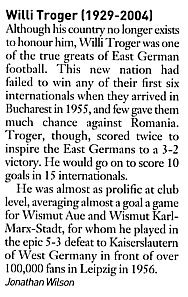 these will be like traveling back in time to Switzerland for the 1954 World Cup,
when a blowout was the 7-2 West Germany v. Turkey match, or the 8-3
Hungary v. West Germany match. These were blowouts, but note that the big
difference between a blowout then and a blowout today is that the loosing team
scores goals. Of note, three weeks later Hungary and West Germany met again
in the final of the '54 World Cup, and the score was 3-2 West Germany over
Hungary, after Hungary was up 2-0 at halftime. Those were the days. Forget
the come from behind victory, can you even imagine 5 goals scored in a
competitive World Cup Final in our time!?! Today, the stakes are simply
too high to allow that kind of reckless and irresponsible behavior.
But, if you do generally feel that a loosing soccer team doesn't even deserve to score a
goal, you'll enjoy my World Cup prophecy entitled "Vision Zero."
And I understand that there will be a few "unhappy Americans" if high scoring soccer
happens in these United States. I simply don't care that the success of the offense will come
at the expense of the defense. You can't have it both ways. So save your e-mails which
explain that "life as a defender after the Kimbrocification of American pro soccer would not
be worth living." Believe me when I tell you that the adult MLS or WUSA defender or
goalkeeper would be happy to give up 4 goals every single game playing in a league where
the average attendance is 30,000 per game, American Pro Soccer has equal share of the
"highlights" footage, and the average defender salary is well over $500,000 in the MLS
Premiership, while in the American Division 1 Markets (Raleigh-Durham, NC and Salt
Lake City, UT) the defenders might command $150,000, while the American Division 2
& 3 markets (say Eugene, OR and Albuquerque, NM) defenders might need to tend bar
to supplement their salaries--just as many MLS players do today. If you doubt that they
surely do, then consider that MLS forward Taylor Twellman's base salary was $24,000
in 2002, the year he won the MLS league scoring title. Bartending pays better than that.
********
Hark!
Another glimpse into the mind of the American Sports Press: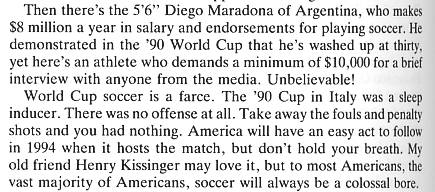 What's the interview fee for America's top professional athletes?:
A. $10,000
B. The Cost of Dinner
C. The Cost of Drinks
D. Nothing...well maybe a little slack on the players current hitting slump.
********
I think back to a few years ago when my daughter played up front (center-mid, left-mid and
left-forward.) At tournaments, she'd often times swap positions with the fullbacks when
she needed a break, as the defense was far more restful. THIS inherent advantage may
even increase with higher scoring (except at keeper!) if rules changes have the
net effect of discouraging the double team.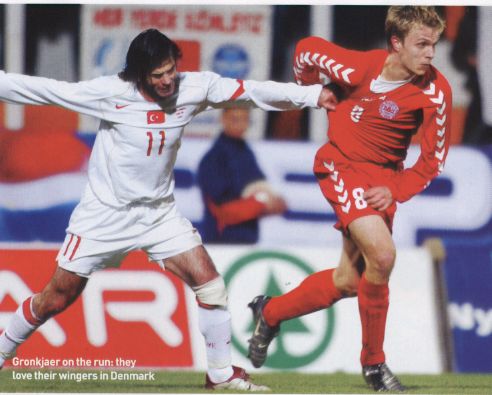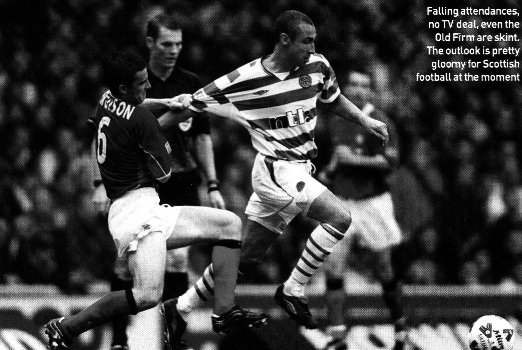 Tools of the defender's trade (#4): The clothing tug.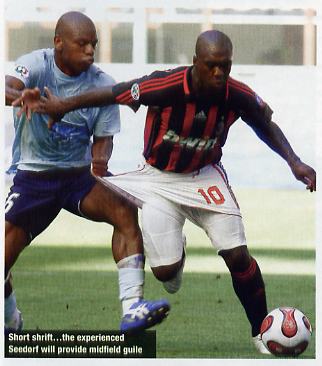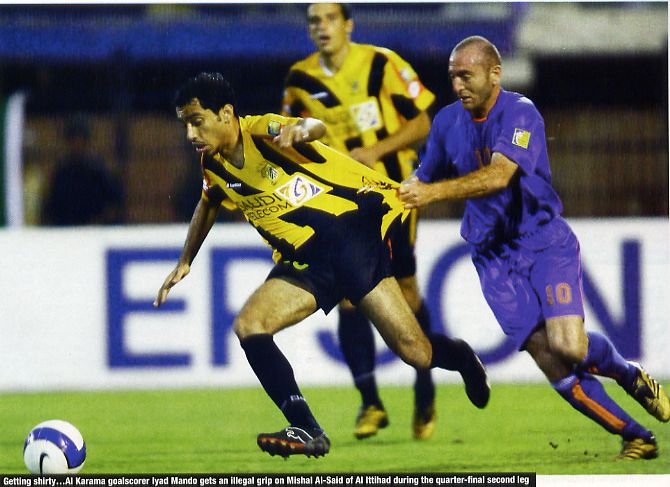 No video? Get the DivX Web Player for Windows or Mac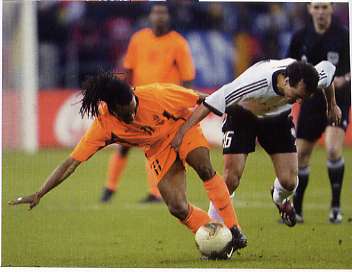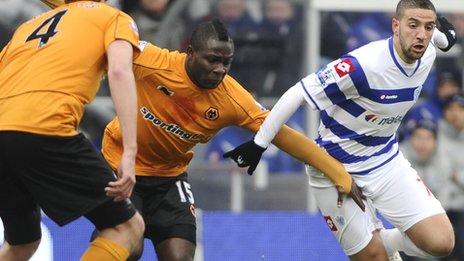 Come on folks, let's get creative. The game is great for the players. Now let's make soccer
great for the American spectators so we can fill those stadiums, bringing far more money into
the MLS & WUSA game. Furthermore, the sports highlights (on ESPN, the nightly news, and
the morning shows) would QUICKLY become goal after goal after beautiful goal, instead of
simply featuring Barry or Sammy's latest home run, or Warren Sapp's latest cheap shot. Just go
over to my "all-time favorite match" page and see how easy it would be for soccer highlights to
completely take over the sports high lights in a 5-3 reality. We'd then start having soccer
discussed around the water coolers at work, while MLS and WUSA tickets will be the hot
items to hand out to a company's best customers.
The only downside to my vision is that once a high scoring reality exists, I'm concerned that the
world's best offensive players might feel that America is where they need to be playing. If not for the
money, then for the FUN of enjoying success on the pitch. Check out my page "ultimate advantage"
where I explain why defections from the English Premiership would be less likely, yet is it too much
of a stretch to imagine a player of say David Beckham's prowess, after a couple of "off" years where
his production drops to a goal every 4 games, looking fondly at a move to the MLS ...
Source: FourFourTwo Magazine, Feb. 2003 Issue, Page 76 ('01-02 & '02-03 Premiership & Champions League Stats)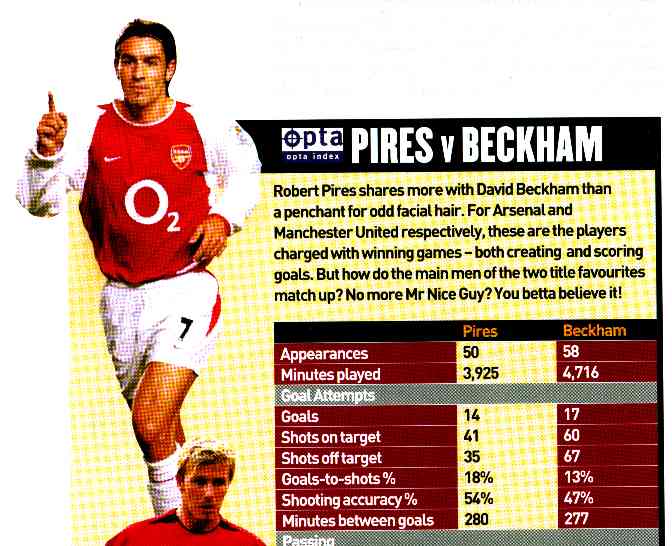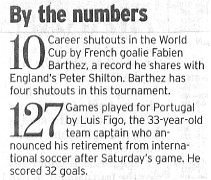 Mensa Mind Teaser #6,329: Given the above stats, and the fact that there are 90 minutes in the average pro soccer match, how many matches passed between Mr. David Beckham's goals? How many matches between Mr. Robert Pires' goals? Once answered, extra credit is available by solving the following equation: 32 / 127 = X , where X represents Mr. Luis Figo's goal per match frequency with Portugal. Before e-mailing me with the typical: "...once again, Mr. Kimbro, you insist on citing isolated incidences in your effort to justify the bastardization of the Beautiful Game...", please read Grant Wahl's CNNSI article documenting Cobi Jone's production of 8 goals during his first 120 international matches, then do the math on that one. Now THAT would be citing an isolated incidence. But hey, seriously, keep those cards and letters coming!
...where a fine striker might enjoy a 1.75 to 2.00 goal per game average, and consecutive non-scoring
games were few and far between.
The only thing which would likely keep the MLS from being "striker heaven", as I see it, would be the
meager salaries of only $1,000,000 per year or less. Initially, I would not be surprised to see striker
salaries held artificially low by the migration forward of highly talented defenders and mid-fielders who,
with scores averaging 5-3, might realize that they're more valuable (to both their teams and their agents)
scoring goals than continuing to concentrate on keeping the opponents from scoring. But you can rest
assured that, after a few years the real producers will be identified, and their rewards will be sizeable.
It will be a glorious time, bringing to mind the inspirational words of the Rev. Harley MacMoregoals:
"I await a time when a man is judged NOT by the color of his skin, but instead by his ability to score goals!"
If the future of the MLS and WUSA concerns you, check out "the future of American professional soccer".
Without an adjustment adjustment to the orientation of the game of soccer, from defensive to offensive, I do have
doubts about it's relevance in the entertainment market place.
Let's review the possibilities. Pro soccer in every market capable of sustaining an "A" league baseball
franchise, stadiums filled to capacity, lots of money for all the participants, and everybody having a lot of
fun. And the beauty of this vision...success could start next season, not in two or three generations.
Mike Kimbro, The Agent of Change for American Soccer
Ideas: Before we begin, here is a fitting thought by Percy Sutton that's worthy of quotation :
"If you pray for only one thing, let it be for an idea."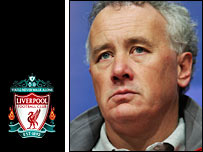 Requesting that soccer rules be changed is not all that uncommon, it's just that most ideas publicly presented are knee jerk responses to unusual situations, and don't include any real thought for how they might affect the gestalt of soccer. Consider this example suggested by a Liverpool Executive after the 2006 FA Cup Final - the addition of a 4th substitute in overtime - presented to avoid the reoccurrence of a shoot-out. Rick Parry's quote: "It would make it less of a lottery." is somewhat confusing, as 'IT' could be read as the wealthier club's more talented substitute would help to insure that deeper pockets prevail, or it could simply reveal the hatred of the English for the shoot-out. Either way, Parry's quote: "Maybe the issue should be raised with the Football Association." shows that this was serious discussion of a change to the rules of soccer. Now it's my turn...
A. Make 'Pushing Forward' Fashionable via Simple Changes to the Scoring System
Embrace only Stealth Changes. One thing I have come to recognize is that the best changes to the pro game are those which could be totally ignored by the non-professional leagues and players. I call these changes 'Stealth Changes.' They encourage the pro player to behave differently, but the game would be in the same state that it was in after FIFA did away with scoring goals by knocking the goalkeeper into the goal.
The best way to accomplish Stealth Changes is to switch to a completely different scoring format.
The most very basic change in the scoring system for American Professional Soccer should be to use it as a way to encourage attacking play. This is easily done by reviewing the layout of the field at the time that a goal was scored to determine first if a goal was truly scored, and then if the team which scored the goal was 'pushing forward' at the time the goal was scored, and if they weren't, then was the defending team found to be 'pushing forward'. The exception would be the scoring off of a corner kick, which should be based on the player placement at the time the corner kick was earned. Failing to make this exception would result in a disproportionately high value in the corner kick, something I'm trying to avoid like the plague, since I feel that the corner kick already accounts for way too high a percentage of total goals scored.
Here's an example of how this system could be structured:
A. 3 points for any goal scored.
B. 2 additional points if one or fewer members of the offensive team were positioned at least partially behind the midfield line.
C. 2 additional points if fewer than 2 members of the defensive team were at least partially on the far side of the midfield line.
And the beauty of this scoring system is that it need not influence how soccer is played outside the Professional ranks, since the key to making this work is the use of simple video recorder technology covering the entire field, including a printer which can print out the still pictures for record keeping purposes.
But you must check out my page "soccer-scoring-systems1" for more on this and other more radical scoring system ideas, which after years of consideration, is the only way to make the following possible, which will really open up offensive oriented play.
B. Discourage the Double Team
It's November 13, 2006, and yesterday was as wonderful a day in soccer as I can hope to experience. Over to Dallas' Trinity Hall Pub to watch The Arsenal put the hurt on Liverpool 3-0, then over to Frisco's Pizza Hut Park to see the MLS Cup Championship Match, or at least I saw regulation time, because just as I did last year, I left after regulation finished 0-0. I realize it's my problem, but I didn't have a team on the field, so I'd had enough of a good thing.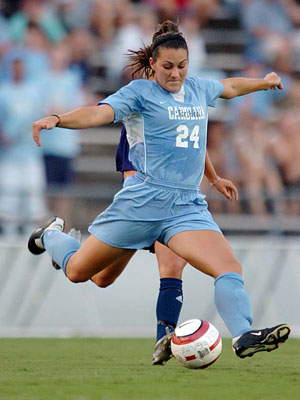 But the big news came when I checked the internet and discovered that the Lady Tarheels of North Carolina had won both of their NCAA tournament matches, and did so in impressive fashion. Check it out:
UNC-Chapel Hill v. UNC-Ashville (box score)
Shots Taken: UNC-Chapel Hill 35 UNC-Asheville 2
Corner Kicks: UNC-Chapel Hill 9 UNC-Asheville 0
UNC-Chapel Hill v. Navy (box score) (note: Going into this match, Navy was 21-1-1 and had allowed only 5 total goals!!! )
Shots Taken: UNC-Chapel Hill 20 Navy 1
Corner Kicks: UNC-Chapel Hill 10 Navy 1
Total Shots and Corner Kicks for the weekend: UNC-Chapel Hill 84 Opponents 4
Obviously, UNC's opponents aren't being allowed to move the ball into the offensive third of the field. The Lady Tarheels secret to that kind of domination is an attacking midfield which encourages the double-team whenever an opponent has possession of the ball for more than 2 seconds, and sometimes even sooner than that.
So what, you say? This doesn't translate to American professional soccer, you say? Actually, I feel that it does apply simply because this is a case study on the maximum number of shots in a match, and that's important because many feel that on average 40 shots should be taken to achieve a 3-2 average score. What we see in the first example is that, even in a totally one sided match-up, the total number of shots maxes out between 40 & 50.
I'm not making a criticism of North Carolina here, but am instead making a statement of fact about an ugly mindset of the beautiful game, which I like to call Soccer's Primary Defensive Directive:
Unless retreating back toward his own goal, a ball handler must be fouled if thought to be an ongoing offensive threat in a double team situation.
It's one thing for a ball handler to come face to face with a super talented All-American National Team Player, but when you know that an equally talented opponent is roughly 2 seconds away from sliding in to strip you of the ball, it's simply too much for any player of similar size and strength to overcome, particularly when you are 100% guaranteed that those two world class opponents will surely foul you if it looks like you're going to slip away, or even going to get off a good pass...because that's what any coach would want them to do!
Now look to my double team page for my thoughts on how this translates to professional soccer, and the logic behind my conclusion that there is only one acceptable way to regulate the double team...through an alternative scoring system.
Now, consider for a moment that North Carolina employs a 3 man back line, a fact which severely undermines the following idea.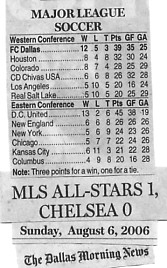 C. Restrict the Formations to Limit the Number of Defensive Players
The Dallas Morning News (July 25, 2001, page 3B) reported that the
secret to the 8.8 goal average of the last 5 MLS All-Star games was:
"...teams use a 3-5-2 alignment with a heavy accent on the "5" and
the "2" (midfielders and forwards). And defensive-minded midfielders
are seldom chosen."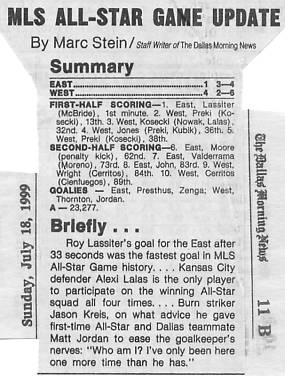 Frankly, I've got to give this a lot more thought, but I will say that the MLS All-Star
game of 1999 was one of the most enjoyable soccer games I've ever watched,
and believe me, the 6-4 final score is the reason why. I only wonder if this would
be difficult to officiate? And how do you go about convincing the midfielders that
their time is better spent concentrating more on offense than on defense, even when
their team is up by a goal or two? Correction...make that especially when their team
is up by a goal or two. Luckily, item "D" gives us the answer to this query - NOT!!!!!.
Note #1: Before we get on to the folly which is Idea E, let's talk more about this
alignment issue. There is a major flaw in thinking that a 3 back line will produce more
entertaining soccer than will a 4 back line configuration. If that 4th back is removed in
favor of a 3rd forward, resulting in a 3-4-3 setup, then you can expect more goals and
more entertaining soccer. But sadly, the move from a 4-4-2 to a 3-5-2 will likely result
in a denser and more double team oriented midfield. Now class, what strategy is used
to attack a denser and more double team oriented midfield, particularly when behind
such a midfield is a 3 back line?
Very good class! The answer is to kick over the top of that denser midfield toward
that tempting 3 back line! And not just occasionally, but almost every single time
that a defensive soccer player gets a toe on the ball...at least until a 2 goal lead is
achieved. So, my point here is that - in the real world of today's professional and
college game - requiring a 3 back configuration will not guarantee entertaining soccer,
as non-stop over the top soccer is far from entertaining, even if the final score is 5-3.
D. Limit the Defensive Header (Caution! You Are Approaching A Really Bad Idea!)
What's next in the defenders quiver? The header! This is an easy one. Prohibit
heading of the ball directly back up the field to another player. The defender can
control the ball to his or her own feet, but a pass to a team mate must be to a side
line or back to the goalkeeper. The pass need not be perfectly to the side, so a
15 degree angle forward up field is acceptable, but not 30 degrees, and definitely
not 45 degrees. OK coaches, what is the obvious effect of the fact that the sweeper
must go to the side with every header? That's right...the 3 forward system. With the
sweeper or stopper forced to go to the sidelines with headers, the center forward
would be there placing pressure, so only a goofy coach would fail to have forwards
on both sides to capitalize on the inevitable misplays. The kind of misplays which
create breakaways and a 1 v. 1 with the goalkeeper, thereby creating entertaining
soccer. And what does a 3 forward system mean? Either fewer defensive backs,
or more likely fewer midfielders, but either way it's means fewer defenders, and
more room to create offense. Hey, if you can come up with another way to entice
coaches to use a 3 forward system all the time, I'd love to hear it. It's taken a year
for me to come up with this idea.
SCORING INCREASE: 2-3 goals per game
Note: This is a terrible idea. I'm thinking that it must have been the result of two
medications reacting badly. Thankfully, the soccer I've watched this fall of 2003
has opened my eyes to the evils of non-stop "over the top soccer", as it's far less
entertaining than a low scoring ground based game could ever be.
E. Encourage the 3 Defender Formation via the Corner Kick
At the beginning of each match the captain of each team informs the referee whether they plan to use a 3 defender back line or a 4 defender back line, and who will be playing central back (3 man back line) or central backs (4 man back line). Option #1: Using the 3 defender back line permits the taking of standard corner kicks, while employment of the 4 defender back line means that throw-ins are to be used in place of corner kicks. Option #2: During corner picks, the central back (or backs) are not allowed to move further up field than the mid-field line. A 3 man back line means that there is only one central defender, so only that defender is held back at the mid field line.
F. Encourage Upright Defense
What's the biggest misconception in soccer? That a defensive player
will only leave his feet for a dive in or a slide tackle as a "last resort."
The reality is that far too many players will use such 'horizontal' tactics
as the preferred weapon of attacking defense.
Our challenge here is to change the player's focus from what is "MY last
resort" to one of "MY TEAM'S last resort." Consider the large number
of times when forwards or midfielders dive in horizontally at a
time when most of their defenders are still behind them. I estimate
that only about 10% of dive ins and slide tackles are executed at a
moment which truly is the team's last resort.
The fact is that defensive players use the dive in and slide tackle
whenever it affords them the best chance of taking the ball from the
player who is controlling the ball. This is the mindset of attacking defense,
and this mindset must be changed before we'll see higher scoring soccer.
The only way that I can envision changing this mindset is to convince the
defensive player that they should stay on their feet as long as there is a
good chance that there's support behind him or her. How can we
do this and not make a major change to the game of soccer?
Those who have played basketball know that a basketball player
can kick the ball at any time to interrupt the offense, but the
defensive player uses this weapon sparingly because the rules of
basketball do not permit the defense to "win possession" of the ball
by kicking the ball. True, the defense has stopped the play, but the
ball is simply awarded back to the offensive team as a throw-in.
In soccer, we could easily encourage upright defensive with a rule
that does not allow the defense to 'win possession' with any move
where the defensive player's hand or butt touches the ground. Slide tackling
is still allowed, only the defense cannot 'win possession' with a slide tackle.
I'm not talking about a card violation, only that the ball is simply awarded
back to the offense in some way (throw in, etc.). And the continuity of
game isn't greatly affected, because the ref only blows the whistle when
the "hand or butt down" move causes a change in possession. If the slide tackle
deflects the ball to another offensive player, then no whistle is needed as
possession hasn't changed. Instantly the game is improved. With the
defense encouraged to keep their feet and truly use the slide tackle as
a weapon of last resort, the offense would have a lot more room to make
things happen. The end result: more goals, fewer dives, easier to officiate
games, safer games, and the near extinction of the "enforcer" marking
back, whose primary weapon is the "close-up" one or two step slide tackle
which is almost impossible to avoid. Thought must be given as to whether
this rule should apply to goalkeepers, as the most athletic keeper saves
usually result in the keeper's hand touching the ground. Maybe I'm a
little too close to the position (both my kids were keepers), but I
think this rule should not be applied to keepers.
SCORING INCREASE: 2 to 3 goals per game!
Note #1: The biggest impact this change will have is in it's effect on the
defense's ultimate weapon: the double team. Gone will be the tactic of
defender #1 getting in front of his man, allowing defender #2 to approach
from the side at all out speed and then "drop into" the tackle--knocking the
ball free and putting the offensive player off balance--making it easy for
upright defender #1 to recover the ball. Having to stay upright when going into
ANY double team will mean approaching in a slower more controlled fashion
which will no doubt discourage many defender #2's from even initiating the
double team in the first place. Hesitation! It will defang the defense, offering
the offense a freedom of expression not seen since the early '60's.
Note #2: Let me make it clear that we cannot remove slide tackling from
soccer, as the game's players would likely evolve in broad shouldered types
which would look closer to today's rugby players than today's soccer players.
Keeping slide tackling in the game as a true "weapon of last resort" would
mean that the need for a player to be light on his or her feet to step over
the sliding defender would continue to be the first and foremost requirement
of a soccer player. Step over the slide tackle or get seriously injured.
Note #3: If you are a defender and slide tackling is your favorite part of
soccer, let me extend my deepest sympathy, and remind you that you could
slide-tackle any time you please, but you simply can't win possession of the ball
with a slide tackle. Before e-mailing me about how wonderful slide tackling is,
please go to my "slide tackle" page for prepackaged responses on the subject.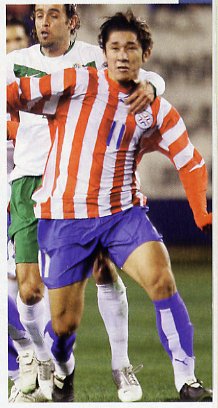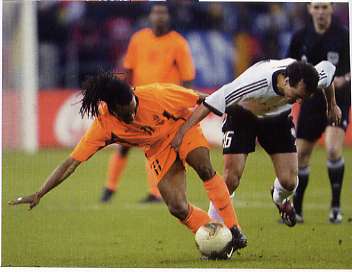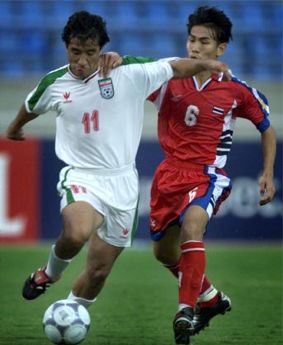 Tools of the defender's trade (#14): The hand furthest from the referee. Photo Credits: Damir Sagdj/REUTERS & World Soccer Magazine, June 2006 issue, page 43.
G. Upright Defense with Greater Continuity (sidelines version)
Much of the feedback I've received regarding 'upright defense' bemoans the
fact that the game's continuity will likely suffer. For those who don't want
the ref to blow his whistle any more than he is currently, we must remove
our focus from penalizing the team via the possession change. Luckily, the
"horizontal tackle" is impossible to overlook (anyone can see it from any angle
except maybe from the Goodyear Blimp), and it is impossible for a player
to NOT be aware that his or her hand or buttocks touched the ground. So why
not penalize the player who executes the horizontal tackle (hands or buttocks
touching the ground while attempting the tackle) by requiring them to immediately
proceed to closest sidelines and step out of bounds with one hand prior to returning to play.
And since there is no doubt in anyone's mind as to whether the player's hand or
buttocks have made contact with the ground, it could be left up to the offending
player to pick himself or herself up from the ground and head immediately for the
side lines. Failure to do so would be a yellow card violation, unless the player chose
to stay on the ground until the next time that the ref stopped play, at which time
the player could immediately return to the action.
Midfield play would clean up immediately for obvious reasons, but you would
still see plenty of horizontal tackles along the side lines, due to the fact that play
would be stopped if the defender succeeds in kicking the ball out of bounds, and
this stoppage of play would allow the player to immediately return to the action.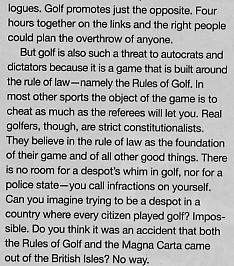 Make no mistake, this is my personal favorite proposal. No whistle 95% of the
time, and the horizontal tackle still becomes the weapon of last resort as the team
is inconvenienced and the player is forced to do a "wind sprint." The hidden benefits
are worth mentioning here. I personally like the fact
that the players are forced to be truthful with themselves or face the
prospect of a yellow card. Over time, I think that this may slightly
counteract the negative effect of the "gamesmanship" which we
parents have been encouraging in our children from the very start.
Image Credit: Thomas L. Friedman of Golf Digest magazine, 04/2004 issue, p.146
H. Redefine what constitutes a Legal Slide Tackle
Over the many years that I've studied the slide tackling issue, I've finally come
terms with exactly what is needed to satisfy all parties. Let's firmly define the
leg action of a legal slide tackle as the extension of one leg, with the 2nd leg
tucked under the tackler. Here's an example of what I mean: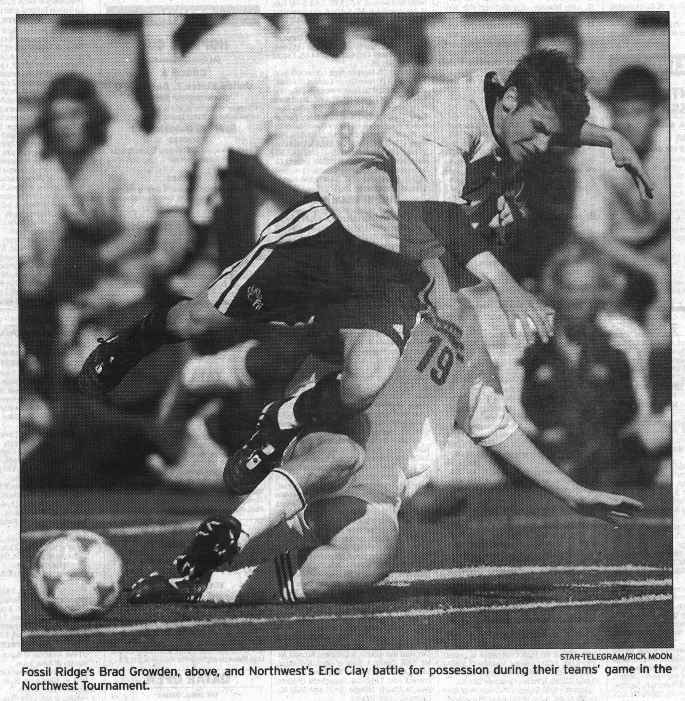 Photo Credit: Fort Worth Star-Telegram, January 4, 2003, page 12D, photo by Rick Moon.
Fact is, this one simple change will make soccer so much easier to officiate,
while at the same disabling the primary perpetrator in many soccer injuries.
That's right, putting the trailing leg under the tackler is the solution, and the use
of any other slide tackling form should earn a yellow card. For a perfect
example, click the arrow on the image below for a sweet clip:

No video? Get the DivX Web Player for Windows or Mac
Now we all know that it's still possible to whip through
with the trailing leg when it's tucked under the tackler.
Following should be a video example of what that looks like,
and note that result is consistent with what I'm advocating:
yellow card

No video? Get the DivX Web Player for Windows or Mac
For examples of other slide tackling forms, go to my page
"slide tackle" for videos which spell it all out.
I. The Attacking Players in the Following Photos Would Not Be Offsides
While impossible to implement now, once the Age of Aquarius arrives in American Soccer,
and we are free to enjoy the benefits of the occasional play review by the 4th official,
I'd then suggest that an attacking soccer player cannot be off-sides while a defender
has hands on the attacker, such as in the following examples: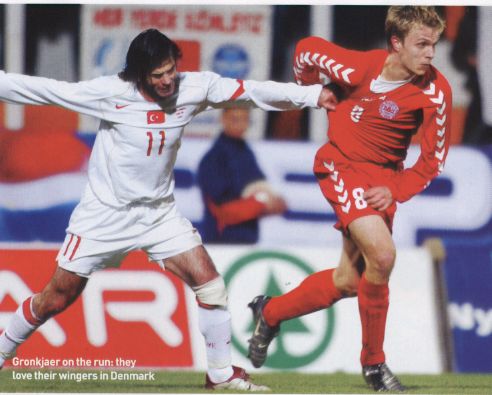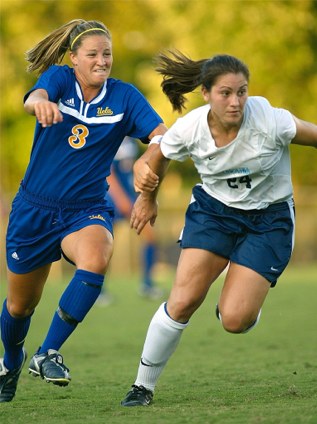 Source: Four Four Two Magazine & www.nc-soccer.com
But I'd like to take this idea a step further. Looking at the above pair of photos,
it's obvious that the beaten player is attempting to control the attacker. This is
typically made easy because the defender 'marks' his or her man by staying very
close to the attacker, sometimes to the point of having a hand on the attacker's back
so that control is just a shove or jersey grab away. Now this would be less of a
problem if we crafted the rule in such a way that any contact between the two players
would keep the attacker on-sides. Do you see where I'm going with this? How can
we encourage the defender to give the attacker some space. Easy! Adjust the
off-sides rule to permit ANY contact between the defender and attacker to hold the
attacker on sides. If the attacker were to simply push off of the defender, then contact
established during the push-off would keep the attacker on-sides.
In today's reality, if the defender isn't standing right by the attacker, the coach is commonly yelling out:
"Ian, why aren't you marking your man?!?"
I'd hope to create an environment where the coach was instead yelling:
"Ian, beware the push off. Give the striker a little space."
J. Goooaaalll---If the Ball Hits the Goal Post and Stays in bounds (Another bad idea!)
This one is simple. If the ball hits the goal post--and stays in bounds--a goal is awarded.
Be careful before you discount this idea. Ask yourself how many goals per game you want in a professional soccer match. Right now the major leagues are floundering at abut 2.7 goals per match. If your dream is to only increase scoring to 4.0 goals per match, why in the world would you be willing to replace all the world's soccer goals when this is the easiest, cheapest, and best way to achieve that insignificant of an increase. I've seen soccer matches where the ball bounced off the goal posts or cross bars 4 different times.
SCORING INCREASE: 1 goal per game
While earlier I regarded this as a harmless alteration, why is it now so clear to me how this drastically changes the essence of the goalkeeper's roll? By telling the goalkeeper that they must keep the ball from touching the goal posts and crossbar is drastically altering the roll of the keeper, and the slight increase in scoring doesn't balance out with the much larger chance of injury to the keeper, and to defenders who will no doubt collide with the goalpost while attempting to clear the ball before contact is made. While a simple way to add a goal to the score of each match, it's just not a safe or smart idea.
K. Reduce Direct Clearing of the Ball Out of Bounds
How much skill is required for a defender to directly kick a soccer ball out of bounds
to stop an offensive challenge? Answer: ZERO. While I freely recognize that most
defensive moves require skill and occasionally even enhance the game of soccer,
direct clearing to the out of bounds by the defense is one practice which can be reduced
greatly with absolutely no fear of diminishing the greatness of the game of soccer.
Solution: Easy, for obvious clearing out of bounds, award the ball to the offensive
team at a point that is half the distance to the goal line from where the kick was made
from, not from where the ball went out of bounds. However, if the defensive player
has made an effort to kick the ball off of an offensive player, then the throw-in
should be given at the point where the ball went out of bounds. Also, if an offensive
player has a clear chance to keep the ball in bounds, but fails to even try to do so, the
throw-in should be awarded at the point where the ball went out of bounds. And yes,
the power of the center ref is maintained by the fact that much of this is open to the
ref's discretion, just as it is with hand balls, off sides, obstruction, and just about every
other ruling in soccer.
SCORING INCREASE: 1 goal per game
Indirect implications: This rule would pretty much keep the goalkeepers in the
18 yard box. Keeper's rarely come out of the box if it isn't to clear the ball hard and
long, and the keeper is never looking to kick the ball off of an offensive player.
L. Clear Out the 6-Yard Box During Corner Kicks
During corner kicks, only the goalkeeper is allowed in the 6-yard goal box
until the ball touches a player other than the player who takes the corner
kick. Idea is to get the other defenders out of the corners of the goal.
SCORING INCREASE: 1 to 2 goals per game
M. Clear Out the 6-Yard Box All The Time
Make the 6-yard box truly the "Keeper's Box." If an offensive player is in the box
at the time a goal is scored, the goal is disallowed and the keeper gets a goal kick.
If a defensive player other than the goalkeeper touches the ball in the box it's a PK
situation.
SCORING INCREASE: 1 to 2 goals per game
Indirect implications: Safer environment for the goalkeeper.
N. Reduce the Keeper's Effectiveness
For those purists who refuse to consider any concept which makes the
American game so different that it might put American players at a
disadvantage in International competitions, we are pretty much limited
to focusing on reducing the effectiveness of the goalkeeper. This can
be done by requiring the keeper to wear indoor soccer shoes during
outdoor matches. This would in effect prohibit the keeper from wearing
spikes (yes, even in wet and sloppy conditions) which would destroy the
keeper's confidence in his or her ability to jump to the side, accelerate off
of the line, back pedaling to get back to the line, and just about every other
aspect of their job where mobility is involved. Take away the keeper's traction
and you'll remove his or her confidence. And there's nothing easier to score
on than a keeper who's confidence is down. During the transition, look for
injuries to be a daily happening, as groin pulls would surely result as the
keepers relearn the limits of their traction. Once the keepers learn to
keep their feet more under their body as they run, the frequency of injury
will fall back to the present "high" level.
O. Put the Keeper in the "Sand Box"
A much more expensive alternative to the spikeless keeper involves
turning the 6 yard box (or the entire penalty area) into the "sand box."
Dig up the sod down to about six inches and replace it with coarse sand.
While the sand will obviously slow down the goalkeeper's ability to move
and will destroy his ability to quickly change directions, the irregular
surface of the sand will make the ball jump unpredictably on low shots.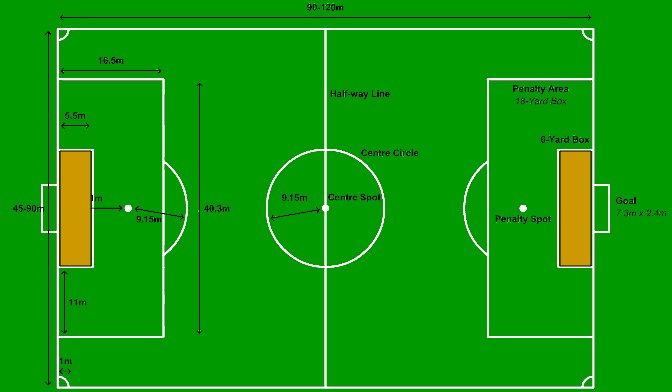 Image Credit: Scotsman Martin Frost
This will compensate for the fact that the sand will slow down balls rolling
along the surface of the sand. Over time the keepers will prefer the sand
because it will extend their careers by reducing the body's wear and tear.
The wildcard of the "Sand Box" idea is the 'Lip', the interface between
the turf and the sand. Field players will be able to slide from turf to sand
while keepers will not be able to slide from sand to turf for fear of catching
a heal on the "Lip", which might result in a twisted ankle or worse. And
running out over the 'Lip' wouldn't be any less scary for a keeper, so the
keeper would likely stay closer to the line.
P. Keep the Keeper in the 18-yard Box
Restrict the keeper to the 18-yard penalty box when in defensive mode,
but not when the keeper has control of the ball. The keepers will
resist it at first, but will welcome the restriction when the number of
shots on goal (brought on by the above changes) increases by 30 to 40%.
Indirect Implications: This move will have an unintended effect of lowering
the overall scores of many blowouts, since many of the later goals are made
possible by the keeper pushing up to play "sweeper/keeper" while the rest
of the team pushes forward in an effort to create offense. If the keeper was
forced to return to the 18 yard box prior to being able to touch the ball
defensively, he wouldn't leave the nest unguarded in the first place.
Q. Track Who Scores "First Goals" and "First Assists"
If we stick to the "World" rules, let's at least add a statistic called
"FIRST GOALS". Why not, when in Pro soccer, if you score first
there's roughly a 50% chance that the opposing team will never
even score a goal, and since the team which scores first in soccer has
about an 85% chance of winning or at least getting a draw in regulation,
why not recognize the "early starters" in the game. The league is
already tracking "winning goal" stats. I feel that the "first goal" is an
even more important measure of a player's contribution under today's
low scoring reality. Check my page entitled "Numbers don't lie, but..."
for further justification. Also, once this "first goal" statistic is added, the
natural next step is to add the "average minutes to first goal" statistic,
which would further define who's really an early starter. Check this out:
Striker First Goals Average Minutes to First Goal
Jason Mathis 8 58
Conor McBride 6 13
But the incompleteness of these 2 columns became obvious to me after following
the then offensive oriented Arsenal of the EPL's 2004-2005 season. During this
time The Gunners were so deep offensively that they could keep Robert Pires on
the bench until the 2nd half. Those fresh legs afforded both Pires and The Gunners
a noticeable advantage. So obviously 2 more columns should be added:
Soccer Striker Games Played Starts First Goals Average Minutes to First Goal
Jason Mathis 29 29 8 58
Conor McBride 30 5 6 13
So long as the first goal is "THE goal", these two statistics must be added.
And why not, when the MLS's 'League' Statistics page contains the following:
RECORD IN ONE-GOAL GAMES (that's right, games where only 1 goal is scored...yikes)

MLS TEAM W L T PCT
--------------------------------------------
Colorado Rapids 11 5 0 0.688
Chicago Fire 9 5 0 0.643
Los Angeles Galaxy 9 6 0 0.600
Kansas City Wizards 6 4 0 0.600
N.E. Revolution 10 8 0 0.556
MetroStars 7 6 0 0.538
Tampa Bay Mutiny 8 9 0 0.471
Dallas Burn 8 9 0 0.471
Miami Fusion 4 5 0 0.444
Columbus Crew 6 8 0 0.429
D.C. United 5 11 0 0.313
San Jose Earthquakes 2 9 0 0.182
Look over these numbers and you'll rethink how important the first goal is.
R. Eliminate the Humiliation of Assistant Referees
Visit my "Linesman1" page for explanation as to why you won't see me
running the sidelines anytime soon.
S. Should we play with the Red Card Rule?
Check out my page "Red_Card_1" for my thoughts on author Paul Gardner's
ideas to adjust the red card to provide for more entertaining soccer matches.
Got any other ideas on how to increase soccer's fan appeal, other than doing away with
off sides or reintroducing the 50 cent beer? Please e-mail them to me at KimbroCon1@aol.com.
Go back to: Kimbro's Photos, Lists and Links Page
The Evolution of Deviation: For an overview of how these ideas have taken shape, please click here.

Source: Steve Davis of The Dallas Morning News, May 5, 2004, page 11C. Change cannot come until the problem is identified. At least Mr. Blatter is attempting to focus world attention on an obvious problem in soccer, but the next step is to realize that draws are merely a symptom, and not the problem itself. But who knows, maybe penalty kicks are right for the international game of soccer. Mr. Davis' article is a prime example of why I defer to FIFA on matters of world soccer, and only focus on changes to the laws of the game for American Pro Soccer.

Source: Fort Worth Star-Telegram, March 30, 2005, p. 11D
I've named the above image "Satisfaction1" because I wonder if either of the two matches referenced within left spectators truly satisfied. Personally, I'm about as loveable a guy as you'll ever meet, but I can tell you one thing for sure, there is nothing in this world which makes me want to start busting up furniture faster than a questionable goal scored in injury time which results in a 1-0 final score...even if I don't have a favorite team in the match.
Now the following induces a whole different thought process.

Image Credit: Fort Worth Star-Telegram, April 13, 2005, P. 13D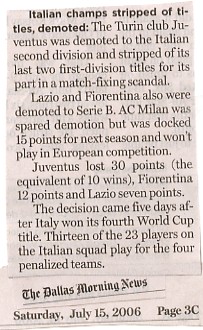 I call it "Fan_Involvement1", and it's worth spending a few seconds contemplating the possible motivations for that intervention:
AC Milan fans simply started celebrating their one goal lead (and inevitable victory or draw) just a little prematurely.

Internazionale's fans were simply expressing their grief by attacking opposing goalkeeper Dida with fireworks.

AC Milan fans, remembering the France v. England match of Euro 2004 in which France scored 2 goals in the final 4 minutes, decided that the best way to insure victory was to take whatever action was required to stop the match, and to make damned sure it didn't continue. Call me jaded, but understanding AC Milan's fondness for low scoring matches, this is the one that I'd be investigating first.
Of course there is a forth possibility here, that a spectator was outraged at a grown man's insistence that the world refer to him as DIDA. Just kidding, as I'm simply bitter that I'm stuck with the most common male name in the civilized world. Frankly, I've entertained notions of changing my name a time or two.
Of course if I'd adapt a name consistent with soccer culture, it would have to be a very simple 2 syllable name. The choices are enormous, but let's go with Duda. Now with a name like Duda, there's only one way to go...
As this is coming together it occurs to me where this 'Duda' thing originated. Back in the mid to late 70's in Louisville, Kentucky, the #1 radio personality was Gary Burbank. Gary, using one of his characters, "The Maharishi Dia-per Rashee", did a piece where an officer of the law had to inform the wife of a gentleman named Duda that her husband had moved on to the great beyond. If memory serves, the first line went something like: "...guess who just got killed today, Duda, Duda..." So, I'm totally ripping Gary off here. Please forgive me Mr. Burbank.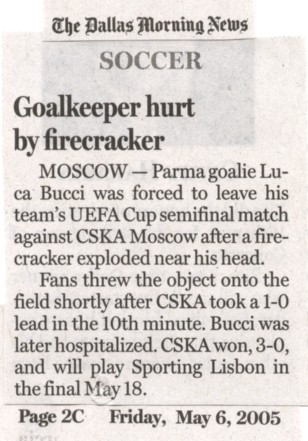 OK, enough joking. The following is entitled "Fan_Involvement2" and it's even more troubling. With the above example of fan intervention, the two Milan teams have a history of decades of combat which would rival the classic rivalries of sport, like Arsenal vs. Tottenham or New York Yankees vs. Boston Red Sox or the University of Louisville vs. University of Kentucky. On the following example it's Parma vs. CSKA Moscow. We're talking Italy vs. Russia, so there shouldn't be a long history of ill feelings to fuel such behavior. Which is why I'm suggesting that these are examples of strategic interventions by the fans, which succeed in soccer due to the astronomically high probability of shutouts in tournament play.
By the way, CSKA Moscow went on to beat Sporting Lisbon to win the UEFA Cup for 2005. I wonder if CSKA Moscow's firecracker hurling fan is proud of his contribution to bringing the cup to Moscow?
Ok, I'll close out in the manner of Burbank's "The Maharishi Dia-per Rashee":
"The Maharishi has spoken." ;~)