A Military Parade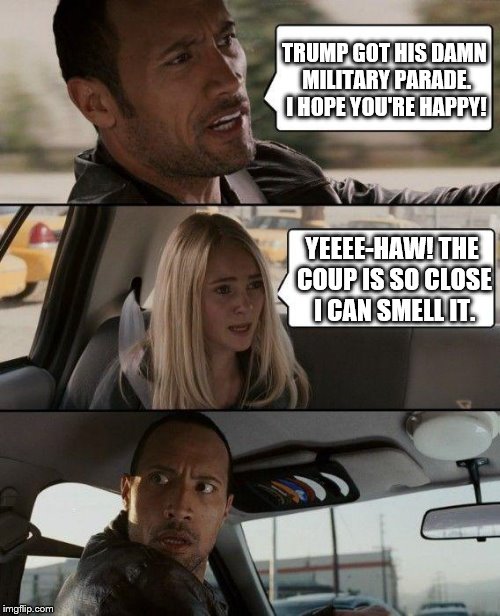 An original poem by Chrome Dome Mike Kimbro
Read along to my Spoken Verse Performance!
VERSE 1
Recently, a trip was made to Paris,
After their new president beckoned.
Marcon set the stage to compare us.
Trump left thinking that we came in second.
VERSE 2
Now our poor president's smitten.
With the thought of a military parade.
Marcon wouldn't tend to his knittin'.
Now most Americans are quite dismayed.
VERSE 3
Who knew that Trump was a compensator?
Sure, the French procession was very nice.
But now our parade has got to be greater.
And the POTUS is prepared to pay the price.
VERSE 4
Why the hell not, when sixty-five large,
Is what Melania blows on a spa day.
Trump said he'd be different, if put in charge.
He's different, just in a far worse way.
VERSE 5
We'd see tanks, and even Minuteman missiles.
Hey, an F-35 Lightning would be fresh.
Surely they'll omit warheads which are fissile,
But I'd love to see a MOAB in the flesh.
VERSE 6
There will be plenty of brave men in camo,
And white and blue, with and without ascots.
But too many troop carriers might foreshadow,
Maneuvers once drawn up by General Scott.
VERSE 7
As officers plan the job which they are tasked,
Wondering if it's a smart thing to do.
A fly on the wall might hear someone ask,
This question: To coup, or not to coup?
VERSE 8
As the streets of our nation's capital,
Are four across with military hardware.
Don't tell me that a coup is laughable.
I don't assume that they wouldn't dare.
VERSE 9
Here's a message to our chiefs of staff,
Which I hope deserves further scrutiny:
Just because a leader fails a polygraph,
Does not justify holding a mutiny.
VERSE 10
I penned this poem in hopes to dissuade,
Y'all from seizing our land, sky, and sea.
Please don't hold a coup during Trump's parade.
If you love democracy, I hope you'll agree.
The End
Copyright © Michael Kimbro 2018. All rights reserved.
Keywords: Poems about Trump's Military Parade