Facebook Friend Request [Part 1 of my Social Media Trilogy]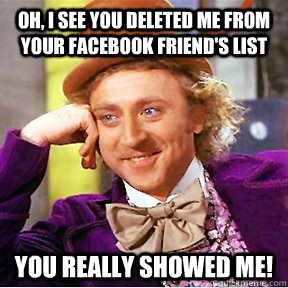 An Original poem by Chrome Dome Mike Kimbro
Please read along to my Spoken Verse Performance.
Note: This meme was FOUND on quickmeme. >>>
VERSE 1
My virtual friendship has been requested,
Now it's my responsibility to confirm,
If the police have recently arrested.
Due diligence is the legal term.
VERSE 2
So I click on the link to their site.
Surely one post is shared universal.
But no, they have it locked down tight,
Just a few pics, and all are impersonal.
VERSE 3
So, now am I supposed to believe,
They haven't seen one post worth sharing.
One that EVERYBODY would like to receive.
And if they don't, you're way past caring.
VERSE 4
Excuse me, but I think that sounds timid.
Why not go global with a recipe?
That kind of stuff one should not limit.
Unless the prime ingredient is THC.
VERSE 5
So now the issue must be decided,
Based on very little information.
I once clicked "decline", and that incited,
A call to my kin, for an explanation.
VERSE 6
Now I thank them for the friends request.
Then go to their site and get the lowdown.
Sometimes, what I discover makes me depressed.
Had they friended me just for a showdown?
VERSE 7
Without a kindred spirit showing up front,
Or, worse still, no posts since God knows when.
Guess I'll have to check back in a month,
See what 'reactions' I've gotten by then.
VERSE 8
Downgrading to 'acquaintance' is next up,
Assuming they don't need all of my crap.
Then maybe reach out with a friendly: "Sup!"
No reply deserves an "unfollow" tap.
VERSE 9
But if you still have hope for this friendship,
Why don't you try a different avenue.
Share to the time line of their ownership,
With a comment like: "Saw this and thought of you."
VERSE 10
I keep an eye on the birthday list.
And with the approach of their special day,
A house cleaning is quite hard to resist...
When my Facebook friend doesn't care to play.
The End
Copyright © Michael Kimbro 2018. All rights reserved.
Keywords: Poems about Facebook, Social media poetry.