I Need A Raise [Part 3 of my Employment Trilogy]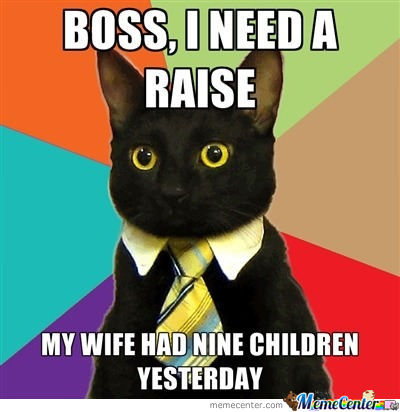 An original poem by Chrome Dome Mike Kimbro
Please read along to my Spoken Verse Performance.
VERSE 1
You might find on job applications:
"Every morning, what gets you out of bed?
Tell us your primary motivations."
At the top of my list you'll find: "Bread".
VERSE 2
There are workers who are pacified,
With a pat on the head in praise.
While others aren't so easily satisfied.
They wanna know when they'll get their next raise.
VERSE 3
Hey, your boss's boss won't think it's funny,
When he simply can't help overhearing,
You talking about your pay check money.
If he does, you might soon be disappearing.
VERSE 4
Your whole career would be left in tatters,
Not a good thing, for the ones you adore.
The place to discuss more personal matters,
Is behind your supervisor's closed door.
VERSE 5
But what if you lay out A proposal,
And your pleas for higher wages are ignored?
That wouldn't justify your going postal.
Sometimes the mouth is mightier than the sword.
VERSE 6
Say, you're called into a meeting,
At the big regional office.
Everybody's glances are fleeting.
Is that the time to be cautious?
VERSE 7
While a lesser man might assume,
That he's being called onto the carpet.
But that would buy into their gloom.
Yeah, here's the perfect way to start it...
VERSE 8
Clear your throat, but not too loud.
Then stand up with head held high.
To insure they know you're proud:
Squint like Clint, then look into their eyes.
VERSE 9
Before they move to hand out the spanks,
For what you may have done, or planned.
To all there in attendance, give thanks.
Then get right to the subject at hand.
VERSE 10
This is truly the point of no return.
It won't take long to find out if you're wrong.
If the big boss leaves, is one way you'll learn.
But if he stays, then you've been right all along.
VERSE 11
Now go on, hit 'em right between the eyes.
About the raise in pay which they've neglected.
There's a slight chance you'll end up despised,
But, for sure, you'll be much more respected.
VERSE 12
Push too hard and they'll think you're deranged.
Yeah? Who cares, when you're bold and resolute.
But this would be easier had you arranged,
Some kind of friggin' golden parachute.
VERSE 13
First off, you might ask if they've come to toast,
A working man who, for now, remains nameless.
Play your cards wrong, and they will likely roast,
Your [insert color] ass for being shameless.
VERSE 14
What if they say you're not gonna get it,
Because of a recent total paycheck bump?
Nip it at the bud, cause they're taking credit,
For the relief which came courtesy of Trump.
VERSE 15
Shame on you, if you let them go on,
About your paycheck being fatter.
Remind them that your tax refund is gone,
So what they're saying doesn't really matter.
VERSE 16
Remind them that they are quite fortunate,
To have someone special in their employ.
With luck, it won't become an argument.
Think of having all the things you enjoy.
VERSE 17
You could have a country club membership.
Manicured fairways, and food that is great.
You just might improve your relationship.
(No one's hinting at trading in your soul mate.)
VERSE 18
But woa! Considering your last review,
Let's not count your chickens before they hatch.
Let them know what it will take to keep you.
Start with a figure they're likely to match.
VERSE 19
But be prepared to go into action.
If it seems that number might have been wrong.
Throw back with a counter, like at an auction.
And hope you're not, like, going, going, gone.
VERSE 20
You'll have to guess how that meeting concludes.
I like to think that you were promoted out.
But your boss needs to know every meeting includes,
The words "I need a raise!" coming from your mouth.
The End.
Copyright © Michael Kimbro 2019. All rights reserved.
Keywords: Poems about pay raise requests, Employment compensation poetry.