"Iroquois'd" [Part 2 of my High School Trilogy]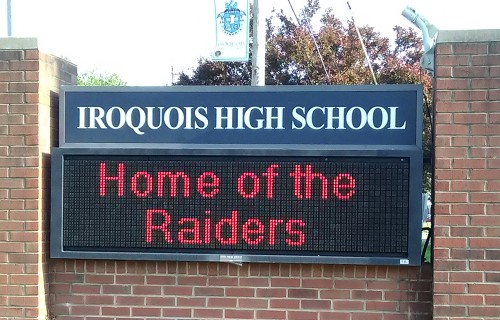 An original poem by Chrome Dome Mike Kimbro ('75)
Inspired by these news stories: A and B.
Read along to my Spoken Verse Performance.
VERSE 1
High school functions are what you're into.
Club meetings and dances make you overjoyed.
So it's only natural that you'd feel blue,
When school activities are Iroquois'd.
VERSE 2
Consider an example from Derby City.
When the actions of a few sabotages,
Basketball Homecoming. Oh, what a pity.
Some had arranged to buy corsages.
VERSE 3
But kids like that are fairly quiet.
Busy with homework and part time jobs.
Then came the news of a campus riot,
And they saw their good times robbed.
VERSE 4
By the executive decision of a principal,
Because up to ten students were involved.
Guess they should have embraced one principle:
"There's little which violence ever solved."
VERSE 5
And I know young men can get frustrated.
And emotions can become ballistic.
But if school yard riots were tolerated,
The defendant could be the school district.
VERSE 6
I'm not suggesting all be Jehovah's Witnesses.
Who avoid violence of any form.
But even peaceful marches have burned down businesses.
And yes, I realize that's not the norm.
VERSE 7
But there is too often a bad seed,
Amongst a mob of gang war attendants.
What's the foundation of his personal creed:
The ever popular 2nd Amendment.
VERSE 8
His hand is wrapped around a blade or a trigger.
If he's a tad bit undersized.
Holding a gun does make him feel bigger.
So the odds are equalized.
VERSE 9
Start with that, then add a little hate.
You know that somebody's gonna get injured.
Such conflict can easily escalate.
Get someone killed, or maybe disfigured.
VERSE 10
But why were students participating,
In something which can get pretty gory?
"Yo Mamma" jokes can get aggravating.
But enough to go all West Side Story?
VERSE11
Everyone knows that boys will fight.
But when passions can't be controlled,
They need to choose a venue that's right,
One which isn't so heavily patrolled.
VERSE 12
"The Outsiders" is recommended viewing,
When on head busting you wish to embark.
"Greasers" and "soces" knew that trouble was brewing,
And took the action to a nearby park.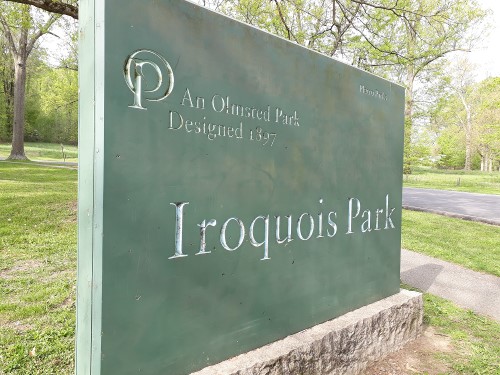 VERSE 13
And Iroquois Park was so convenient,
Just a block south on Taylor Boulevard.
Not that the cops would be any more lenient.
But the principal wouldn't come down so hard.
VERSE 14
On all the members of the student body.
Putting a stop to every pupil's fun.
When 3% of the students were naughty,
That's Inmate Management 101.
VERSE 15
Hey, I don't care if the decision came,
From the headmaster or superintendent.
IMHO, it was pretty lame,
Punishing those who weren't offendants.
VERSE 16
Are there any lessons we can learn,
By analyzing the way this was handled?
Would parents of kids from Ballard or Eastern,
Have allowed Homecoming to be cancelled?
VERSE 17
Oh, I'm sure that some will contend,
I needn't mention Kentuckiana's elite.
But there is a parallel in the swank East End:
It's on the fields where the students compete.
VERSE 18
Take a melee at a baseball game,
When a pitcher beans multiple batters.
Well it seems to me that's just the same,
If who and where are what matters.
VERSE 19
So if you're checking out Kentuckiana,
From Nelson County to the Knobs of Floyd.
In the prep school search for your Pollyanna,
There are some which you might avoid.
VERSE 20
So, whether of not your teen is an achiever,
Active in the chess club or the FFA,
After reading this, surely you're a believer,
That numerous forces are at play.
VERSE 21
Which can put a stop to school festivities.
And such cancellations can get annoying.
If your teen likes extracurricular activities,
Beware of schools where there might be 'Iroquoising'.
THE END
Copyright © Michael Kimbro 2017. All rights reserved.
PS - After many of my poetic works, I like to include what I call "poetic remnants". These are verses which didn't make the final cut.
Inspired by the fact that I attended Emerson Elementary School in Phoenix, Arizona, coupled by my love of the TV series "Justified", here's a verse that's left over from this poem of the South End of Louisville, Kentucky.
VERSE - Ralph Waldo Emerson
I remember Boyd Crowder discussing,
Emerson's thoughts on peace and principles.
But peace which follows something so disgusting,
Only comes with the triumph of principals.
Obviously, it was omitted because it's message was inconsistent with that of the poem.
BTW, for a great song with an Iroquois tribe reference, check out "Indian Sunset" by Elton John and Bernie Taupin from Tumbleweed Connection.
OK, thanks so much for your time and consideration.