Lovin' Bar-B-Que [Part 2 of my Culinary trilogy]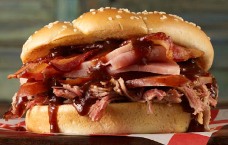 Song lyrics by Chrome Dome Mike Kimbro
A loose relyric of the song "Tulsa Girl" by Andrew Trube and Anthony Farrell of the Austin band Greyhounds.
Read along to my Spoken Verse Performance!
VERSE 1
Noon Friday means just one thing:
Lunch out with the crew.
We loaded up in Joe's car, yeah.
He asked: Hey y'all, where to?
We did not hesitate to say:
"How about Barbeque?"
Off we go!
CHORUS
Lovin' Barbeque.
Oh yeah.
Loving Barbeque.
VERSE 2
Tarheels chop up their pork and
Vinegar gives extra zest..
Tennessee pulled pork
Is sweeter than the rest
We Texans know, beyond a doubt,
That beef brisket is the best.
Where's my bibb?
CHORUS
Lovin' Bar-B-Que.
Oh yeah.
Loving Bar-B-Que.
VERSE 3
Now my baby took me
To see her folks
For the very first time.
So on the way
I scored a couple racks of ribs.
And we all got along just fine.
They were cool.
CHORUS
Lovin' Barbecue.
Oh yeah.
Loving Barbecue.
The End.
Copyright © Michael Kimbro 2012. All rights reserved
Keywords: Poems about Bar-B-Que, BBQ poetry, songs about barbeque, Verses about smoked meat.