Pimp & Ho – The Duet
Song lyrics by Chrome Dome Mike Kimbro
Structure: Accent points align for all 8 verses, except the word "purgatory".
Read along to my Spoken Verse Performance!
VERSE 1 – female vox
New Orleans,
How I loved New Orleans.
I was fresh off the farm Alabama.
And I wrote home to my Mama.
That I'd found a man straight from my dreams.
VERSE 2 – male vox
Red hot lovers.
We were such red hot lovers.
For my girl it was all kind of new.
Got a tongue stud and tattoo.
Felt we'd known each other for so long.
VERSE 3 – female vox
El Paso,
How I hate EL Paso.
Left the Big Easy when they discovered,
That he had a past that was checkered.
But I chose to pretend nothing's wrong.
BRIDGE 1 - male vox
She was a real cool lady.
Nice car and kinda cute.
Her friends were somewhat shady,
But I didn't give a hoot.
Then the police came to book her,
For some unknown misdeeds.
Turns out she was a hooker,
And I'd been living off the proceeds
Of a prostitute.
VERSE 4 – female vox
I got real sick.
New job but I got real sick.
I missed eight days which pissed off my boss.
So he let me go, what a loss.
And our rent was way past the third day.
VERSE 5 – male vox
So I pimped her.
Things got tight so I pimped her.
I'd say: You've got a keen eye for beauty.
How'd you like to tap that booty?
For two benjamins two hours play.
BRIDGE 2 – female vox
My legs were always long and slim,
So I tried to dance the pole.
But they said I had no sense of rhythm,
So he put me out on the stroll.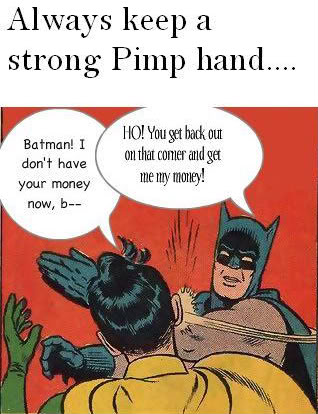 Drugs made it feel more like a sport,
Which was something I could stand.
But I had no doubt if I came up short,
I'd feel the sting of his pimp hand.
VERSE 6 – female vox
Probation.
First offense probation.
But there's no leavin' El Paso county.
If I do they'll place a bounty.
Life's a bitch, makes me wanna sob.
VERSE 7 – male vox
So I left her.
Could not stay, so I left her.
To the court system she was a felon.
And I won't go back to prison.
So I left her there, out of a job.
VERSE 8 – As a duet
That's our story
Won't you learn from our story.
Get a full back ground check on your lover.
Or one day you might just discover,
That your life is much like purgatory.
CLOSING
Both - Pimp and Ho
Both - Pimp and Ho
Both - Pimp and Ho
Male vox - She takes care of a john's needs
Female vox - He just lives off the proceeds
Female vox - You might try the oldest gig
Male vox - If you can't dance the pole, you dig?
Male vox - When her inspiration's running low
Female vox - He's got motivation for his ho.
Male vox – So shirk off the drugs
Male vox – And give the straight life a try.
Female vox – Or work for a thug
Female vox – Who wants to blacken your eye.
Both – You decide which way to go.
Both - Pimp and Ho
Both - Pimp and Ho
Both - Pimp and Ho
The End
Copyright © Michael Kimbro 2013. All rights reserved.
Keywords: Poems about pimps, Prostitution poetry, Verses about prostitutes.