To America's Soccer Press: Speak Up Now
Let's give Sepp Blatter a piece of our minds now...not after it's too late.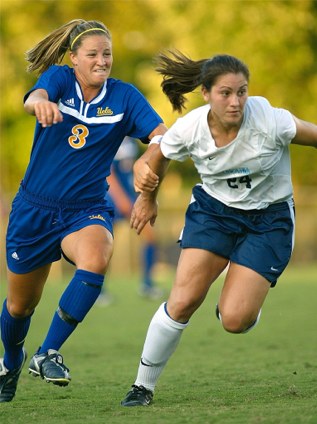 September 17, 2006. I woke up early and made the trip to Dallas' Trinity Hall Pub for a morning of English Premier League viewing with fellow football fanatics. I enjoyed strong coffee and a wonderful Irish breakfast while watching Chelsea top Liverpool 1-0 and my favorites Arsenal top Manchester United 1-0. It was pretty much soccer as usual, but later in the week I ventured over to the Maxwell hacienda where I was treated to a little more offensive oriented play as I watched Heather O'Reilly score two beautiful goals in North Carolina's 2-1 victory over Florida State.
October 1, 2006. I dropped in again at Casa Maxwell, and Gary had TIVO'd two EPL matches for us to choose from. The first, Manchester City v. Everton was interesting for a couple of reasons. First and foremost, Manchester City wears the same sky blue home colors as the University of North Carolina, where Gary's daughter Jessica (#24 at right) is a 1st Team All-American.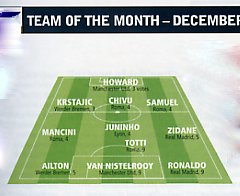 Secondly, Everton did have American Tim Howard in goal, and everyone loves Tim. Not only did he make the World Soccer Magazine's "Team of the Month for Dec. 2003" (at left...behind a 3-4-3) while starting for Manchester United, but he displaced that Frenchman Fabian Barthez getting there.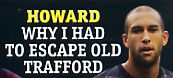 Image Credit: Shoot Monthly 11/06

Plus, I did see Everton play when they stopped here in Dallas a few months back to play an exhibition match against the Mexican team Club America. It was kind of cool, with regulation finishing 1-1, and Club America winning the shootout.
But sadly, the fact is that I knew that the Man City match ended in a 1-1 draw, with the last 10 minutes of the match consisting of Everton parked in front of their goal trying to protect a 1-0 lead...only to fail in the match's 94th minute. I can't really blame Everton's coach, with memory of that awesome comeback against Tottenham, where down 0-3 at the half, a 10 man Man City side charged back to beat Tottenham 4-3 in regulation. And some say that a red card ruins a match. Hogwash. It's fear that ruins a match...fear of loosing.
So, we took the 2nd option, Chelsea v. Aston Villa, which a couple of hours later we learned also ended in a 1-1 draw. It did have some interesting moments, like Ashton Villa's goal, scored off a header, and everyone knows that it's nearly impossible to score via header against Chelsea.
But the big event of that fortnight came Friday September 22, 2006, when I stopped by Barnes and Nobles Books to pick up the latest World Soccer magazine, and the new CD "Contimuum - Music by John Mayer" (the Star-Telegram music critic said Mayer had brought in bassist Pino Palladino, so how bad could it be?)
Even before I left the bookstore, I surveyed the magazine's table of contents. There it was on page 52, what I had been waiting for since the end of the 2006 FIFA World Cup. It was Paul Gardner's article entitled:
"Urgent! More goals needed"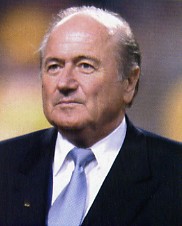 I knew that Paul had to respond to the following announcement:

Image Credit: World Soccer Magazine, 07/2003 Issue, Photo of Sepp Blatter
Or should I say that I was praying that he'd see this as the opportunity to take the third struggle for soccer's soul to the next level.
The first struggle took place while soccer was in it's infancy, and resulted in the split of Association Football into what is now rugby and soccer.**
The second struggle took place when the sacred laws of the game were altered to remove the scoring of goals by physically slamming the goalkeeper into the goal. For those who feel that all goals are the same, this was surely the golden era of football, with players like Dixie Dean racking up 60 goals in a season while playing for Everton in England's top league.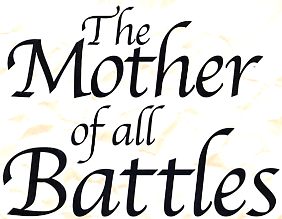 But while this third struggle for soccer's soul will likely be "The Big One", it is really still very much in the planning stages. With only 3 individuals publicly advocating change, where we are now is akin to that period just prior to the start of World War I, when the "Black Hand" was meeting to decide which royals would be assassinated by the band of fanatical high school students which had been recruited.
If you feel this is an extreme comparison, I think it's the perfect analogy. For just as in 1914 a relatively peaceful Western World was turned upside down by a handful of murderous teenaged whack jobs, I'm concerned that the whole world of soccer is about to be needlessly turned upside down at a time when 99.99999999999% of the soccer world doesn't feel that there's anything to even talk about, let alone go to war over. So what is FIFA to do?

My position has always been clear: I want limited changes to American professional soccer in order for it to thrive commercially. If some or all of the changes are later found to be worthy of adaptation into the greater world of football, that would be fine. If US Teams are put at a disadvantage in international competition due to the changes, then that's the price we pay for the success of the MLS and the WUSA. ***
Don't get me wrong here. In less than a season after the MLS is relieved of the burden of a strangling defense, soccer fans outside the USA will begin to feel like they're just getting the placebo, while MLS fans are getting the good stuff.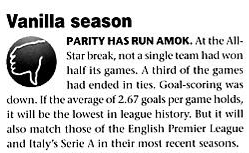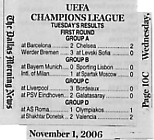 The problem with any attempt to alter soccer globally, as I see it, is that while I'm calling for changes which will produce more entertaining soccer with average scores of 5-3 and far fewer draws along the way, I'm predicting that FIFA's direction will attempt to achieve average scores in the 3.5 to maybe 4.0 goals per match range with pretty much the same high percentage of goals scored from corner kicks and PK's, plus the high percentage of draws would decrease only slightly.
Look folks, anything worth doing is worth doing right!
Image Credit Above: Will Kuhns of Soccer America magazine.
Sadly, I must report that the thoughts of the master and the student are not totally in concert, as I'm disappointed that Mr. Gardner throws his support behind the generic solution of larger goals. For many years my page: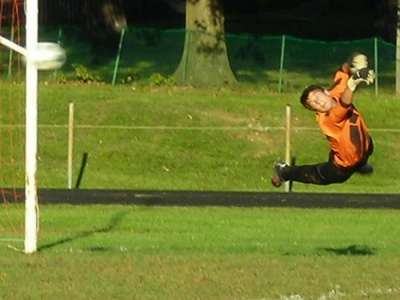 has alerted the world to the potential shortcomings of bringing bigger goals into the beautiful game. At the very least, anyone who speaks out for larger goals should begin the discussion with a disclosure of any ownership interest in, or support by, the various businesses and organizations who stand to benefit financially from the sale of millions of replacement goals world wide. Just go to yahoo or google and run a search on "soccer goals" to see how many players are in that game, and know that they are all salivating at the prospect of FIFA embracing larger goals. And why not, as just the total transportation cost of such a world wide refitting could equal the gross national product of some continents. [Oh yeah, while you're in Google, do a search on: "soccer scoring" ;~) ]
And then there's the fact that once you make the change world wide, it's irreversible. If, over time, the change to bigger goals is found to produce some unwelcomed results, like a marked increase in the number of chronic injuries to goalkeepers, there's no going back to smaller goals. So we need to ask ourselves now if the possibility of goalkeepers wearing serious body pads is a good thing, because it's coming with larger goals, along with rosters which include 4 or 5 goalkeepers.
Photo Credit: Photographer Caitlyn Kane of goalkeeper Zach Kane of Baltimore's Perry Hall High School.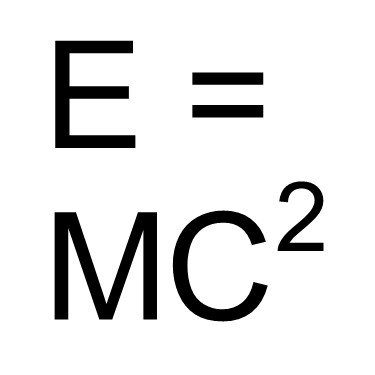 And then there's Gardner's idea to restrict the goalkeeper by shrinking the 18 yard box to a 12 yard box. It's an idea which will encourages the keeper to play with his heels on the line, while I'm in favor of encouraging the keeper to move further off the line in order to open up the near post area. Plus the smaller box requires the keeper to begin deceleration just as soon as he or she crosses the 6 yard line, which will bring about an era in soccer where the strikers will accelerate into the decelerating keepers, and the keepers will be incredibly vulnerable simply because of the physics of the situation.
OK, I'll admit that I washed out of the University of Louisville's Speed Scientific School, but you don't have to have a PhD to know that the equation at right pretty much says it all. Speed is exponentially more important than mass in the creation of energy which results when 2 bodies collide.
So now we better expand that image of the future goalkeeper to include not only body pads, but a helmet with face mask as well.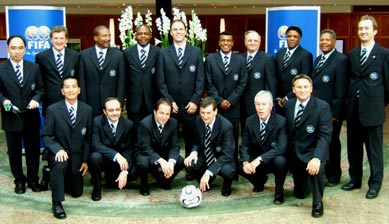 Other differences of opinion surface in the questioning of the make-up of the symposium. While Mr. Gardner worries about the inclusion of coaches and referees, for me it's Sepp's inclusion of the FIFA Technical Study Group in the symposium that's an even more troubling sign of an inherent adherence to the status quo.
The TSG (at right) are the individuals who are responsible for awarding FIFA Man of the Match after each World Cup Match.
I am very troubled by the fact that these gentlemen feel no responsibility to use their position to take a stand for clean play, for if that ever entered into their decision making, they would not have honored Owen Hargreaves for play in England's match against Portugal in which he picked up 5 fouls and a yellow card. I mean, if every player worked that hard every match, we'd have 50 fouls and 10 yellows...per side per match. Sure it sounds silly until you've read my page "Vision Zero", but stay with me and let your imagination finish the farce. All results would be 0-0, so you couldn't recognize an offensive player as Man of the Match, yet it would be difficult to choose the most worthy defender with so many overachievers on the field. So the honor goes to one of the goalkeepers, who announces to the press:
"I love this team. No shots and no corner kicks. Finally, a match were I can't say: 'That shot should have never been taken!!!'

No video? Get the DivX Web Player for Windows or Mac
Now this was after Hargreaves should have already placed himself on the TSG's radar by executing the absolutely ridiculous professional foul in the video at left. And if you question whether this was a professional foul, note that the ball is traveling straight towards the goal, and that Owen's totally illegal defensive efforts are directed at the player with no regard for the ball....these two factors form the very definition of a professional foul. Hey, you be the judge.
But as sad as that incident was, the following video shows that it was topped by John Terry earlier in that very same match against Ecuador:

No video? Get the DivX Web Player for Windows or Mac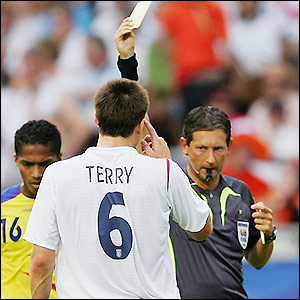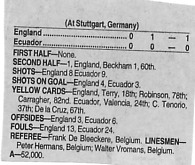 Yet faster than you could say "England Captain", the Technical Study Group awarded Terry the FIFA Man of the Match for his play against Ecuador, overlooking such dangerous play, even as the BBC Football Site's match recap displayed the following caption below the photo gallery specimen at right:
"John Terry appears to be below his best in the opening stages and receives a yellow card for a foul on Carlos Tenorio"
I feel that I must report that Mr. Gardner did step up and take his shots at the TSG in the following issue of World Soccer. In his article titled "Read it already", Paul's gripe lay in the TSG's failure to do any more than present the evidence, without following it with the analysis which you would expect such a learned group to be biting at the bit to do. I'm hoping that Paul understands that the typical TSG member dreams of one day ascending to FIFA's executive board. Enter: Politics. So while the TSG members may still be capable of critical thought, once politics is a key motivating factor, you can kiss true critical expression good-bye - particularly in written form.
That's it then, the TSG is off the guest list.
Photo Credit below: Joe Vitti of The Indianapolis Sun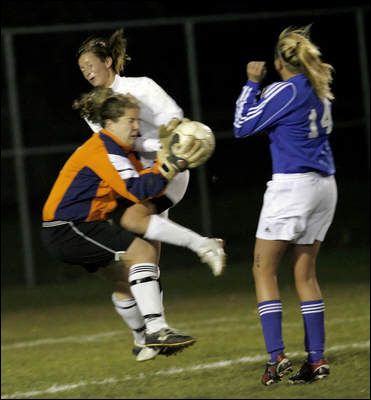 So now that Paul and I have eliminated the coaches, the referees, and the technical study group, who's left to participate in Sepp's big symposium?
Well, the doctors must be present, as somebody else needs to be there to stand up for the well being of the goalkeepers. As the father of 2 goalkeepers, I've heard so many rational people utter the phrase "hey, you gotta be crazy to play goalkeeper in soccer" that I recognize the need for a strong goalkeeper activist. You have be living in a cave to not know that, over in Europe this season, goalkeepers are becoming an endangered species, and it'll get worse with bigger boxes and smaller penalty areas.
In addition to Sepp and the doctors, I've only got 5 names for you:
Paul Gardner, Renowned Soccer Author and Journalist
Anson Dorrance, Author and the winningest Soccer Coach who routinely employs the 3 defender back line
Keir Radnedge, Renowned Soccer Author and Journalist
Gavin Hamilton, Editor at World Soccer magazine, where he allows both Gardner and Radnedge their freedom of expression
Mike Kimbro, Soccer Innovator and Father of 2 Goalkeepers
Now let's add to the list as the worthy respond with evidence of their pro-entertainment efforts:
Ian Plenderleith, Author, Commentator, Humorist, and Journalist (evidence #1)
Now, how would you men and women of the soccer press like to take part in Sepp's big brain storming session?
Here's your chance, and it's easier than you might think.
Simply let your readers know how you feel about the idea of changing soccer to make it more entertaining. I'm not recommending that you actually propose changes to the game, as that kind of heavy lifting should be left to the experts. Folks like myself, who have for many years sat in semi-quiet contemplation of the upcoming opportunity, dwelling on which changes will work, which changes will not, and why. Y'all are simply too far behind the events which are unfolding to tackle that challenge. I just want every one of you good folks to go on record as being for or against Sepp Blatter's plans to make changes the sacred laws of the game of soccer which are intended to make the beautiful game more entertaining.
But more importantly, this will be you're opportunity to express what final results you would like to see achieved at the big symposium. Let your readers know:
What is your idea of a perfect average soccer score? 1-0, 2-1, 3-2, 4-3, 5-4, 6-5 or even higher.
How many shots should the teams expect to take to achieve that score? (Goalkeepers care about this minor detail!)
What is the goal entertainment value (GEV, scale 1-10) from open field play, free kicks, corner kicks, penalty kicks, own goals?
What Desired Scoring Distribution (DSD) should be from open field play, free kicks, corner kicks, penalty kicks, own goals?
How many fouls should each team collect in your perfect match? 5, 10, 15, 20, 25, 30, 35 or even higher.
Should there be a cap on the number of fouls a player is allowed per match? 4, 5, 6, 7, 8, 9 or even higher.
What percentage of matches should end as draws?
The essence of attacking soccer is 'pushing forward'. Is there any universal sign that a team is truly pushing forward while on the attack?
And that's what we are talking about here...more enjoyable soccer viewing.
Now, let me give you an analogy which will hopefully help you stop being suspicious. In most businesses there is a yearly calling for all the department heads to submit a budget request for the upcoming year. Back when I worked in IT I'd submit my request, upper management would naturally cut out what they considered to be fluff, but I'd usually get most of what I asked for.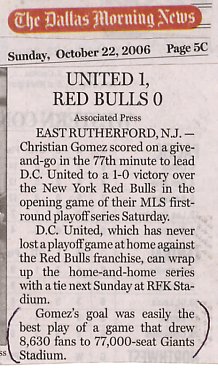 I consider this process to be a simple request for additional value in soccer's entertainment budget. I'm asking for an average score of 5-3, what you guys and gals contribute will likely be more in the area of 4-2, and then FIFA will only give us 3.5-2. Rest assured they'll never give us more than what we ask for...at least not on purpose.
Now make no mistake, I can live with an a 3.5-2 average score. What I don't want is a 4.5-1 average score, and from an entertainment point of view you need to understand the difference.
OK, if you don't follow the "budget request" analogy, then here's a better one: In 2000, the National Commission on Terrorism released their recommendations for a safer America which was not only ignored, but met with the attitude that the terrorists will have somehow 'won' if we moved seriously to meet the challenge. Events occur and a second commission is called upon to come up with pretty much the same recommendations which the first proposed just a few short years before.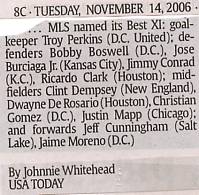 Yes indeed, this is truly the perfect parallel, because if Blatter's call to action is ignored, if something isn't done to address the entertainment deficit which IS soccer today, I feel certain that a second "American Soccer Symposium" will be called when the MLS has gone the way of the WUSA...and I mean WHEN, not IF. And if you think this is 'Chicken Little Talk', a glance at the attendance figure at right says it all, 8,630 for a critical match in a major market playing against a natural rival which just happens to be the Eastern Conference winning DC United, a team which can best be described as "The MLS Galacticos", featuring not only Freddy Adu, but 4 of the "MLS Best XI" for 2006 (at left.)
Before you jump on this bandwagon, let me mentally prepare you for the task at hand. Simply take a look at the page where I detail the perfect soccer match...well almost...OK, you be the judge:
ArsenalvMiddlesbrough_BB.html (Broadband)
ArsenalvMiddlesbrough.html (Dial-up)
Wasn't that empowering!
Now, here's a chance to do use that feeling of empowerment to make a statement. I am petitioning the members of the American soccer press to communicate to FIFA where you feel the vital statistics (scoring, shots, fouls, cards, etc.) need to be in order for professional soccer to flourish in America. Until they receive this directive from you, FIFA will not be willing or able to address the unique needs of the American market.
MLS Team & Publication
Contributor
Average

Score

Average

Shots

Fouls

/ Team

Foul

Limit

GEV-Goal Entertainment Value(0-10)

Open Field-Free Kick-Corner-PK-Own Goal

DSD - Desired Scoring Distribution (%)

Draw

%

A single easy to identify sign that any team is truly "pushing forward"
Example #1

(The Baseline)

Multitudinus Mike Kimbro
5-3
20-20
8-12
4
GEV - 10-5-3-2-3, & 1 for Celebrity Sightings

DSD - 62-15-10-10-3

0.0
All 10 field players have crossed over the center line.
Example #2
Status Quo Joe
2.5-1.5
13-8
10-20
no way
GEV-10-10-10-10-5, & corner flag dances=15

DSD - 40-20-20-17-3

25.0
At least 2 forwards are crowding the opposition's back line at all times
Example #3
Earl the Sports Columnist
8-6
30-20
20-40
6
GEV - 10-5-3-2-3, 15 for Fights, -20 for Dives

DSD - 64-15-10-10-1

0.0
3 defender back line with space between defensive midfielders and that line
CD Chivas USA

LA Daily News

Matt Zimmerman
Mercury News
Dylan Hernandez
LA Times
Mike Penner
World Soccer Daily News
Steve Cohen
Press-Enterprise
Luis Bueno
mlsnet contributor
Danny Bueno
TV Personality
Sports Columnist
Chicago

Sun Times

Len Ziehm
The Chicagoist
Todd McClamroch
mlsnet contributor
Jack Daniel Chazez
mlsnet contributor
Raquel Ortiz
mlsnet contributor
Christopher Bailey
TV Personality
Sports Columnist
Colorado

Denver Post

Mark Kiszla
Denver Post
Jim Armstrong
Denver Post
Brian Forbes
Rocky Mountain News
Alan Pearce
Rocky Mountain News
George Tanner
2-0
10-15 per side
0, no kidding
no way
Goal Entertainment Value (0-10): 10-10-10-5-10

Open Field-Free Kick-Corner-PK-Own Goal

Desired Scoring Distribution % - 33-33-33-0-0

Don't mind them!

there are too many variables to limit the definition of "pushing forward" to one simple formula.

mlsnet contributor
Geoffrey Urland
TV Personality
Sports Columnist
Columbus

The Columbus Dispatch

Shawn Mitchell
The Plain Dealer
Pat Galbincea
The Columbus Dispatch
Bob Hurst
mlsnet contributor
John Kuhn
TV Personality
Sports Columnist
D. C. United

The Washington Times

John Haydon
Matchnight.com
Ian Plenderleith
3-2
15-20 per side
5-10
3
Goal Entertainment Value (0-10) - 10-8-8-5-0

Open Field-Free Kick-Corner-PK-Own Goal

Desired Scoring Distribution % - 70-12-12-6-0

Don't mind them!
When the goalkeeper comes up for a corner kick in the last minute!
mlsnet contributor
Charles Boehm
TV Personality
Sports Columnist
FC Dallas

Fort Worth Star-Telegram

Tobias Xavier Lopez
Fort Worth Star-Telegram
Milenko Martinovich

Freelance

Steve Davis
Dallas Morning News
Mark Johnson
Dallas Morning News
Randy Jennings
Dallas Morning News
Mike Heika
Dallas Morning News
Bill Nichols
Dallas Morning News
David Hinojosa
Dallas Morning News
Kate Hairopoulos
mlsnet contributor
Steve Hunt
TV Personality
Sports Columnist
Gil Lebreton
Houston

The H. Chronicle

Bernardo Fallas
The H. Chronicle
Joe Conway
ESPN Radio
Glenn Davis
mlsnet contributor
Lucas Ogden-Davis
TV Personality
Sports Columnist
Kansas City

Kansas City Star

Bob Luder
Kansas City Kansan
Jeremy Banks
mlsnet contributor
Robert Whitman
mlsnet contributor
Thomas Foote
TV Personality
Sports Columnist
Los Angeles

LA Times

Grahame L. Jones
LA Daily News
Larry Morgan
LA Daily News
Scott French
LAGalaxy.com
Joe Tutino
Santa Barbara News-Press
Barry Punzal
mlsnet contributor
Greg Daurio
TV Personality
Sports Columnist
New England

The Boston Globe

Frank Dell'Apa
New Haven Register
Sean Barker
mlsnet contributor
Kyle McCarthy
TV Personality
Sports Columnist
New York

New York Times

Jack Bell
New York Daily News
Lisa Olson
New York City Sporting News
Kristian Dyer
mlsnet contributor
Dylan Butler
TV Personality
Sports Columnist
Real Salt Lake

The Salt Lake Tribune

Martin Renzhofer
The Salt Lake Tribune
Chhun Sun
The Daily Utah Chronicle
Tony Pizza
mlsnet contributor
Scott McAllister
TV Personality
Sports Columnist
Toronto

The Toronto Star

Cathal Kelly
The Toronto Star
Chris Young
The Toronto Star
Chris Zelkovich
TV Personality
Sports Columnist
LEGEND:

MLS Team & Publication

Contributor
Average

Score

Average

Shots

Fouls

/ Team

Foul

Limit

GEV - Goal Entertainment Value(0-10)

Open Field-Free Kick-Corner-PK-Own Goal

DSD - Desired Scoring Distribution (%)

Draw

%

A single easy to identify sign that any team is truly "pushing forward"
I ask that you concentrate your thinking on the following:

As this is where the soul searching really comes in, where you have to get real about what shape you want soccer to take when FIFA has done their work...and make no mistake, the changes are coming.
Here's your chance to influence the future of soccer by contributing to this results oriented effort. If you speak up, please send me a copy of your article, and the hyperlink to the article's web page. I'm going to use this page as an avenue where FIFA will not only see the compilation of the statistics, but will also be able to go directly to each article in order to enjoy the full context of what the writer is trying to communicate. If I have overlooked a writer who regularly focuses his efforts on the MLS, please get me their name and e-mail address, and forward this link on to him or her. I can promise each of you that the members of Sepp Blatter's symposium will hear your ideas.
It's time to speak up, or shut up. American Professional Soccer won't benefit from a passive-aggressive approach to this matter. Please don't pass up this opportunity.****
For the members of the soccer press outside the areas served by the MLS, it's not that I don't want your feedback, it's just that I want those who have a personal interest in the MLS succeeding and growing to speak out separately. That way we'll have someone to give credit to...or to blame...if the changes which FIFA decides on prove to be inadequate for the American market.
Let's finish with a quotation from the least quoted of The Beatles, George Harrison, from "While My Guitar Gently Weeps":
I don't know how
you were diverted
you were perverted too
I don't know how
your were inverted
no one alerted you.
From here forward, don't say that you weren't alerted.
Let's give this matter the seriousness it deserves.
Mike 'Multitudinus' Kimbro
direct your e-mails to: KimbroCon1@aol.com
To return, it's better to hit your BACK ARROW button,
or Visualize Higher Scoring Soccer or Kimbro's Soccer Page
** What soccer must have looked like in it's infancy must have been close to a sport which I believe is now called Gaelic Football or All-Ireland Football.
I got a taste of it while watching the EPL matches, except that on this particular morning ours was not the only sports viewing going on at Trinity Hall Pub. As we occupied the west side of the tavern, the big screen on the east side was displaying another sporting event, which I assumed had to be rugby.
The biggest difference between the two groups was that while we soccer fans were content to sit politely and quietly whisper the profanities which so naturally accompany prolonged periods of frustration, laced with the occasional "good tackle" or "sweet pass", the guys on the other side of the Pub were constantly cheering and laughing. It was obvious that those guys were having a lot more fun than we were.
So at half-time I walked over to take in a few minutes of what appeared at first to be rugby, but looking at the slimmer physiques of the participants, and the presence of a soccer like goal, I knew this was something different. And then when I realized I was chatting with an unattached female, I knew that I couldn't possibly be watching soccer, since unattached females typically look for FUN weekend activities.
I know it's premature to say, but from what little I saw of it recently, I'd say that Gaelic Football is an entertainment product which would be infinitely more marketable here in America than soccer in it's present form will ever be. So.
*** Besides, there will always be sufficient quantity of internationally focused players to field national teams, and I'm convinced that our Non-Hispanic soccer fans don't really care if the score is 1-0 or 0-1 when we play arch rival Mexico in a 'friendly.' The fact is that if I were to pull out a functional crystal ball for a clear view of our country's soccer future, and my revelation was that Trinidad and Tobago were going to beat Team USA 1-0 in their next 3 meetings, the response I'd likely get is: "such is soccer."
**** And if you are against more entertaining soccer, simply say so. I fully understand, and frankly, I'm hoping that a majority of the American soccer press does take a stand against it. Because if you do, and any of my ideas are eventually implemented into American soccer, a strong case can be made for my induction into The National Soccer Hall of Fame in New York.
And you guys and gals of the press can help make my dream a reality. Simply take a written stand for soccer's status quo. Come on now, make me a happy man. Here, let me help you. With apologies to the DMN's Steve Davis, following is an example which can easily be emulated:

How I Plan to Handle The Silent Minority: If the purist passes, then I'll petition the populists.

What won't work is embracing that passive-aggressive tendency to saying nothing now, and then piss on whatever changes FIFA deems adequate for our needs. It won't work because I'm sure that a local TV Sports Personality and/or one of your paper's 'Sports Columnists' will take a brief time away from soccer bashing to exercise his or her God given right to speak out constructively on the subject of more entertaining soccer. These folks aren't bashful at all. And I'll bet that their input will work to skew the averages in the direction I'm hoping for...higher scoring, more goals from open field play, fewer fouls, higher attendance, and more fun. The ball's in your court.
LET FIFA KNOW WHERE YOU WANT SOCCER TO GO! SPEAK UP!
And there's no need to mention me, as I've already alerted the folks at the Soccer Hall of Fame to consider my many years of work in the context of events which are soon to unfold.
The world needs a shrine to honor yours truly, and I can't think of a better place for it, right in between my heros Jason Kreis and Paul Gardner. And here's how I'd like the name plaque to read: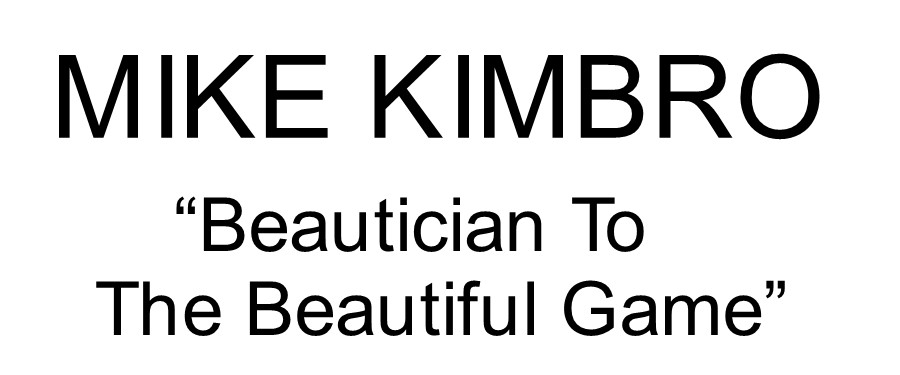 That's right, with your help, I'm gonna look good in bronze. lol. ;~)