Thumbin' My Way to Tombstone
A poem by Chrome Dome Mike Kimbro
Please read along to my "Spoken Verse Performance".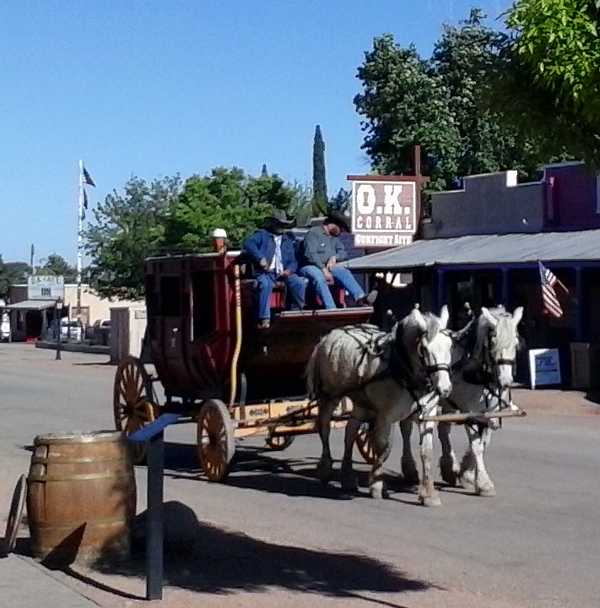 VERSE 1
I'm thumbin' my way to Tombstone.
That town makes you think: law and order.
I'm thumbin' my way to Tombstone.
It's down by the Mexican border.
Now my bank account is bare.
In Las Vegas I misjudged it.
But my muse doesn't care,
That there's no money in the budget.
So I've gotta get down there,
To check it out, cause I can't fudge it.
Yeah, I'm thumbin' my way to Tombstone.
And I better not be late.
VERSE 2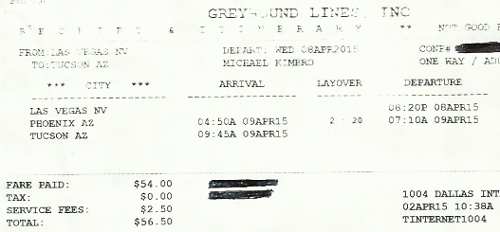 A Greyhound bus was my conveyance.
Last night, as from Sin City I traveled.
But a failed bus heater was an annoyance.
Plans for a good night's sleep unraveled.
VERSE 3
It got so cold that we could see our breath,
Traveling near Flagstaff and Humphreys Peak.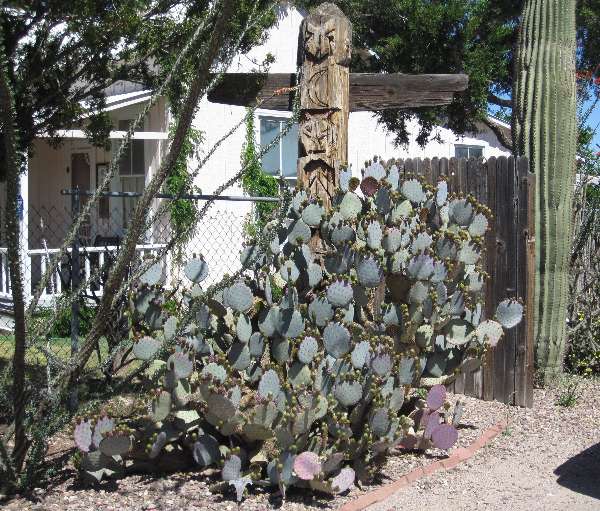 A windbreaker I loaned to lovely Lisabeth.
My chivalry earned a kiss on the cheek!
VERSE 4
I sure felt blessed with her across the isle,
Bringing her grace to that mobile hostel.
She was sweet with brains and drive, and loads of style.
Suffice it to say she wasn't hostile.
VERSE 5
My skill with the babes is the stuff of legend.
But "The Total Package" still makes me anxious.
So feelings of relief I kept hidden,
When Ms. Chavez disembarked in Phoenix.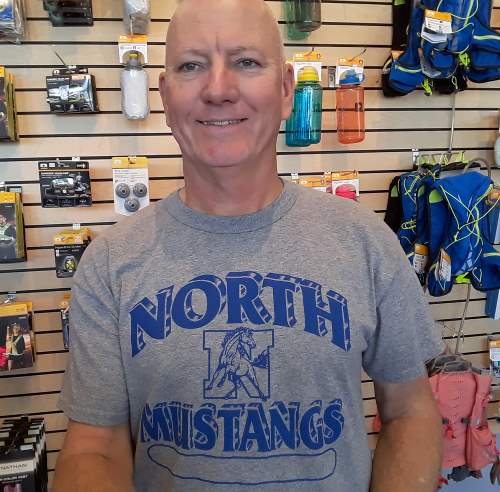 VERSE 6
The triumphant return of the prodigal son!
That's the title which I've given this scene.
I went to North Phoenix High and Emerson.
A freshman member of the cross country team.
VERSE 7
I miss that runner's high feeling I knew
As on the streets and canals I would run.
But things were different back in '72,
The year I left the Valley of the Sun.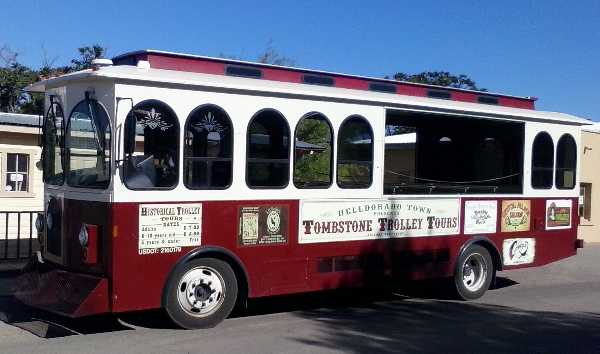 VERSE 8
ASU was my favorite, but I chose DePauw.
To some that might sound contradictory.
The very first color TV program I saw,
Was the Sun Devils' Peach Bowl victory.
VERSE 9
Back on the bus, soon Casa Grande we pass.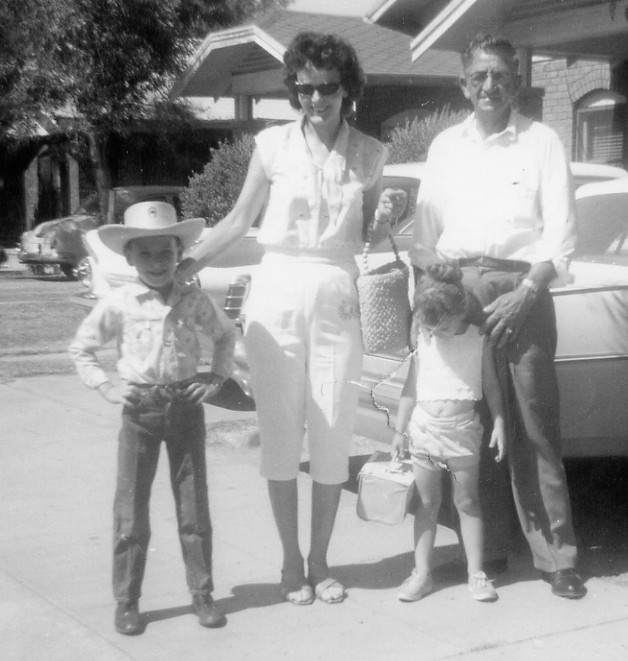 Lived there in '62, have a few memories.
A cotton gin visit with my kindergarten class,
And giant ants which swarmed like killer bees.
VERSE 10
My parents were outlaw cactus pickers
When mom went through her jelly making phase.
We thought she was crazed, choosing a fruit with stickers.
But loved Mom's prickly pear jam PB&J's.
VERSE 11
At the Tucson depot I get off with zest.
And grab a granola bar and soda pop.
I'm given good directions, but with protest,
To an on-ramp, and a busy truck stop.
VERSE 12
But an on ramp BY a busy truck stop,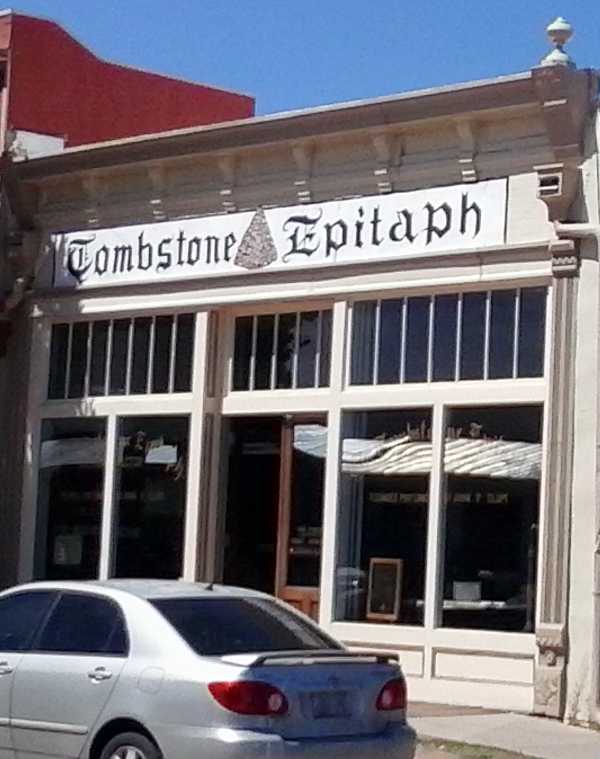 That's a win-win in the hitchhiking game.
Where one can avoid the gaze of the cops,
And the Highway Patrol. No, they're not the same.
VERSE 13 - Mike's Hitchhiking Manifesto
Between the interstate and the feeder streets,
The on-ramp serves as traffic's confluence.
It's the best place to find drivers to greet.
Until our needs and laws achieve congruence.
VERSE 14
But before the law of the land can be changed,
We will need to increase our influence.
Not an easy task, when folks think we're deranged.
And have us grouped with winos and truants.
VERSE 15
Then there's the bigger problem which we face.
Here's a cold shot which will make you wince.
You'll regard your thumbing past with disgrace,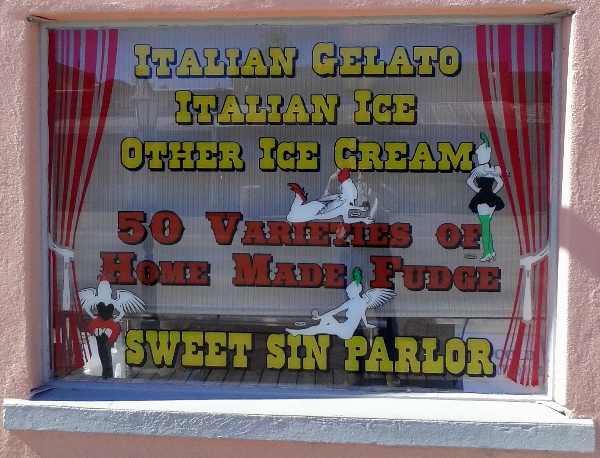 Once you've reached a certain level of affluence.
VERSE 16
But ride sharing should be celebrated, dudes.
Thumbin's not something for which we need repent.
Let's work together until the Bill of Rights includes
A hitchhiking constitutional amendment.
VERSE 17
Then, with the thumbing greats, I'll be deified,
Through induction in The Hitchhiker Hall of Fame.
But until that day comes, I might be satisfied,
If an interstate on-ramp bares my name.
VERSE 18
To the world's drivers, here's a word of thanks.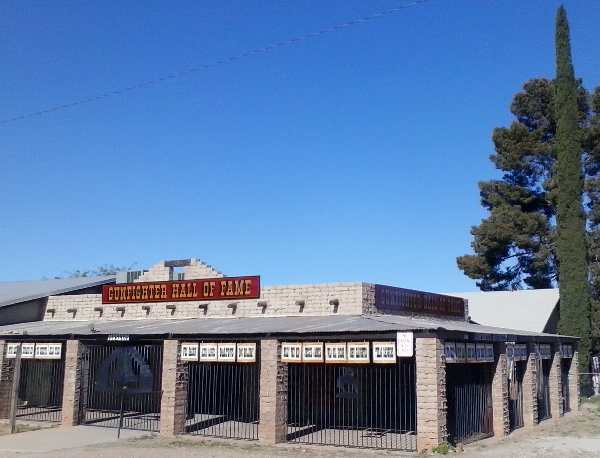 But it's a shame that your kind act should astound.
To those about to join the hitchhiking ranks:
"First check out Spirit or Amtrak or Greyhound." :~)
VERSE 19
I'm thumbin' my way to Tombstone.
In the hope that my muse will be pleased.
I'm thumbin' my way to Tombstone.
With a slight case of Grover's Disease.
If you've ever had a muse.
You know they can get irate.
But I'm in my favorite shoes,
And the weather is great.
No point in singing the blues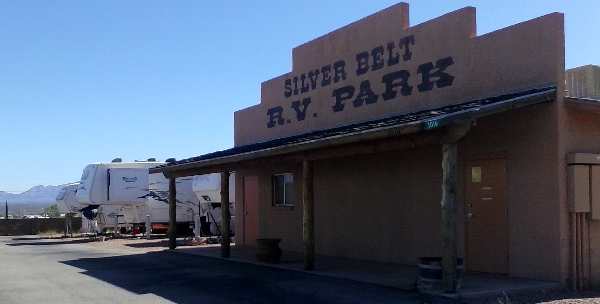 Hell, it's all up to fate!
So I'm thumbin' my way to Tombstone.
On my return to the Copper State.
VERSE 20
Anxious to shift into hitchhiker mode,
I follow the gent's directions to the letter.
At the on-ramp at I-10 and Silverlake Road,
I hold my thumb out, and feel much better.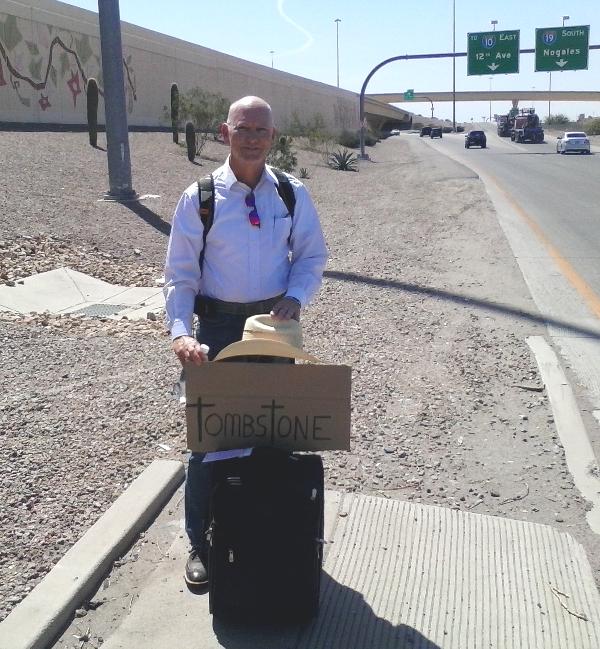 VERSE 21
A sign would help to further the process.
A piece of cardboard serves as the canvas.
I draw the T's in Tombstone to look like crosses.
So that folks will know I'm not a badass.
VERSE 22
To "The Law" I am a person of interest.
As I stand at the I-10 and 19 split,
Might just be curiosity, more than distrust,
Since I doubt they have a mold which I'd fit.
VERSE 23
Oh crap! A black SUV comes to a stop.
Now I start to feel a wee bit paranoid.
The markings on the side say it's a cop.
This situation I had hoped to avoid.
VERSE 24
As the 'official vehicle' count increased
I felt as if, on my head, there was a bounty.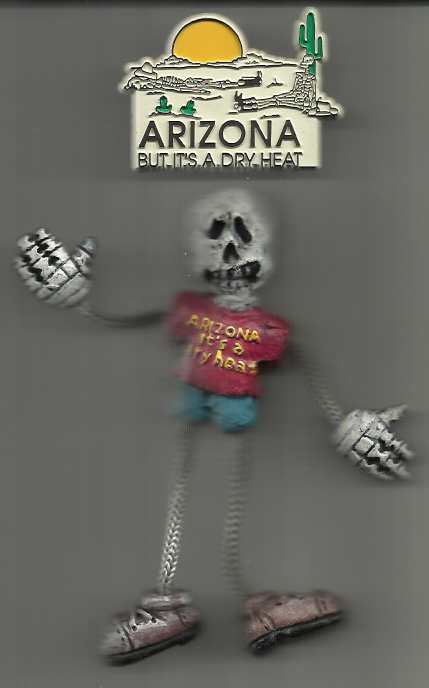 How could I know I was a half mile East,
Of the jailhouse for all of Pima County?
VERSE 25
You'll soon learn that, in this part of the nation,
Low humidity's appeal has its limits.
I brought extra water to avoid dehydration.
But not enough, it's gone in thirty minutes.
VERSE 26
Caught a look from a filly passing by.
Was she assessing my conjugal fitness?
Come on baby, there's no reason to be shy.
It's not like I'm a Jehovah's Witness.
VERSE 27
I'll outfit with skill on my next Tucson trip.
For White Chicks I'll have bags by Versace.
For my stylish kicks the Sisstas will flip.
For Latina's, just one word: "Mariachi."
VERSE 28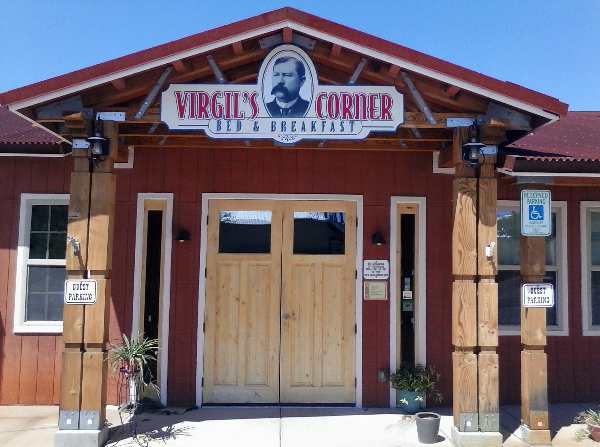 I'm thumbin' my way to Tombstone.
And have come to a fork in the road.
I'm thumbin' my way to Tombstone.
Would she notice that my progress had slowed?
Sometime soon this poet will arrive,
Where the famous OK Corral is.
Not taking I-19 will only deprive,
Me a chance of seeing Nogales.
But doing so means I might not survive,
To see my children back in Dallas.
So I'll keep thumbin' my way to Tombstone.
Via the I-10 interstate.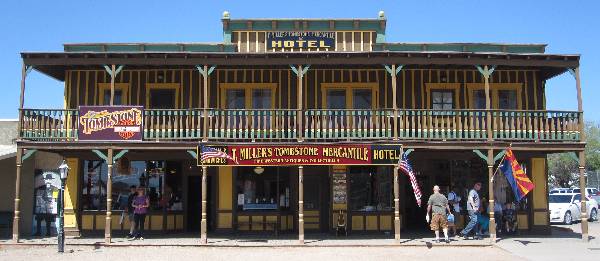 VERSE 29
I had a good feeling as a King Ranch passed.
Looked around in time to see it slowing.
Sure was surprised to get picked up so fast.
It helped the driver knew where I was going.
VERSE 30
The driver earns his living in hydration,
And is proud of his Chickasaw descent.
I've spent lots of time on their reservation.
When I'm flush, Winstar Casino's where I went.
VERSE 31
Most think of the desert in shades of tan.
But it's full of color in the early spring.
Check out the Chihuahuan or the Sonoran,
And you'll soon find beauty in all things.
VERSE 32
I grab a Subway Sandwich in Benson.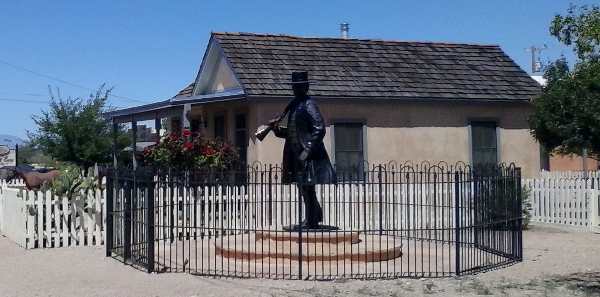 Then Roy drops me at the Highway 80 split.
I doubt the police would grant an exemption,
For seeking a ride without a permit.
VERSE 33
In less than 5 minutes up pulls a van,
Driven by a landlord whose name is Eden.
She calls her husband to let him know she plans
To rent a room out to me for the evenin'.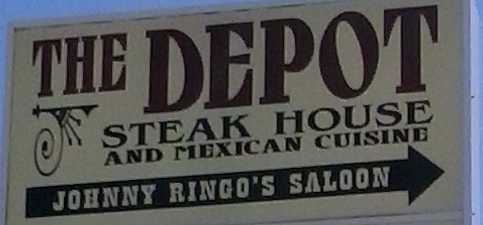 VERSE 34
The rents are high during snow bird season,
At The Grand, The Mercantile and the bordellos.
But the low rate Eden gave me was the reason,
We both ate real good at The Depot.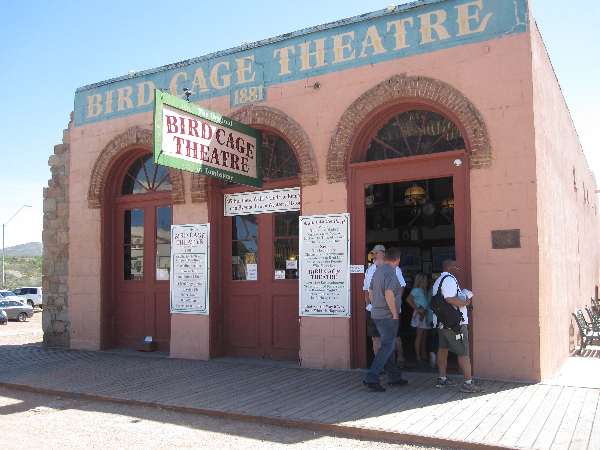 VERSE 35
The afternoon is spent seeing the sights.
I do the old Allen Street shuffle.
But all along I feel that something's not right.
My search for inspiration is a struggle.
VERSE 36
I should have taken a nap to clear my head.
Cause all I feel now is a little depressed.
Could have stayed home and watched "Wyatt Earp" instead.
Or "Tombstone" or "John Holliday, D.D.S."
VERSE 37
"Wyatt Earp" or "Tombstone", which is the best?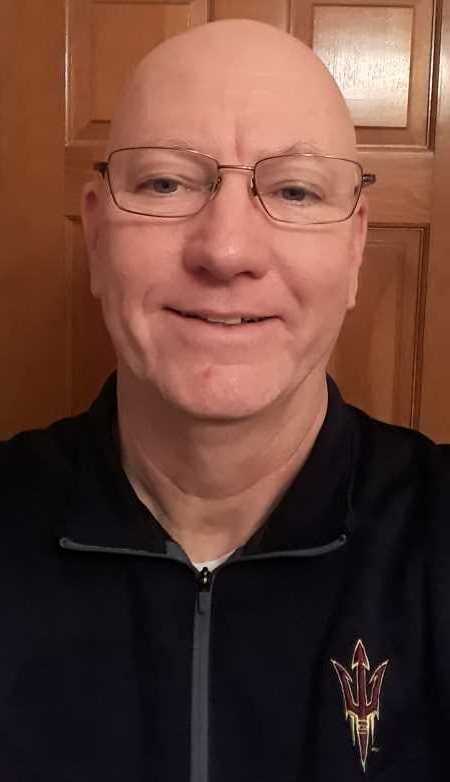 Men ask this, as if they don't already know.
While I'd rather not say, if I were pressed,
I'd go with "Open Range" or "Silverado".
VERSE 38
With the release of "John Holliday, D.D.S.",
Old preconceptions are about to come down.
Sounds like "Tombstone 2"? Well, take another guess.
You might say there's a new sheriff in town.
VERSE 39
First, Doc learns his T.B. was misdiagnosed.
The coughing started when Kate bought a cat home.
What made him cough and wheeze was asthma, at most.
A one way hunting trip fixed the problem.
VERSE 40
Doc was Cochise County's badass dentist.
He'd fix your teeth, after putting you in a comma.
His lone employee was his hygienist.
A handsome woman whose name was Wynonna.
VERSE 41
But the Tombstonites were getting mugged and robbed.
And they really needed a Chief of Police.
Wynonna was looking for a second job,
Her low salary Doc wouldn't increase.
VERSE 42
You see, this was the Old West, before EEOC.
So a lad's pay was twice that of a lass.
Wynonna changed her name to Wyatt, with two T's.
Glued on a mustache, then kicked some "cowboy" ass.
Meanwhile, back on Allen Street…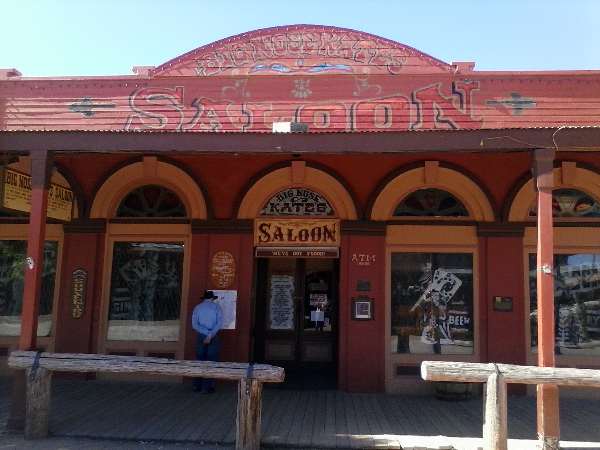 VERSE 43
I go in for a beer, and it tastes great.
Got a Shock Top White with slice of lemon.
I'm sure that a gal who goes by Big Nose Kate,
Would be cool with my ode to handsome women.
VERSE 44
I hear a different language every fifty feet.
So as a soccer fan I'm probably not alone.
But don't say: "Ciao!" Here, it's "Howdy" when you greet.
Because it's like they say: "When in Tombstone,…"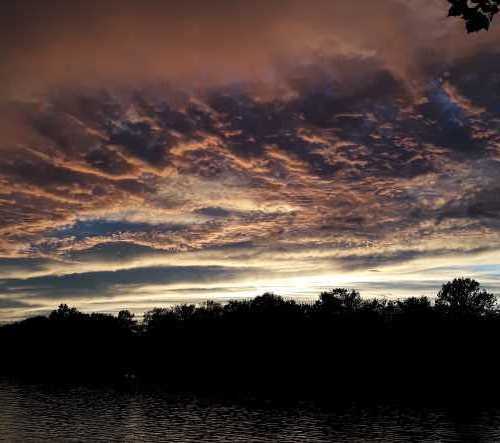 VERSE 45 – "Ode to the Arizona Sunset"
I thank God that the cell phone was invented.
Even if it consumes too much of our wages.
How else could we capture sunsets which are splendid.
And post them to our Facebook pages.
VERSE 46
Before coming to Tombstone as a tourist,
I conceived a poem "Ghosts of Fremont Street".
But didn't for fear of upsetting the purists,
After all, the main drag is Allen Street.
VERSE 47
But you'll find Fremont Street in Las Vegas too,
And drawing the parallels would be easy.
But A Vegas Trilogy was the line that I drew.
And yes, my vision was a bit cheesy.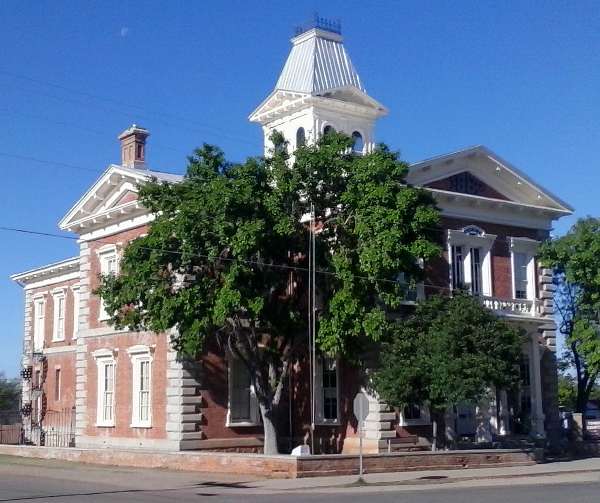 VERSE 48
Twinkle, twinkle, goes the Milky Way.
On a cool, clear Cochise County night.
The scene is perfect from where I survey,
'Cept a jerk's 10,000 lumen porch light.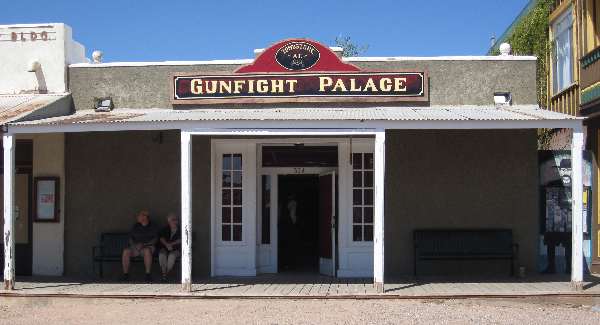 VERSE 49
They say javelina hunting is a real rush.
Using a rifle equipped with a night scope.
But I just heard a grunt and rustle in the brush,
And I'm getting inside, cause I'm not a dope.
VERSE 50
Got a good night's sleep. Dressed and headed out,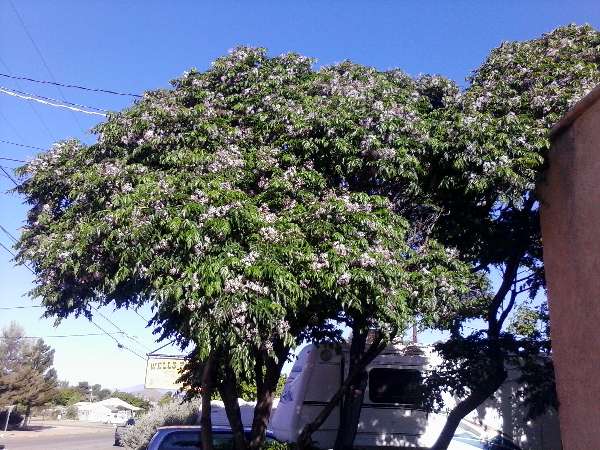 Down Allen Street, to see what was open.
Yearning for a cup of coffee that was stout.
Ahead, a productive day, I was hopin'.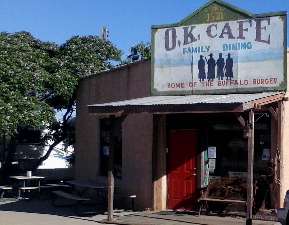 VERSE 51
The OK Café is all out of room.
So outside is where I take a seat.
But a chinaberry tree is in full bloom,
Turning an inconvenience into a treat.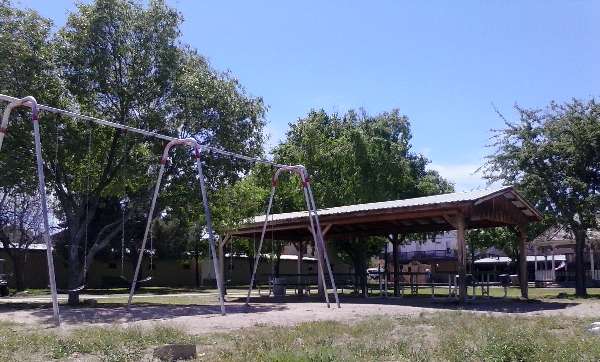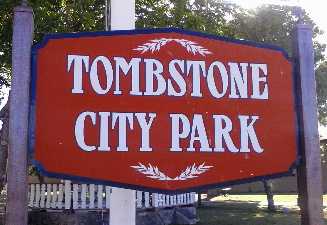 VERSE 52
Then I look to the East, and see a city park.
Where young children can run and play.
From where I sit, the contrast is stark.
As an artist, this one scene makes my day.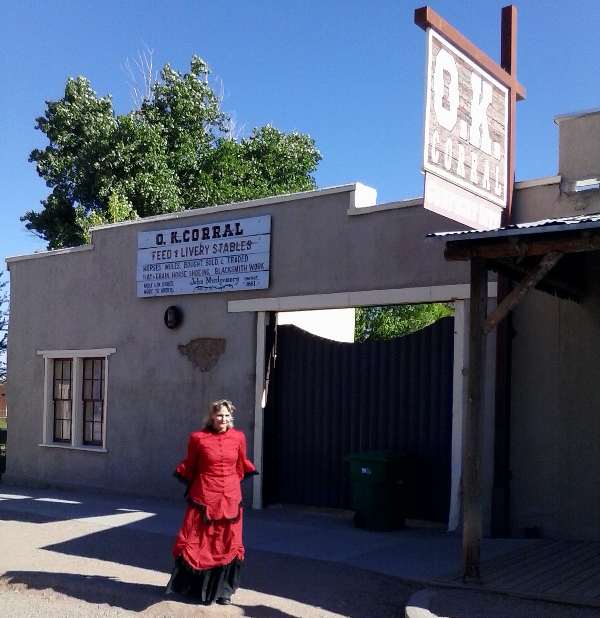 VERSE 53
You see, the OK Corral is there in the background.
In this quiet time Tombstone yields its essence.
With camera in hand, I take a look around,
Wondering if I'd feel another presence.
VERSE 54
As I try to channel my inner Fox Mulder,
I question the wisdom of being there.
If a McLaury ghost taps me on the shoulder,
I'll probably need a change of underwear.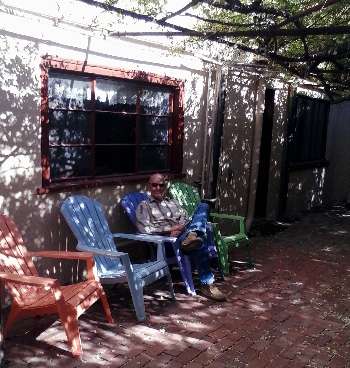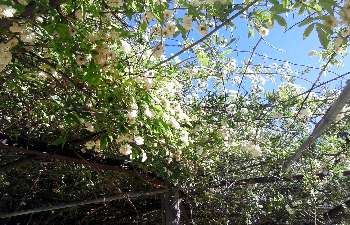 VERSE 55
Before heading out, I see The Rose Tree.
It's a rose bush which will take your breath away.
Stop by to see it, and I'm sure you'll agree,
For Godzilla, it would make a nice bouquet.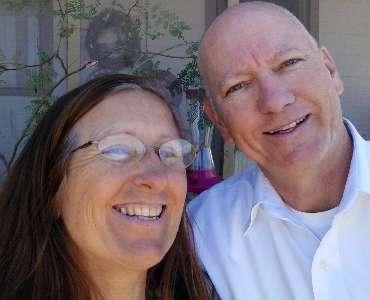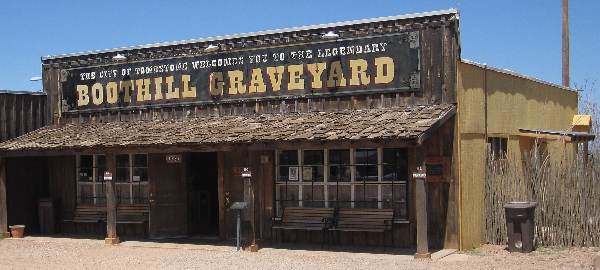 VERSE 56
I thank Eden, and leave her to her cleaning.
Then hit Fremont Street, appraising my prospects.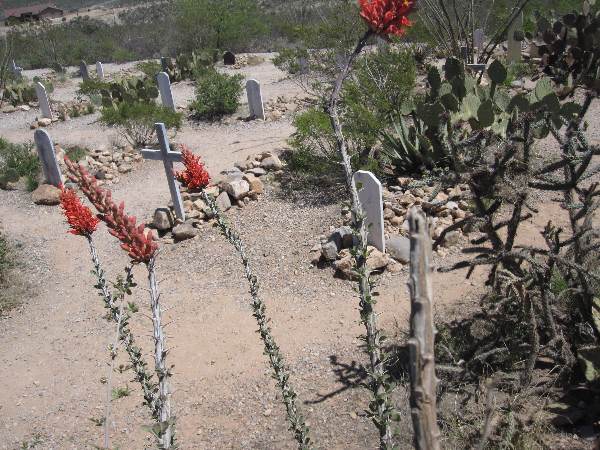 One final stop could define this trip's meaning.
At Boothill Graveyard I'll pay my respects.
VERSE 57
I'm headin' back home from Tombstone.
With pearls in the form of cool photos.
I'm headin' back home from Tombstone.
They shine like a string of Mikimotos.

Papa said a braggart is a sinner,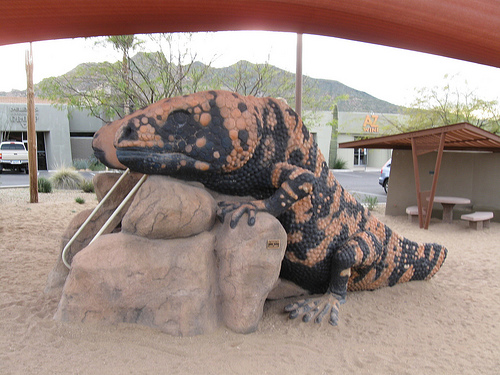 And is likely just an imposter.
But as poets go, I'm a winner.
And this effort will be a monster.
Unless, of course, I end up as dinner,
For a friggin' gila monster.
Yeah, I'm headin' home from Tombstone.
Back to Texas, and I can't wait.
VERSE 58
I knew I had to get well clear of town,
Before I turned and put my thumb on display.
My backpack and carry on were weighing me down.
The rocky terrain would have Bear Grylls dismayed.
VERSE 59
As I stand there in the desert so wild,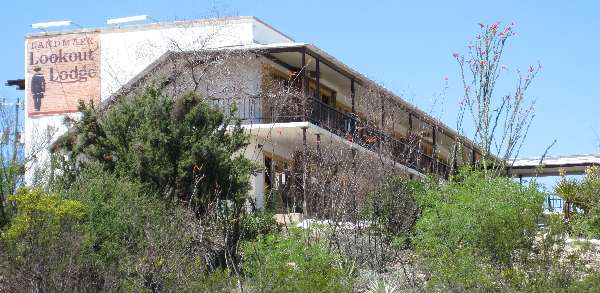 A car pulls over with an all female troupe.
Three generations: mom, grandma, and child.
We're all comfy in their little sports coupe.
VERSE 60
These kind ladies are free of pretension.
And offer aid to all along the highway.
They drop me off near the Best Western Inn.
Fill up with water. Now I'm on my way.
VERSE 61
Chomp's tribute to the Grand Canyon State,
"It's Arizona!", is on my thumbin' playlist.
And while "Arizona Highway" is great,
Mark Lindsay is why the genre exists.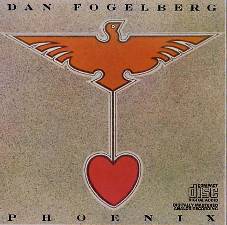 VERSE 62
Did I mention that "Phoenix" is my favorite song? [Note: Sample this cool cover by The Graylings Project]
Yeah, I'm sure that it's not a coincidence.
But I'll bet that folks in Tucson sing along,
As Dan sings of their city of residence. [Note: "Tucson, Arizona (Gazette)" by Dan Fogelberg]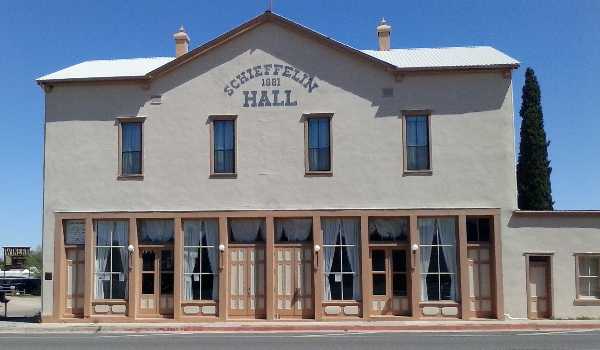 VERSE 63
Find a piece of cardboard, and clean off the dirt.
Trim it down, write "El Paso" in big letters.
Picked up in one minute, credit the white shirt.
I doubt a Catholic nun could have done better.
VERSE 64
The 18-wheeler finally comes to a halt,
About a half mile from where I stood.
This bad case of B.O. isn't my fault,
I'd be fine had it stopped where it should.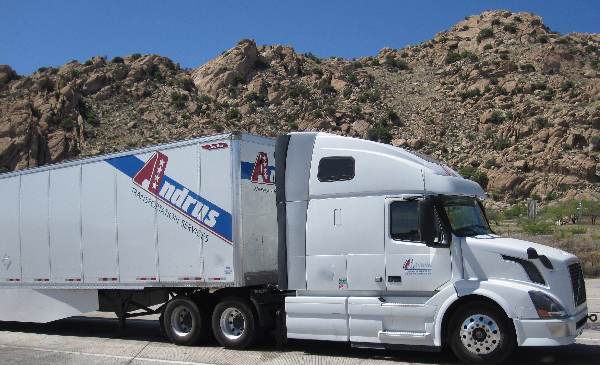 VERSE 65
I notice the truck is clean and white.
Once inside I feel like I'm in good hands.
The driver stops off, so we can grab a bite,
At the snackbar at the Apache Homelands.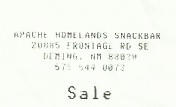 VERSE 66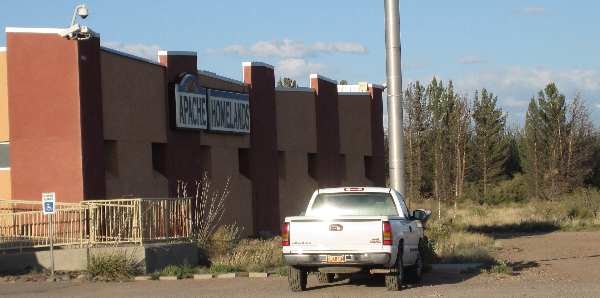 Growing up I loved the songs of Red Sovine.
So it was truckers to which I related.
As I ride in a big rig for the very first time,
You gotta know that I am elated.
VERSE 67
As we travel east across New Mexico.
I'm already planning my return trip.
Another Tombstone stay I might forgo.
For mineral hunting I'll be equipped.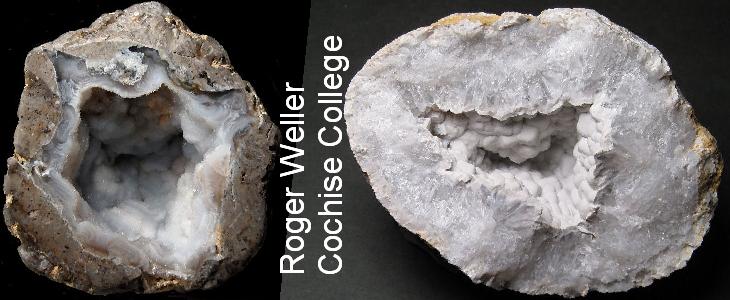 VERSE 68
I'd free the gem with a pick hammer.
After examination, I'd tag and bag it.
It's chalcedony to which I'm enamored.
The most precious being fire agate.
Above Image Credit: "Quartz Geodes with Chalcedony" from Roger Weller @ Cochise College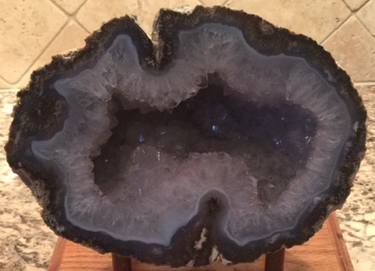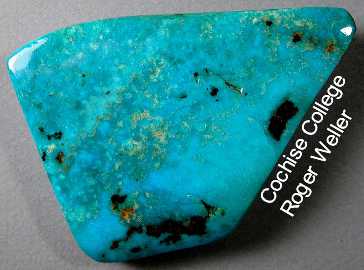 VERSE 69
And let's not forget about turquoise.
A favorite shade for gemstones and guitars.
Even Hank Schrader from Breaking Bad enjoys
Minerals, when not putting crooks behind bars.

VERSE 70
But Schrader could have used a mineral,
As a stepping stone to marital bliss.
Hank's wife, Marie, was nuts about purple,
And purple quartz becomes the gem stone amethyst.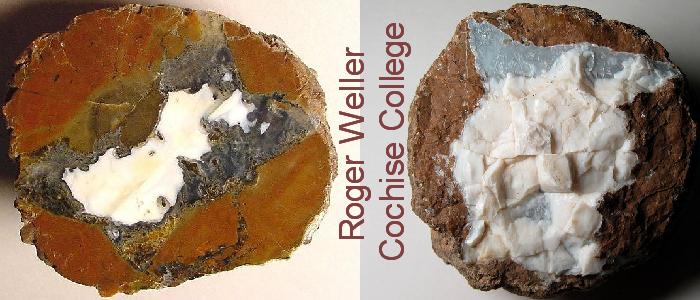 VERSE 71
Some mineral formations are miracles.
That's how science regards the coveted geode.
But next trip I'll bring my own vehicle,
Just in case I stumble on the mother lode.
VERSE 72
But rockhounding demands a strong work ethic.
And a diamond band saw, to cut and beautify.
Image Credit: "Arizona Thunderballs" from Roger Weller @ Cochise College
Found a gal with both, and our love is epic!
She's my geode girl. I'm her thunderball guy.
VERSE 73
Stepping down from that diesel in El Paso,
Boarding the next bus to Fort Worth is my plan.
Grabbed a beer and nachos, then crashed at the depot.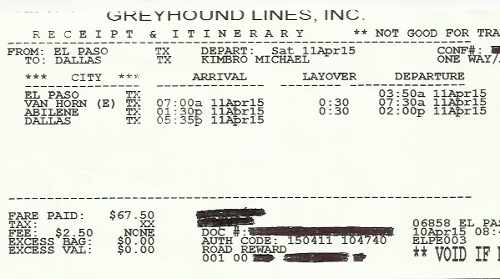 Threw my crushed cowboy hat in the garbage can.
VERSE 74
Just outside of El Paso's city limits
We're pulled over for search by Customs.
While the whole thing takes, at most, fifteen minutes,
It's a routine to which I'm unaccustomed.
VERSE 75
It could have gone a whole lot faster,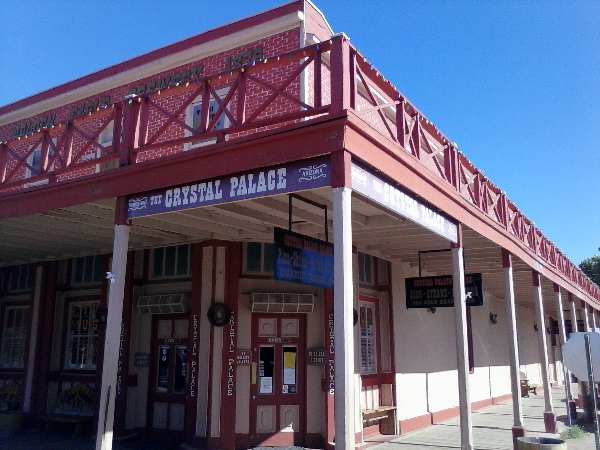 Had one of the passenger's not been so chatty.
With each word he seemed closer to disaster.
Anyway, the whole scene drove me batty.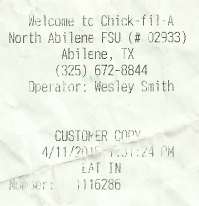 VERSE 76
But he isn't a bad guy, just overzealous.
And we talk at length over Chick-fil-As.
Of his Nashville upbringing, I'm a bit jealous.
I must visit Belle Meade, one of these days.
VERSE 77
In Henry's mind, music began and ended,
Way back there in the mid to late Sixties.
Disco, punk rock and grunge were not intended,
For his ears. I didn't ask about The Pixies.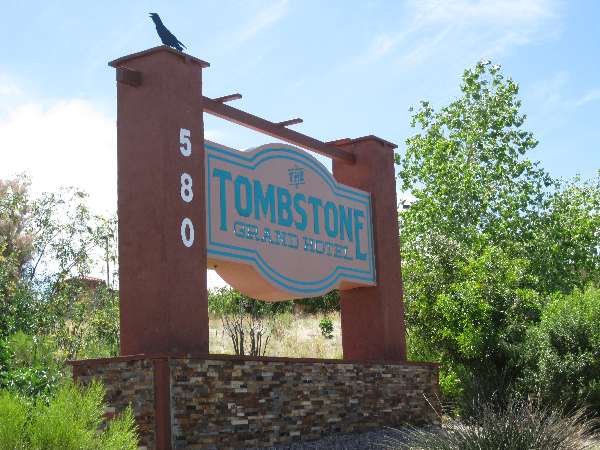 VERSE 78
Of conventional thought, he seemed a dissenter.
You know, that's something which I can commend.
At the Cowtown Transportation Center,
I say "adios" to Mr. McGuinn.
VERSE 79
When my son swings by to pick me up,
I'm not thinking about the push and shove.
It's easy to see life as a half FULL cup
When you've got family and friends which you love.
And finally...
VERSE 80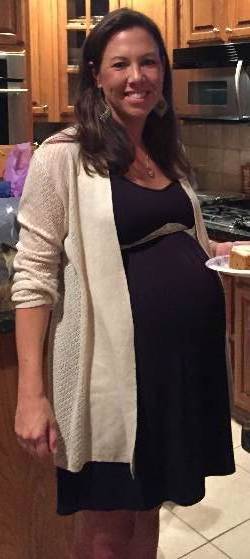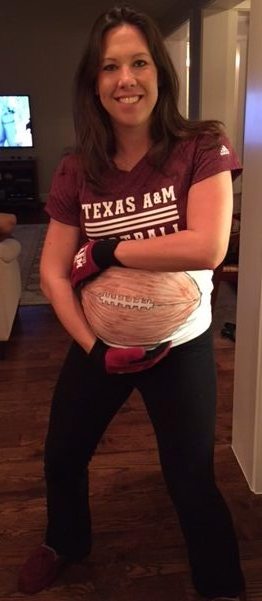 I made it back home from Tombstone.
Of my hitchhiking exploits I brag.
I made it back home from Tombstone.
But now the cat's out of the bag.
I know that it's wrong
Not to tell my daughter.
But she's 3 months along,
And I don't want her bothered.
But she'll find out from this song,
So I just delayed the slaughter.
Yeah, I made it back home from Tombstone.
But soon my head will be on a plate.
THE END
Copyright © Michael Kimbro 2015. All rights reserved.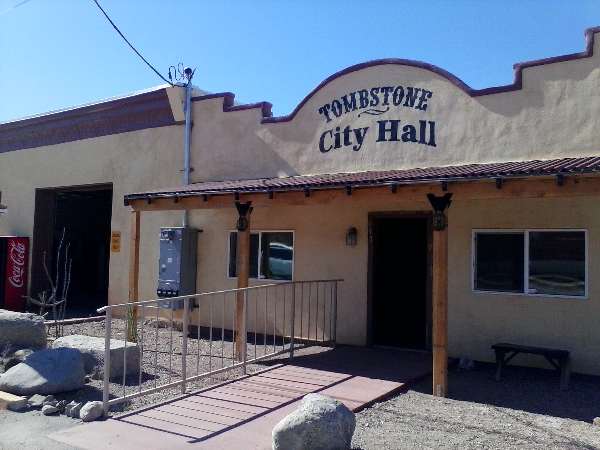 Keywords: Poems about Cochise County, Hitchhiking Poetry, Poems about Arizona Highways, The Greyhound bus line, Poems about Hitchhiking, Rockhounding for minerals in New Mexico, Poems about the movie Tombstone, Wyatt Earp, Doc Holliday, Benson, AZ, North Phoenix High School poetry, Emerson Elementary School poets.